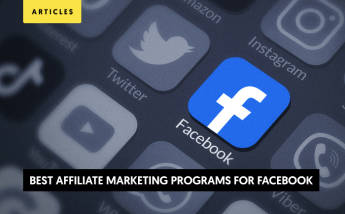 10+ Best Affiliate Programs for Facebook in 2022
Affiliate marketing has carved out a place in the digital advertising industry because it has helped thousands of renowned brands increase sales and fuel their growth.
One of the keys to success for affiliates is the ability to use multiple channels to promote an advertiser's products or services. This means that knowledgeable marketers not only opt to purchase traffic and leverage their own platforms but also turn to social media platforms to improve the performance of their revenue-generating machine.
With billions of monthly active users, Facebook is by far the biggest social media platform on the planet. And, it may come as no surprise that it's also a superb place to promote affiliate programs -- but you need to know how to advertise these products while adhering to the platform's rules.
Finding a great affiliate program for Facebook isn't always easy. Unlike other types of traffic, social media users are more engaged, but they are also much more demanding in terms of quality. Therefore, you need to take your time and choose a program that gives you the highest chances of success.
At lemonads, we understand that finding the best affiliate program for social media networks isn't easy. To help you out, we've put together a quick guide highlighting the best performing industries in 2020 as well as the top affiliate programs you can promote through Facebook.
Why Advertise Affiliate Programs on Facebook?
Before delving into the best affiliate programs, let's go over the advantages of promoting offers through Facebook.
Facebook has over 2.7 billion monthly active users, so it's safe to assume it has a global audience that's suitable for all industries, including B2B. Additionally, the platform is also credited with Facebook messenger, an instant messaging app that's used by more than 1.3 billion worldwide.
However, Facebook's value isn't limited to a large audience. The platform offers the ability to promote products organically or through paid ads. And, Facebook Ads campaigns have an average conversion rate of more than 9%, which translated to exceptional ROI across all industries.
Finding the Ideal Strategy: Direct vs. Indirect Facebook Affiliate Marketing
While it's a great platform to promote almost all verticals, it's important to understand how Facebook works. Marketers are allowed to launch paid campaigns or create free pages that help promote affiliate links, but these can't violate Facebook's usage policy or advertise banned products.
Furthermore, affiliates also have to decide if they want to promote product links through a direct or indirect approach. When using a direct approach, affiliates promote the links right on Facebook, which send users directly to the offer page. In an indirect approach, marketers aim to funnel Facebook traffic to a page that contains affiliate links in an article or similar piece.
It's important to note that Facebook and most social media users aren't looking to make a purchase right then and there, but are more likely to research information and read reviews. Indirect approaches may require an additional step before conversion, but they can help explain the benefits of the product and help filter out users who aren't interested.
Industries that Are Exceeding Performance Expectations in 2020
The global health crisis has disrupted growth and development for industries across the world, plunging countries like the US into the worst financial downturn in recent memory. But, even though purchase trends have decreased slightly, consumers are still spending money -- but their attention has shifted to a select group of verticals.
Why is this important for your Facebook campaign? It's simple. It doesn't matter how great your campaign is, if you choose a vertical like travel or another industry that's not performing well, your chances of success will be minimal.
Below, we'll go over some of the industries that have performed exceptionally well when compared to the rest of the business landscape.
Utility Apps and Functional Software
Global web traffic has increased since the beginning of the year, but this has also fueled the growth of content downloads as well as cybercrime. To combat these trends, consumers are turning to antiviruses, utility software that helps keep their devices clean, and other pieces of functional software.
Online Education
The financial crisis has also prompted many consumers to seek online education opportunities and add more abilities to their skillset. Online education platforms and paid courses of all levels have increased in popularity, which may present a great opportunity for affiliates.
Home Gym Equipment and Exercise Apparel
While the peak of gym equipment and exercise apparel was arguably later in the year, many consumers have made the permanent switch. This has kept sales in these industries stable even after strict quarantines have been lifted, so this could represent a permanent change in consumer behavior.
Ecommerce
Brick and mortar retail stores were among the first to shut down early during the year, which forced people to rely on eCommerce platforms to get new products. This gave the online retail industry a huge boost, and even though some companies experienced supply chain issues, they didn't slow the growth of this sector.
Gaming and Streaming Services
Mobile, console, and PC gaming all experienced a mini-golden age this year, which resulted in significantly better performance than some of the competing verticals. Not only were consumers turning to games during quarantine, but this year is marked by the release of consoles like the PS5 and long-awaited titles like the Resident Evil 3 remake.
Like the gaming vertical, companies in the streaming services industry saw a leap in sales during the first two quarters of 2020. This can be attributed to the stay-at-home orders, but the overall trend has been pointing towards the larger adoption of this technology for years now.
Electronic Devices
The technology space always attracts large volumes of consumers and it has been one of the best performers in relative terms this year. Affiliates can still develop great campaigns promoting smartphones, laptops, tablets, smartwatches, and similar products, so there's no reason to avoid these offers.
Nutra and Healthcare
Finally, the Nutra and healthcare industries have also been delivering outstanding results, albeit at a slower pace. Instead of exploding at the beginning of the year, Nutra and healthcare offers have become more popular in the third quarter of the year, which shows that consumers are becoming more health-conscious as we go into the winter months.
The Best Affiliate Marketing Programs for Facebook
Before choosing the best affiliate program for Facebook, remember that all affiliates are different. What works well for one marketer may not be ideal for another, so you need to evaluate every option you have and consider your requirements to identify the best option.
And, just because a group of verticals performs well doesn't mean you have to try out all of them. You can take a more gradual approach, test out one program, and move onto the next if you don't get the result you're looking for. Just remember to ensure that the offer allows promotion through social media as this may change over time depending on each advertiser.
Below we've put together a list of the best affiliate programs for Facebook in no particular order.
Liquid Web
Liquid Web offers a huge variety of technology services for companies and enterprises. And, as you can imagine, the platform also offers a superb affiliate program that can be promoted through Facebook. Liquid Web cookies last 90-days, which gives affiliates a pretty long conversion window. Payout minimums stand at a humble $150, but affiliates can also make up to $7000 from one conversion depending on the product they promote.
Udemy
Chances are you've heard of Udemy and potentially considered taking some courses yourself. In addition to being one of the leading online educational platforms, the company provides a 20% commission for affiliates. The conversion window is 7 days, so it's not as long as others on this list, but the popularity of the vertical makes it relatively easy to convert.
Under Armour affiliahas an award-winning program that's been active for more than a decade. The sports apparel and accessories giant handles all order fulfillment steps, so all affiliates have to do is send traffic to their site and earn a commission from every purchase made.
Amazon
Amazon has one of the most well-known Amazon affiliate programs out there, which rewards marketers with a basic 10% commission. The great news is that the platform offers almost all types of products, so you'll be able to monetize traffic from your site as well as Facebook without many difficulties.
Alienware
Like most companies on this list, Alienware is one of the leaders in its industry that offer the best affiliate programs. The company sells gaming computers with superior performance and offers a set commission that's around 6%. Alienware's affiliate program is available through a variety of networks, so you should research the different providers in case you've worked with any of them before.
While Netflix, Disney+, and other platforms are currently leading the charge, Hulu remains the single best streaming affiliate program that can be advertised on Facebook. The brand itself carries weight, so affiliates can take advantage of this and get as much as $10 per new sign-up.
UnbeatableSale
UnbeatableSale has become the one-stop shop for affiliates that want to find great electronics offers. There may be some variations, so reviewing the program specifics before starting is always a good idea. However, at the time of writing, UnbeatableSale offered commission payouts between 10% and 12%, a 90-day conversion window, and new offers regularly.
Nutra Impact
Nutra Impact offers affiliate programs based on the different products they offer. While the platform has adult Nutra products, it also features mainstream programs that offer payouts as high as 35%, exclusive deals that can't be found anywhere else, and conversion cookies that last 90-days.
If you want to know how to use your Facebook page for affiliate marketing.
Stay Tuned to Learn More About the Best Affiliate Programs
Facebook is an outstanding place to promote different products and services, but you also have to take the time to study every program and find the best option for your skillset. We hope that our list of the top verticals for Facebook allows you to make a better decision and increases your chances of success.
If you want to learn more about the best affiliate programs, follow our blog or contact lemonads and our team will be glad to help.
Accelerate your Conversions, Increase your Revenue
with lemonads
---
You would like