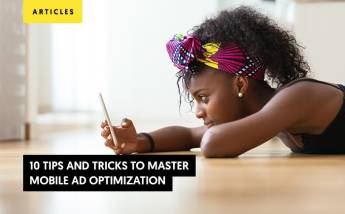 10 Tips and Tricks to Master Mobile Ad Optimization
There are more than 5 billion unique mobile internet users in the world and this number is constantly rising. Not only this, but 89% of these users will likely recommend a company after having a positive experience with that brand on a mobile device.
Needless to say, optimizing your mobile ads has become an essential part of any digital marketing campaign. That being said, many affiliates still struggle when it comes to fine-tuning their mobile campaigns. Although mobile traffic is at an all-time high, users browsing on smartphones and tablets follow unique behavioral patterns so you have to learn how to read the trends to make the right adjustments.
Below, we'll go over the importance of optimizing mobile ads and give you 10 tips to improve the performance of your campaign.
What Makes Mobile Ads Special?
Mobile ads bring a unique set of elements to the table, starting with the fact that users can be reached while on the go. A positive mobile experience can also entice up to 90% of users to purchase from the same provider again. But, the most impressive thing may be the fact that mobile devices have penetrated every single market on the planet.
Whether you specialize in targeting countries from a specific tier, creating campaigns in a particular language, or promoting certain products, you can rest assured there will be mobile traffic alternatives that meet your campaign requirements. This type of traffic already makes up more than 55% of the global search volume, so curating quality content for your mobile ads has never been more important.
Mobile Ad Optimization Tips and Tricks
Mobile ads have been around for a while now, so consumers are used to seeing a multitude of adverts on their devices. By optimizing your ads, you'll discover new ways to attract your audience's attention while identifying elements you need to avoid.
With this in mind, optimization needs to occur in stages, so having a structured approach can help save hours of your time.
Here are a few tips to effectively optimize your mobile ads.
1. Revisit Your Goals
The goals you set out for your mobile campaign serve as a reminder for the objective you want to achieve. Sure, all affiliate campaigns are designed to generate a profit. But you should have specific goals set up, like keeping acquisition costs below a specific value or generating a certain number of leads.
Use your objectives to guide the optimization process. For example, if you want to generate more conversions, work on adjusting the ads and choosing traffic sources based on this specific goal.
In case you didn't set any objectives at the beginning of your campaign, it's never too late to develop a list of things you want to achieve in your campaign.
2. Start with the Landing Page
The first thing you want to optimize on your mobile campaign is the landing page. Getting clicks for your mobile ads is not as challenging as with desktop campaigns. But, bounce rates are generally much higher on smartphones and tablets, so you'll want to minimize this trend by crafting an efficient landing page.
Speed is the first thing users will notice, so your page should load in three seconds or less. The language and overall theme used should also reflect that of the ad in order to be successful. Text and imagery used on the landing page will also have a major impact, so focus on crafting content that your audience can relate to.
3. Create Unique Ad Copy for Mobile
Mobile devices have relatively small screens, so you'll have limited space on each ad. Therefore, you need to adjust the length of the ad copy to ensure it fits properly within the designated area.
You also need to customize the ad copy specifically for mobile devices. If you use CTAs like "browse our platform" you can make a simple adjustment and change them to "browse our platform on your mobile device" in order to boost engagement. However, keep in mind that not all desktop ads will be compatible, so take the time to assess each copy and rewrite the ones that don't work well.
4. Use All the Targeting Settings at Your Disposal
There is no one-size-fits-all solution when it comes to targeting settings. The key is to start off with slightly wider settings and start narrowing down once you collect enough information. In addition, don't limit the targeting settings you use based on the CPA offer.
Depending on the traffic source you work with, you should be able to filter out visitors based on their location, age, OS, device, browser, interests, and other factors. During your optimization, try to find common characteristics between your conversions, adjust the targeting settings based on your findings, and closely monitor the performance of your campaign after implementing the changes.
5. Identify Patterns that Lead to Conversions
Dissecting the buyer's journey without collecting information first is almost impossible. But, after generating enough conversions, you should be able to reverse engineer the process and identify patterns that lead to conversions.
If most conversions came from ads that use a specific type of image, language, or traffic source, you can run a few experiments to figure out if the model is scalable enough to apply to your whole campaign.
6. Test Different Creative Elements
Images, videos, and other creative elements on your campaign are just as important as the ad copy or CTA. In most cases, using positive images that feature people and are related to the industry is a good starting point. However, you should not limit your options to basic elements, especially if you are targeting countries in tier-1.
The development and widespread adoption of affordable, yet powerful smartphones have paved the way for the use of high-quality creatives in mobile campaigns, so don't be afraid to test some of these elements and use them to your advantage.
7. Adjust Bidding Settings
Consumer browser patterns are not the only difference between mobile and desktop traffic. The cost related to mobile campaigns also tends to vary tremendously, even when targeting the same keyword or working within the same industry.
Using the same bidding options on your desktop campaign won't yield the results you're looking for. Instead, take the time to learn about mobile bidding and how it's different from desktop traffic. In the majority of cases, mobile traffic is more affordable, but your ads get more impressions due to the higher search volume, so you need to find a bidding model that gives you the best ROI.
8. Research Competing Brands
Researching your competitors is a crucial part of your campaign set up process, but it should also be a recurring task when it's time to optimize your ads.
Competitors that have been running campaigns for longer may have identified trends before anyone else. Instead of following the same path, you can use monitoring tools to assess the competition's performance and learn from the techniques being used by other marketers.
You don't have to make any major changes right away, simply test out some of the approaches that are producing results and see how well they fare in your case.
9. Set a Frequency Cap
More often than not, the CPA offer you choose will have a daily cap. This means that there is a limit to the number of paid conversions you can generate per day. Sure, you can run your mobile ads even after hitting the limit, but you will not receive payout for any additional conversions generated.
Instead of paying for conversions that don't produce revenue, you should place a frequency cap on your ads. Setting a frequency cap means that your ads will stop showing once you hit a preset number of conversions, which can reduce expenses and improve your performance metrics.
10. Fine-Tune the Ad Schedule
Forgetting to adjust the ad schedule is a common mistake in both desktop and mobile apps. However, peaks in mobile usage time and so well-defined that these campaigns tend to lose more money due to poor scheduling.
Mobile users are more active during the early hours while commuting or after work on their way back home. Additionally, you should strongly consider running a simultaneous weekend mobile campaign that targets consumers specifically during Saturdays and Sundays.
Bonus Tip: Reassess Your Mobile Strategy Periodically
Technology is the main driver behind mobile consumer behavior. Whether it's new devices, faster connection speeds, or other changes, the mobile landscape is constantly evolving. For this reason, you should review your mobile ad strategy at least once or twice per year.
Get More Tips to Master Mobile Ad Optimization
Mobile ads allow affiliates and companies to create a unique connection with their target audiences. Nevertheless, optimizing your campaign for tablets and smartphones takes a lot of practice, so you need to take the time to familiarize yourself with mobile traffic and how consumer behavior changes when using these devices.
The tips and tricks above should give you a good idea of the adjustments you need to make to improve the performance of your mobile ads. To learn more about optimizing your campaigns, stay tuned to our blog or contact us today and our team will be glad to help.

Accelerate your Conversions, Increase your Revenue
with lemonads
---
You would like