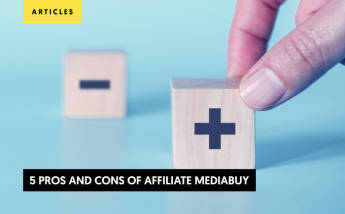 5 Pros and Cons of Affiliate Mediabuy
For some people, the perfect job is the one that gives you a good income and independence. And we all know that being a professional affiliate is a means to this end. Among all the types of professional affiliates, we have media buyers.
Let's start by defining what a media buyer does: as the name says, they buy traffic and monetize it, therefore the final goal is to have a positive ROI in the long term. Traffic can be purchased on Ad networks, DSP's, and many other specialized platforms (Social media, Push, Display, etc.). And you get the offers usually on Affiliate Networks. Once you have the traffic and the offers, you start to run your campaign where you will aim for a positive ROI through optimizations, A/B testing, etc.
Being a media buyer means that you have your campaigns, optimize them whenever and wherever you want, you can travel and work at the same time from any place and you don't have a boss, it sounds very interesting. Is it really like that? Does Media buy have only positive points? We will help you to find out by sharing five cons and five pros.
Cons:
It takes time
It can take a lot of time to reach a positive ROI and you need to be very patient here. You will start your campaign and several optimizations will need to be done. You will find out that the offer doesn't match the traffic so you need to start over, once things are getting better you need to fight against other media buyers, etc.
You need to know that this is part of the process and every single media buyer struggled at the beginning. If it would be easy, we would all do it. We know some media buyers who took one year to finally find their comfort zone, the good traffic source, and the offers they are good at. One year of losing money.
We believe that a lot of beginners give up on this phase. They are investing their time and money and don't see the results. Sometimes, they don't even get the proper support and advice from their Account Managers. Working on your patience on this level will also prepare you for any issue in the future that would drive you crazy.
You will lose money at the beginning
In 99% of the cases, you will lose money when you launch the campaign. If you think well, it's normal since your target is wide open and no optimization was done yet. If it can help, use this rule: if your ROI is less than -80% before making the first optimization, it will be very tough to make it positive. As the rule says, more than -80% is perfectly fine and it doesn't mean you will not recover the money invested at the beginning.
Once more, be patient and don't give up. What is important is to have a strategy and always have a plan B. When you have a positive campaign, you need to start working on a new one so the money earned on campaign A will "fund" campaign B. Later on, campaign B, will fund campaign C and so on.
It's also important to define a starting budget and select the offers carefully. For example, if you are starting or have a low budget, don't start with CPS offers. You will need a good investment to start having conversions and even more to have enough conversions
Losing offers when the campaign is working well
This is a very common issue for all media buyers. After the starting phase has passed and everything is running smoothly, you lose the campaign. There can be several reasons for the offer to end: budget/cap is over, quality (yours or overall) was not good enough or product/service is discontinued, these are the most common reasons.
The worst part here is that this is under your control and that's why you need to ALWAYS have a plan B, other campaigns that are positive and can either lower the negative impact or even maintain your business on good health.
The traffic is stolen by another media buyer
Another very common issue is that can destroy your motivation. The campaign that was working very well for some days simply stopped converting and your volumes dropped. One of the main reasons is because another media buyer stole your position. He didn't only steal your position and volumes but also the quality of the traffic you had before.
One of the solutions is to overbid him or increase your CTR (depending on the Ad Rank system). Be aware that your ROI will not be the same as it used to be from the beginning since the campaign suffered important changes but it will eventually come back to normal.
You don't have holidays
Media buying is a very demanding activity and your campaigns will not wait for you, they keep running and the traffic keeps coming. You can go on holiday but don't expect them to be on the green point once you are back. Even if you go only for a couple of days. You may come back with a new terrible source, lost the position that allowed you to keep receiving traffic quality or the offer is paused.
Pros:
It's enjoyable
Being a media buyer is very entertaining for several reasons. First, if you are a numbers person, be aware that your day will be full of reports and metrics, to optimize, compare, understand, connect, etc.
Another strong reason and it's an advantage of Affiliate Marketing overall, you will see tomorrow the impact of the optimizations you made today. This is very interesting since I can understand very quickly if my decision was bad or good and learn from it to avoid repeating it in the future.
The third one that can be stressed is the whole optimization process. It's very interesting to cut dimensions (website, device, OS, etc.) or lower the bid in them, increase the bid on the good ones, create whitelists or blacklists, calculate your eCPM and adapt the bid accordingly, and so on.
Even the creative aspect of the job can motivate you a lot, all the banner/prelander creation part. You will need to A/B test them and check why this banner works and not the other one or where to place the Call-to-action. All this makes the day much more enjoyable.
You can scale up easily
As opposed to SEO, the purchased traffic can increase as much as you want from one day to another. The only thing you need to do is to increase the bid (depending on the Ad Rank system once again).
So let's imagine that your campaign is working very well and you want to get more volumes, no need to wait days or weeks, in Media buy you can scale very quickly, which is a tremendous advantage once you want to become a bigger affiliate. To help you scale, in this article, you will find a checklist about how to make a campaign profitable regardless of the budget.
Once you get enough experience, you can make very interesting numbers
That's the long-term goal: getting an interesting wage and live out of that. Keep in mind, once more, that until you reach this level, the road is full of ups and downs. But no doubt it feels good to live out of your Affiliate activity.
Later on, you can even start to hire some people that you train and will help you to manage better the campaigns, start a company, etc... Or you can choose to remain a lone wolf and work alone so you take full responsibility for the success but also the failure of the campaigns. It doesn't matter the choice, the common point is freedom.
You are independent
No defined schedule, no one to give explanations to, you are your manager. This is possibly one of the main reasons to become a professional Affiliate.
It gives you a complete idea of the business
When you are doing media buy, you are touching a bit of everything inside the Affiliate Marketing business. For example, in terms of offers, you will start to know the type of offers that work well and convert. At the same time, if you are focused on a specific country or type of offer you also start to know the name of some Advertisers, which can be helpful to make specific requests to your Account Manager.
It's also very important to know the trends worldwide so you can take the wave and make also some profit. If a specific product is "hyped" in a specific country, you can always make a small test.
You will also start to know the best Ad spots and traffic types, and the best traffic sources as well. If you want to start creating your banner, you get the basics of Design. If you want to create your prelander, you get the coding bases.
We could give you many more examples but you get the idea. You are in a position where your knowledge grows a lot, more in terms of business than anything else.
As you can see, Media buy is a very demanding activity and it's always good to be focused on the positive aspects. The goal of this article is to prepare you for what is coming and what you should expect. To sum up, in the beginning, you struggle a lot, after that, you start to have "battles" with other media buyers but in the end, it allows you to have a good life. And we need to always think about the long-term results.
Accelerate your Conversions, Increase your Revenue
with lemonads
---
You would like