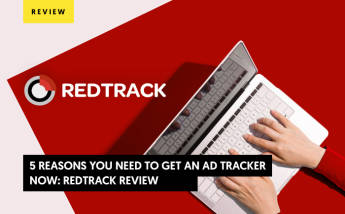 5 reasons you need to get an ad tracker now: RedTrack review
During the period of uncertainty, numbers and stats become the main sources of an adequate assessment of what's going on. How to get it? If you're looking for a high level of accuracy, an ad tracker should be the first thing to consider.
Luckily, the list of our partners has been recently expanded by RedTrack - a trustworthy ad tracking solution with a super loyal customer base from 100+ countries. Let's consider all the benefits of using an ad tracker on the RedTrack example. Basically, there are 5 main reasons people subscribe to it.
Have all ad data in one place

One of the main advantages of RedTrack is that it's able to consolidate data from all your advertising and marketing channels, whether they are organic or paid. With it, there's no need of switching from one tool to another, trying to match stats from different sources. As you may see, there are several main advantages of using one tool to track your traffic:
Time-saving;
The ease of ready-made solution usage;
The maximum degree of data analysis accuracy due to one tracking and attribution mechanism.
In addition to this, RedTrack developed a special script that allows clients to track all the traffic from multiple sources without redirects!
Avoid wasted spend on unprofitable campaigns with automation rules

AdTech and MarTech industry players are still looking for ways to create effective AI-based solutions that will actually help get more profit and cut costs. While we are all waiting, some companies have already come up with alternative effective, and inexpensive features.
RedTrack was the first ad tracker that introduced automation rules to help clients save budgets on unprofitable campaigns and save their time on routine tasks.
The principle of their work is pretty simple: you set ROI, EPC, or CR benchmark for your traffic performance and conditions within which they must be achieved.
If KPIs are not met, RedTrack pauses the flow or redistributes traffic to ideas with better performance.
Thus, you don't need to leave the interface of RedTrack to pause and optimize traffic, as they API-integrated 20+ Traffic Sources, and the list is growing.
We counted 20 traffic sources including Google Ads, Facebook Ads, Adcash, Adskeeper, MGID, Propellerads, Zeropark... that you can manage from RedTrack automatically.

Depending on your needs, RedTrack.io will pause campaigns, creatives, blacklist ineffective publishers, and provide you with automatic cost updates on how much you spent on promotion within a certain campaign.
5 Key RedTrack features that will help you save money on unprofitable campaigns:
Performance-based auto-rules;
A/B test redirects;
Redirect based on weight and 18 filter types;
Click quality Reports to filter Bot Traffic;
Landing Page offers Rotation.
Know every detail of your campaign performance with RedTrack drill-down reports

Believe it or not, but Reports is one of the most demanded features in RedTrack. Its advanced Dashboards give you all the necessary information about your campaign performance from the moment the user sees an offer to his post-conversion actions. Analyze your traffic by 30+ metrics including Offer, Landing, Date, Date parting, Connection, IP, Device, OS, Browser, GEO, Language, Referrer, Stream, SubID, and others. The reports are easily customized to your needs and desires. You can hide unnecessary columns or filter data based on specific subIDs. And this, in turn, significantly improves the communication process with your team, management, and clients.
5 Key RedTrack features that will help you get valuable insights based on your performance analysis:
Consolidated Reports;
Detailed Postback Logs available for each subscription plan;
API-based auto-update cost;
30+ Data attribution points;
Templates, grouping option along with smooth less export.
Improve your marketing and business metrics with Industry-specific solutions

A lot of analytics software now offer industry-based solutions, adjusting their functionality to specific clients' needs. Recently the industry attention has been attracted to the RedTrack package of ready-made solutions for the e-commerce business. A lot of them started using ad trackers due to the need for accurate data caused by asoon coronavirus. With RedTrack, they can:
build white-labeled Referral and Affiliate Programs and track the performance of their participants;
create an effective multi-stage sales funnel and go deep into the performance of each stage;
try both first-and-last- click attribution models to understand what caused the conversion;
understand exactly what's going on after conversion events. RedTrack allows you to track up to 10 post-conversion user's actions.
5 RedTrack features to achieve your specific business goals:
White-label Publisher Panel;
White-label Reporting Portal;
Affiliate Programs workspace;
Toolkit for Referral Programs management;
Fully Customized Reports
Make the right strategic decisions based on quality data

In just a few months we'll find ourselves in a world without 3-rd party cookies. Google's announcement of their dismissal forced many businesses to look for new reliable ways of data tracking. Many big brands came up with self-written solutions, while SMBs, agencies, and media-buying teams remained beyond the understanding of how to work on the market in the near future. Innovative ad trackers were one of the first who came up with no-3-rd party cookie-based ways of tracking ad data. RedTrack helps to do it with the help of Server-to-server postbacks and Click-id parameters that keep your data safe and secure. In this way, the information about conversions and transactions can't be affected by any external factors, like ad blockers or users actions.
5 RedTrack features to get accurate data in real-time:
S2S Postbacks;
Parallel Tracking for Google Ads Tracking;
Impressions and visible impressions tracking;
Custom Sub Ids;
Conversion Tracking and Post-conversion events tracking.
RedTrack alternative and competitor
Want to see how everything works? Sign up to RedTrack
Accelerate your Conversions, Increase your Revenue
with lemonads
---
You would like