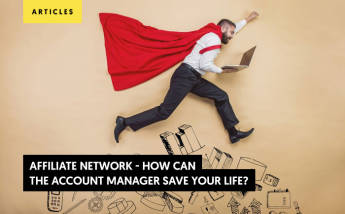 Affiliate Network - How can the Account Manager save your life?
The simple setup of an offer does not guarantee revenue. The number of cases where publishers fail is due to the "only I know, nobody else knows" mentality. There is much more to it than the tip of the iceberg.
A mistake that is very common in Affiliate Marketing is to underestimate the role of Account Manager's when thinking that it is an easy task. Managing accounts, managing offers on the system, communicating with partners and sorting requests received seem to be the main tasks of an AM during the workday. In fact, the role of an Account Manager (AM) is much more significant and involves many more activities than those mentioned above.
Indeed, managing accounts is not for everyone. It is quite busy. Sometimes stressful. But at the end of the day, it's very worth it. Having a passion for publishers - being with them, learning about what they want and helping them in the best way we can.
This is what we do best. Have the opportunity to work with individuals and improve their business every day. What can be better than that? Nothing.
Working with a single contact is the most effective way to obtain continuity and consistency for better performance. The relationship between Publishers and Account Manager is essential, as it ensures that the account is managed efficiently.
An Account Manager has the responsibility to plan, develop and manage a Publisher's strategy so that he can achieve his goals, that is, increase his online presence to improve his campaigns. As is already known, Account Managers have a big role in the performance of revenue and profitability of a Publisher.
An AM will know how to serve you effectively and, at the same time, generate profits for you and your business. They will be a key player and will be able to bring results to both sides, in addition to promoting mutually beneficial relationships.
If you are doing Affiliate Marketing, you will definitely need an Account Manager. As in most companies, users are your best assets and you as publishers must always do everything you can to retain them. However, the help of someone with knowledge and expertise in this can make all the difference.
By having an Account Manager, you are ensuring that you and your client have the best experience, therefore, keeping them for longer and encouraging them to spend more and consequently making you earn more. Listening to the expertise that your Account Manager has and developing a strategy with a professional who knows what he does and speaks is invaluable in achieving excellent results in your campaigns.
In the long run, Account Managers are able to transform Publishers' business and lifestyle. The Account Manager is the one who intends to make you achieve your goals. It is dangerous to underestimate such a critical function, but it is an absolute asset if you use them.
How an Account Manager can save your life?
1. Analyzing and keeping it simple!
An Account Manager is mostly people with a lot of experience. He or she is there to assist you throughout the process and they will start by analyzing your current techniques (whether in the marketing industry or not). They will ask about your current strategy/method, your budget, and the goals you want to achieve.
They are the first form of contact for publishers. Account managers are the ones who provide reliable feedback and suggestions that can help your business reach another level in the digital world. To impress your audience and guarantee the best possible result, the Account Manager has as its intrinsic characteristic to be a reactive problem solver.
The best thing to do is to be completely honest with your AM - they are there to help you improve.
2. Telling you what works and what doesn't
Even though it is superficially simple, each offer and type of traffic presents specific opportunities and challenges within Affiliate Marketing. So the experience of knowing what works and what doesn't work for each thing is invaluable.
When reviewing your campaign, your Account Manager can provide you with all the objectivity of an experienced "stranger", with all the commitment of an expert so that you can achieve your goals.
An Account Manager is with you at all stages of the process, from the first steps (planning) to the launch (starting the campaign). Your Account Manager will become an expert on your brand and the story you want to tell your audience. They will aim to align your strategy with your individual goals.
3. Making your campaign compelling to your target
Whether through a creative adaptation of your existing brand or creating a new concept, your Account Manager is totally focused on you and your customers, developing strategies, materials, and forms that will be attractive to your traffic, bringing with you a "call to action", that is clear and clickable.
4. Making you understand all the tech mumbo jumbo
This is a point where Account Managers shine. They have a deep knowledge of online marketing and technology. In order to provide solid feedback and useful suggestions to publishers, an Account Manager needs to have in-depth knowledge about marketing and technology. They should know what needs to be done to increase publishers' online presence and improve their online marketing campaign.
Extremely confident and knowledgeable about coding and industry terms, your Account Manager can also inform the technicians who make everything happen. Keeping in mind the objectives set, they ensure that you can focus on the commercial effectiveness of the campaign without the need to worry about the technical part.
They can also give you technical information clearly so that you have no doubts or misinterpretations.
5. Teaching how you can promote in a professional way
This goes far beyond simply good customer service or being "on-call" or ensuring that your campaign is visually appealing and applied consistently. Your Account Manager is effectively an extra member of your team, whose purpose is to understand the way you work from the inside out - your goals, target, challenges, and competitors.
6. Presenting you the results and make suggestions
In a simple way that you can understand, your Account Manager can professionally detail your performance, he can report insights from your target audience, keeping you always and entirely updated on the performance of your campaign. In addition to this, he will always be able to suggest offers that go according to what you want, objectively based on the results.
7. Always keeping you ahead of the curve
As soon as your Account Manager puts all the pieces together, he will have the task of seeing if the plan developed worked for you. It is crucial to review your strategy with your Account Manager, as you can find missed opportunities, where your AM can actively identify new areas of growth and pursue these opportunities in which you can grow.
At this point, he objectively weighs the pros and cons and balances decisions based on data with experience and instinct to arrive and execute the best decision.
And as in practically all areas of Affiliation Marketing, it is an area that is constantly changing with new functional and integrative resources, creative possibilities, opportunities for customer involvement, ways to develop, among many other things. The Account Manager's experience will be essential throughout this process as it will ensure that your campaign creates loyalty and is present in the customer's mind, ahead of competitors and ahead of the curve!
Conclusion
Account Managers are often treated as "second-class citizens", but their importance to a publisher's success cannot be underestimated. Account Managers are the heart and soul within the relationship with a publisher and in developing a campaign.
Publishers may need to bring in new business, but Account Managers have the ability to retain customers. Retention is the primary driver of profitability and the more customers are loyal, the better the performance will be on both sides.
Having a high-performing Account Manager requires that you have an open mind to receive suggestions and understand that what you are thinking individually will not always work. After all, what you will have with your Account Manager will be a business relationship, and it is already everyone's knowledge that both sides must sustain a relationship.
The general objective of Account Managers is to assist you during each step of the process and to make it grow even more. You will know your AM by name and establish a relationship with it, allowing both parties to be honest and frank, in order to achieve the goals already stipulated.
That said, having an Account Manager to help you with what you need is like having a lifesaver when you are drowning. Being able to have someone to help you grow digitally, keeping in mind that he is available for you to reach your goals is something that can help you expand your skillset and grow in the Affiliate Marketing business.
The development and application of the points already presented is essential to guarantee, maintain and increase relationships with your Account Manager and consequently with your audience.
Want to know more about our affiliate network? contact us and we will be thrilled to explain to you how we work.
Accelerate your Conversions, Increase your Revenue
with lemonads
---
You would like