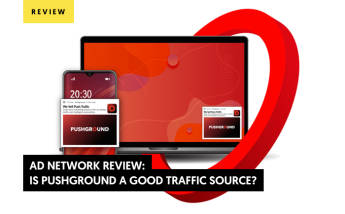 Ad Network Review: Is Pushground a Good Traffic Source?
Whether you're an agency, media buyer, or independent marketer, finding the best traffic sources can help guarantee the success of your campaign. This will help ensure engaged visitors that meet your offer's requirements, which increases your chances of success.
Poor-quality traffic sources may seem more affordable, but visitors from these platforms have a lower chance of converting and this can increase expenses without producing the right results.
Although finding a reliable traffic source is essential, there are dozens of different providers to choose from. In addition to finding a reliable platform that offers quality traffic, media buyers and other marketers need to work with a provider that offers effective ad formats.
At lemonads, we understand the importance of opting for a reliable ad network -- but we're also aware that taking the best decision is not easy. For this reason, we've put together a series of reviews to help you identify the best options available today.
In the first blog of this series, we'll review Pushground and tell you everything you need to know about this superbad network.
Pushground Ad Network Overview
Pushground is a relatively new ad network that was established back in 2018, but it has quickly earned a reputation as one of the best sources of different types of traffic. The platform creators focused on building an ad network that was convenient and easy-to-use but still delivered great results for affiliates and media buyers. Not only did the Pushground team achieve its goal, but the platform is now used by a global client base to build outstanding affiliate campaigns.
In its early days, Pushground worked exclusively with push notifications, but the company has broadened the list of ad formats. This has transformed it into a comprehensive solution that allows media buyers to run multiple campaigns with different ad formats through the same platform.
In addition to the above, some of the features available to affiliates include:
Immediate Approvals
Trying out a new ad network is exciting, but it can also be a source of frustration depending on how long the approval process is. To make this easier for marketers, Pushground allows instant approvals, so you'll be able to build a campaign right after applying for the ad network.
The reason behind the immediate approvals is that Pushground puts a lot of emphasis on real-time data monitoring. As part of its commitment, the ad network designed a structure whereby affiliates can start launching ads and monitor them in real-time as soon as they sign up, which also helps reduce delay-related losses.
Knowledgeable Support Team
The customer service team at Pushground offers world-class support through every single step of the process. It doesn't matter if you want answers to basic questions or looking for the best optimization strategies, the ad network's support team will do everything in their power to help you achieve your objectives.
Ideal for Rapid Campaign Scaling
Pushground's reach is huge and the company works relentlessly to increase the size of its inventory every year. At the time of writing, the platform's inventory stood at more than 1.5 billion daily push impressions from more than 150 countries.
This means that regardless of the offer or industry you're working with, Pushground has significant potential for growth. And, the best part is that the quality of the traffic doesn't fluctuate, so affiliates and media buyers will always have access to engaged audiences.
Auto-Optimization Features Available
Many affiliates and media buyers forget to factor in the amount of time it takes to manage each campaign when working with multiple platforms. The good news is that Pushground members have the ability to set up automatic optimization rules, which means that the platform will make improvements to these campaigns without human input.
Pushground's auto-optimization was designed to reduce the number of time marketers spend making improvements, which allows them to manage more campaigns simultaneously.
Types of Traffic Available at Pushground
One of the many reasons Pushground has quickly established itself as one of the leading ad networks is that it specialized in proven ad formats. Instead of offering outdated options, the platform offers the ability to run push notifications, in-page push, and native ad campaigns -- all of which are known for providing stellar results.
Push Notifications
Push notifications are among the most engaging ads you can find because they capture users' attention without being intrusive. Presented along with other notifications on a user's phone or browser, these ads have the power to create a personal connection that results in a more engaged audience.
There are more than 200 million real active subscribers on Pushground's network, giving you access to a worldwide audience. While they are not suitable for all industries, push ads are great for dating, fashion, and luxury verticals. That said, you need to keep your content creative and learn how to craft short ads that users find alluring.
In-Page Push
In-page push notifications are innovative ads that are presented in the same way as regular push notifications, but they are actually part of the website users are currently visiting. This web-based format is suitable for all operating systems, including iOS and other macOS.
Additionally, in-page push notifications are part of the website's code, so they don't need access to the user's device. In other words, you won't have to wait until users subscribe to show them your ads, which allows you to deliver your message in a non-intrusive way while increasing visibility.
Native Ads
Native ads have become a staple of the affiliate world since they were first introduced. Now considered a proven format, Pushground allows you to create fully responsive native ads that make your content look like part of the site it's displayed on.
Additionally, Pushground has worked relentlessly to rack up a collection of premium websites that host the platform's native ads. This can draw more attention to the promotional content on the site and increases conversions without disrupting the user experience.
What Are the Top Benefits of Choosing Pushground?
Choosing a reliable ad network that produces consistent results is crucial for media buyers and other affiliates. Pushground is a great alternative because it provides quality traffic regardless of the size of your campaign, plus it allows full campaign control through a variety of intricate setting options.
Furthermore, some of the top benefits of working with Pushground include:
User-Friendly Ad Formats
Push notifications, in-page pushes, and native ads are known for being non-intrusive and for creating a positive experience, making them extremely user-friendly ad formats. But, even though these formats are not aggressive, Pushground has found creative ways to make these ads stand out and produce stellar results without compromising the user experience.
Robust Security Features
Ad fraud and cybercrime, in general, are becoming one of the biggest threats to marketing specialists across the world. Pushground has vouched to create a safe environment for all stakeholders, so the ad network has invested heavily in filtering out bot traffic in real-time as well as other security features that ensure a transparent ecosystem.
What's more, the ads network continuously developers new features to keep up with innovative forms of fraud and allows members to monitor suspicious traffic manually.
Quality Traffic that Converts
The main goal of all affiliate marketing campaigns is to make money, regardless of it's through immediate sales or via long-term branding campaigns. Therefore, the most important thing for marketers is to find a platform that provides quality traffic.
Not only does Pushground have a massive reach in terms of audience size, but the platform has also partnered with high-quality publishers that only provide top-notch traffic. This translates to higher-than-average conversions, ROI, and other key metrics.
Targeting Capacities
Aside from quality traffic, Pushground has also earned a reputation for providing superb targeting capacities. Conventional push notifications and native ads campaigns can target users based on device type, location, and other demographic information. And, in addition to these targeting features, in-page push notifications allow marketers to place ads on iOS devices -- which is a luxurious commodity in the affiliate world.
Attractive Creatives Produced Through a Superb Interface
Unlike outdated networks that force you to build creatives on third-party platforms and then upload them, Pushground allows you to create push and native ads through its user-friendly interface. Each ad you create is labeled with a number (version 1, version 2, etc.), which allows you to easily see which ones are providing the best results.
Super-Affordable Rates
Some affiliates feel anxious about trying push notifications because they usually cost more than other formats. Fortunately, Pushground has found the perfect combination of quality and affordability, with super-low minimum deposit requirements and bids starting at $0.001. Additionally, you can also set a frequency cap that prevents your campaigns from overrunning your budget.
Pushground Pros and Cons for Advertisers and Publishers
The leading platforms always provide a solid set of features and advantages for both advertisers and publishers. All of these stakeholders need to find the best platform, but it's important to note that affiliates and companies that want to advertise are usually looking for slightly different elements.
With the above in mind, Pushground provides a breath of fresh air because it's a great alternative for advertising companies as well as publishers.
Here are some of the pros and cons of each.
Publishers
For publishers, it's all about finding a platform that gives them the chance to make the most money without jeopardizing the quality of the user experience.
Pros
Instantaneous approvals
Customizable auto-optimization rules
Sustained quality even in large volume campaigns
World-class customer support
Collection of effective ad formats
High CPC rate indicators
Cons
Advertisers
As for advertisers, these businesses looking to promote their services can take advantage of Pushground's reach and consistent quality.
Pros
Global reach
Relatively low CPC costs compared to other leading platforms
Reach users through desktop and mobile devices
Hundreds of quality publishing platforms to work with
Anti-fraud features and other security enhancers
Comprehensive in-house tracking
Cons
Knowledgebase and other self-service options are still being developed
Pushground alternatives and competitors
Learn More About the Top Ad Networks at lemonads
Although it doesn't offer a free trial, Pushground is one of the best push notification networks available for affiliates today. The platform provides high-quality traffic, global reach, and superb targeting settings that make it one of the best options for marketers of all levels. And, if you don't feel that confident trying out new ad networks, Pushground's support team will be glad to walk you through every single step.
Choosing the best ad network may not be easy, but after thoroughly reviewing the platform, our verdict is that Pushground is indeed one of the best ad networks for affiliates.
To learn more about the best ad networks, follow our blog or contact lemonads and our team will be glad to help.
Accelerate your Conversions, Increase your Revenue
with lemonads
---
You would like