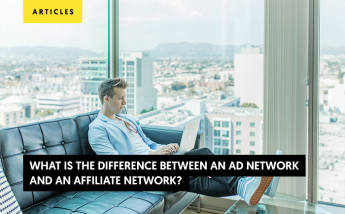 Ad Network vs Affiliate Network: What is the Difference?
Affiliate marketing generates 15% of the digital media industry's global revenue, so this type of advertising produced almost 23 billion US dollars in 2019 alone. The rapid growth of affiliate marketing shows no signs of slowing down, which has inspired many people to take up the mantle and try to succeed in this competitive playing field.
Skillful marketers can consistently craft campaigns that yield stellar results, but the only way to make sound decisions is by mastering the basics early on. For example, many marketers use the terms ad network and affiliate network interchangeably, but these platforms are fundamentally different.
Understanding the distinctions between an ad network and an affiliate network will help you make the right choice and get the most out of the resources you invest.
Although all of them have the same goal, there are many different types of affiliate marketers. And, depending on your specific setup, you'll need to choose between an ads network and an affiliate network to help you generate revenue.
Below, we'll explore the differences between ad networks and affiliate networks.
What is an Ad Network?
Before going over the definition of an ads network, let's take a brief history lesson. Back in the mid-1990s, a company by the name of DoubleClick developed a new type of digital ad service, which connected popular websites with businesses that wanted to advertise on their site.
And just like that, ad networks were born.
Modern ad networks have changed a lot since then, but their core concept remains the same. In simple terms, an ads network collects unsold ad placements from publishing sites and sells them to advertisers. Affiliates and publishers that own popular websites sell their inventory to ad networks to maximize their profits. Advertisers purchase these ad spots and run campaigns that help them sell products and improve their branding, among other things.
Like in the '90s, advertisers can track the performance of their ads via the networks' reporting tools. Also, modern platforms now allow testing and offer additional features that help advertisers improve the performance of their campaigns.
Today, advertisers can choose from a huge collection of formats when working with an ads network. But, it's important to note that these only run on two different pricing models, which are cost-per-click (CPC) and cost-per-1000-impressions (CPM).
Some of the most popular traffic sources ad formats that affiliates have available include:
It's worth noting that even though networks can provide all of the formats listed above, some platforms have specialized in a specific type of ad, like pop, native, or push ads.
Pop Ad Networks
Pop ads may generate mixed feelings among consumers, but this ad format has been a staple of affiliate format since the '90s. It's still so effective that there are dozens of different networks that specialize in this type of ad.
Pop ads can be categorized into pop-ups and pop-unders. The main difference between the two is that pop-ups appear on top of the window that users are currently on. Pop-unders, on the other hand, appear below the current window, so consumers don't see the ad until they're done browsing through the site.
Even though they're not the most profitable format, pop ad networks are a great place for affiliates to learn the ropes and polish their skills.
Some of the most popular pop ad networks include:
Native Ad Networks
Native ads have dominated the affiliate marketing scene since they were first developed. It's no surprise that you can choose from a huge collection of native ad networks. These networks specialize in native advertising, which blends with the publisher's content to attract consumer interest without rattling up any negative emotions.
Native ads are regarded as an advanced ad format because they require quality content to succeed. Experienced affiliates have the ability to craft content that delivers value and also entices consumers to take certain actions. This type of traffic is very valuable and these networks often offer bigger payouts, making them a popular choice among seasoned marketers.
Examples of the most popular native ads networks include:
learn more about native adverting: What is Native Advertising?
Push Ad Networks
As the name suggests, push ad networks to specialize in push notification ads. This format has revolutionized the way marketers interact with consumers because ads are delivered like other notifications on the user's device. Because of the sheer nature of push notifications, some verticals perform exceptionally well, which led to the birth of push ad networks.
Like a native, push notification traffic is very valuable to advertisers, so these networks tend to provide bigger payouts. That said, succeeding with this ad format requires finesse and the ability to transmit an alluring message with just a few words. When it comes to push networks, some of the biggest names include:
What is an Affiliate Network?
Affiliate networks were first established in the late '90s to help connect marketers and publishers with merchants who wanted to manage their own affiliate programs. These networks allow larger companies to easily offer multiple in-house affiliate programs and find quality marketers to promote their products, without managing each relationship separately.
Additionally, affiliate networks attract marketers from all over the world, which is ideal for advertisers that want to expand to new markets. Companies can find an affiliate or team of affiliates to market their products and get support from the network's team to ensure that the program is optimized daily.
Affiliates also benefit from this as merchants from all over the world rely on these networks to help them distribute their offers and find the best marketers available. Depending on the merchant's offer, affiliates can run campaigns on different performance-based cost-per-acquisition (CPA) pricing models. In other words, visitors have to perform additional actions after clicking on the ad for affiliates to receive payment.
There are many different CPA pricing models, including but not limited to:
Cost-Per-Lead
Cost-per-lead or CPL is a pricing structure where advertisers pay for each lead that affiliates generate. Each offer is different, so affiliates need to look at the specific merchant's program to determine what constitutes a lead, the acceptable locations, and other details. If not, you may end up generating leads that don't meet the offer's requirements, which means that you won't get paid.
Cost-Per-Install
Similar to CPL, cost-per-install (CPI) only requires advertisers to pay for ads when users install the app or game being promoted. Keep in mind that most CPI offers have additional requirements. For example, users usually have to keep the app on their phones for a certain amount of time or get to a specific level in a game for affiliates to receive their payouts.
Cost-Per-Sale
Cost-per-sale (CPS) is simple in the sense that users must make a purchase, but there are different models within this pricing format. For instance, some offers require cash-on-delivery, so consumers only make payments upon receiving the product. It's important to keep an eye on the type of sale as this can also impact how long it takes to receive payouts from a specific offer.
Cost-Per-Download
Cost-per-download (CPD) offers are not as common as others on this list, but they can still deliver good value for affiliates. This pricing model also applies to games and apps, but it's suitable for all types of digital media including advanced marketing materials like product brochures. However, CPD is different from CPI because it doesn't always require additional actions from users after download.
Cost-Per-Action
Cost-per-action refers to offers that require users to take specific steps after the click. This setup is often used when consumers have to sign up for a newsletter, register for an event, or perform another action that doesn't fit in any of the previous pricing models listed above. Cost-per-action is sometimes used interchangeably with cost-per-acquisition, but both models are different so you need to pay close attention to each offer's details.  Learn more about Affiliates Networks with Wikipedia and read What is a CPA Network?
Advantages of Choosing an Affiliate Network to Monetize Your Site
Affiliates and publishers that have popular websites can turn to affiliate networks to monetize their traffic. In simple terms, publishers that work with a network have access to a huge library of offers, some of which would be impossible to find on their own. Advertisers can count on the same networks to scale their operations and expand their marketing reach to a regional, national, and even global level.
The many advantages of working with an affiliate network include, but are not limited to:
So, What Exactly is lemonads? An Ad Network or an Affiliate Network?
At lemonads, we help connect marketers and publishers with affiliate programs from a huge collection of merchants, so we fall into the category of affiliate networks. Over the years, we've built strong business relationships with world-class merchants and top-notch marketers to create a sustainable ecosystem that delivers the best possible experience for both camps.
To find out more about the benefits of working with an affiliate network, contact lemonads today and our team will be glad to help.
Accelerate your Conversions, Increase your Revenue
with lemonads
---
You would like