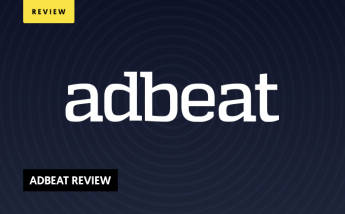 Adbeat Review: An Innovative Take on Competitive Intelligence and Analysis
Last year, the paid advertising industry generated almost 140 billion dollars in the US alone. There's no denying the fact that affiliate marketing campaigns now make up a huge portion of the entire marketing industry ad spend. But, this doesn't mean that all stakeholders are getting the most out of their investments. This is especially true for new and inexperienced stakeholders that are trying to make a name for themselves and get the most bang for their buck.
The good news is that you can now leverage a wide range of tools that can help you understand what leaders in your space are doing. By unveiling the strategies that competitors are using and implementing the best fits into your strategy, you'll increase your chances of hitting the ground running.
With the above in mind, there are dozens of different marketing intelligence tools out there and not all of them deliver the same performance in terms of quality and accuracy. Fortunately, at lemonads, we're very familiar with all the different tools at your disposal, including Adbeat. In simple terms, Adbeat is a powerful tool that gives advertisers and affiliates the ability to see what competitors are doing in order to learn from their efforts.
In this Adbeat review, we'll go over the features found in this powerful marketing intelligence tool and go over the advantages that this platform brings over similar options.
What Is Adbeat?
Developing an affiliate program or campaign from scratch is possible, but it involves a significant amount of trial and error. Rather than building your ads from the very beginning, Adbeat is a comprehensive marketing intelligence and competitor analysis platform that can help you discover what leading stakeholders are doing to achieve affiliate success.
Adbeat unveils a huge amount of information about advertisers, affiliates, and the campaigns that these marketing professionals develop. The goal of the platform is to help you optimize your advertising strategy, whether you're building a program, running ads, or attempting to attract the best publishers or affiliates. Furthermore, Adbeat is suitable for a wide range of verticals including e-commerce, healthcare, nutra, finance, gaming, and fashion.
As for costs, Adbeat has three different service plans to choose from, which are the Standard, Advanced, and Enterprise tiers. The most basic plan includes intelligence analysis for display, programmatic, and native ads, as well as filtering features, the ability to see publisher placement URLs, and support for 25+ countries.
How Does Adbeat Work?
The team of Adbeat aimed to develop an innovation intelligence platform that was light years ahead of all other options, and the results are very promising. In simple terms, Adbeat relies on a huge amount of data, powerful features, and wholesome reporting tools that give you a wholesome, organized view of your performance. One of the go-to platforms for leading advertisers, publishers, and networks, Adbeat is the ideal tool to help you develop successful strategies without skipping a beat.
The way the platform works can be broken down into four simple pillars:
1. Data
As with other forms of online advertising, affiliate campaigns generate a huge amount of raw data, but this information isn't always easy to parse or understand. The team members at Adbeat wanted to simplify the analysis process, so they started by developing an efficient crawler to help them scour through the web and collect information about mobile, desktop, pre-roll, and native ads.
Complete Data
At the time of writing, Adbeat supported traffic from more than 25 different countries and the platform developers have plans of expanding that number as much as possible. Besides the wide range of locations served, Adbeat also collects mobile data from 4 different device types and makes this data available through an easy-to-use interface.
Country and Device Breakdown
Adbeat is ideal for international or cross-country campaigns because it lets users sort data by country and type of device. Rather than building your campaigns from scratch, you can see what international advertisers are doing to succeed in each region. Plus, you can also arrange the results by device type and build different campaigns based on the gadgets you want to target.
Data from Dozens of Ad Networks
For publishers, affiliates, and advertisers, having data available about the different ad networks is essential to creating a profitable partnership. Through Adbeat, you can find out what networks are delivering the most profitable traffic before making any commitments, including major players like Taboola and Outbrain. You can even see which publishers provide your competitors with direct traffic and discover new opportunities for your campaigns.
2. Insights
Collecting and organizing data is the first step, but this doesn't provide profound insights right away. Fortunately, Adbeat has made a name for itself by transforming large volumes of data into actionable data that translate to real opportunities for our clients. Our comprehensive insights provide data from two angles, which are competitor analysis and client acquisition.
Competitor Analysis
Adbeat offers a wide range of competitor analysis features that help uncover:
Media Buying Strategy
When accessing the platform dashboards, users will have a holistic view of the strategy that their competitors are using. You'll be able to see the most profitable publishers, networks, ad formats, creatives, and much more. In simple terms, you can see the best traffic sources and most profitable placements to make sure your campaigns are as effective as possible.
Ad Creatives for Conversions
Adbeat lets you see the top ads in your industry based on the search you perform. You can see a video, image, text, and rich media adverts from any advertiser, network, or publisher. Additionally, Adbeat also gives you access to campaign duration dates, landing pages, trends, and publisher data for each ad.
Campaign Performance
Bigger brands have multiple products, which usually translates to numerous campaigns. Instead of guesstimating, Adbeat lets you analyze competitor campaign performance so that you can modify your paid efforts according to the results you get.
Publisher Intelligence
Having information about specific publishers enables advertisers, affiliates, and networks to make better decisions. The good news is that Adbeat provides an in-depth breakdown of each publisher so that you can figure out who the real leaders are and mold your efforts after theirs.
Client Acquisition and Sales
Because it's so powerful, Adbeat can actually be used to boost client acquisition and direct sales strategies. Advertisers and networks can learn which publishers deliver the best results for every individual vertical. Furthermore, these stakeholders can also see which content developers work with specialized ad formats like native or new push notification variants.
Advertiser Ad Spend Analysis
One of the many benefits of Adbeat for publishers is that they can see almost all details about individual advertisers that work with the competition. Adbeat can tell you who's buying ads where, in what network, and how much money they are spending. In a nutshell, you'll be able to see the biggest spenders that aren't partnered with you yet and figure out how to attract these advertisers.
Publisher Inspection and Identification
Besides information about advertisers, users can also access the tab called "Similar Publishers'' and discover leaders within a specific industry. This is beneficial for publishers who need to identify leaders in their space, but also for advertisers that want to discover new partnership opportunities.
New Advertiser Discovery
Adbeat also has a tab labeled "Recommended Advertisers" that lets you see the companies, media buyers, and other stakeholders that are purchasing most of the traffic in your vertical. This allows publishers and networks to make easier pitches. Moreover, advertisers themselves can also benefit by identifying other leaders that have campaigns you can learn from.
3. Reporting
Collecting huge amounts of data is a great start, but these need to be presented in a readable format that lets you analyze your performance objectively.
Adbeat users have access to one of the most comprehensive reporting tools in the entire industry. You can actually set up automatic notifications and know exactly when competing advertisers are going to launch new campaigns. You can also share reports and download complete sets of information in CVS, PDF, as well as other popular formats.
The reporting feature varies depending on your plan. The standard plan includes 90 days of data, whereas the advanced tier provides 12 months of history. Plus, remember that you can include information like publisher placement URLs, traffic type, location, device type, and other variables.
4. Advanced Features
The Adbeat research and development team works restlessly to implement new features into this robust platform. Some of the newest advanced features that users can enjoy include:
Benchmarking Capacities
Competitive benchmarking allows you to spot crucial differences by comparing competitor performance and your own results side-by-side. This can help you compare your share of voice, budget, and other important metrics with a simple eye test. Plus, you can also see how the competitor strategies have evolved over time to make sure you're on the right track.
Wholesome Campaign Analysis
Remember how we mentioned that large brands usually have multiple campaigns for their various products? Adbeat can give you a holistic view of each one of these campaigns so that you can figure out how to implement a structure that produces the same results for your brand.
Publisher Insights
Website development and design technology are now so accessible that it's impossible to gauge publishers by simply evaluating their sites. Instead, you need to leverage tools like Adbeat that let you see which publishers are selling the best traffic. You can do so by accessing the "Top Publishers" tab, where you can identify which potential partners have the highest chance of success before forming a partnership.
Ready to Find the Best Affiliate Programs? lemonads Is Here to Help
Developing a better campaign, affiliate program, or publishing platform is not always easy. Fortunately, advertisers, publishers, and other stakeholders can rely on Adbeat to gauge what the competition is doing. The best part is that the platform delivers comprehensive data sets in user-friendly formats, allowing you to develop a winning strategy from the get-go.
If you need help finding or building the best affiliate program, contact lemonads and our team will be glad to help.
Accelerate your Conversions, Increase your Revenue
with lemonads
---
You would like