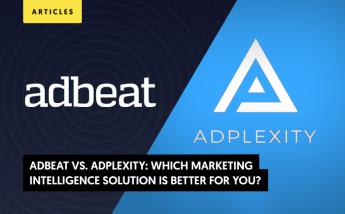 Adbeat vs. AdPlexity: Which Marketing Intelligence Solution Is Better for You?
Adbeat and Adplexity comparison guide.
Whether you're new to the affiliate world or already established yourself as a part of the ecosystem, your main goal is always to stay ahead of the competition. This is true not only for affiliates but also for publishers and advertisers.
While all of these stakeholders fulfill different roles, each and everyone one of them can benefit from intricate information about the competition. The good news is that there are many ways to get access to this data. Unfortunately, not all of these platforms deliver the same results when analyzing performance or features, so you need to choose a tool based on your unique requirements.
Take Adbeat and AdPlexity as examples. Both of these are powerful tools, but this doesn't necessarily mean that they are ideal for every affiliate stakeholder that needs a marketing intelligence platform.
At lemonads, we have firsthand experience with a wide range of marketing intelligence platforms, including Adbeat and AdPlexity. Many of our partners ask us which of the two is the best alternative, so we've put together a review comparing Adbeat and AdPlexity in order to help you understand which is the most suitable choice for your case.
Why Should You Monitor Competitors?
Before we start going over the details of both of these superb platforms, let's take a moment to explain the benefits of monitoring the competition. It doesn't matter if you're developing a campaign, program, or network, you usually have two choices when starting. These are to start from scratch without much industry research or evaluating what competitors are doing in order to hit the ground running. Let's take a look at the reasons why the latter is the best alternative:
Shorter Turnaround
Instead of guessing and weeding out elements that don't work, monitoring your competitors allows you to hit the ground running. This is because you can monitor the top competitors and implement similar strategies in order to get above-average results from the get-go.
Better Overall Results
Producing revenue in a shorter period of time can also lead to better overall results in terms of performance and profitability. In simple terms, if your revenue-generation period is much longer than the industry standard, there's a strong chance you'll make more money than competitors without having a higher budget.
Can Save a Significant Amount of Effort
Finally, learning from the leading competitors can also help save you a huge amount of effort, time, and resources. Rather than setting up complex A/B testing campaigns, you can learn from others in your industry and focus your attention on areas that help improve efficiency as well as profitability across the board.
Adbeat vs. AdPlexity: Which Marketing Intelligence Solution Is Better for You?
Now that we've gone over the benefits of having a marketing intelligence tool, let's compare Adbeat and AdPlexity head-to-head.
Adbeat
Adbeat is a superb marketing intelligence tool that allows you to see how affiliate ads, campaigns, and programs are structured. This platform is suitable for affiliates that want to develop better campaigns and advertisers that want to gain valuable insights to build better programs. Even networks can unveil which publishers sell more ads and attempt to lure them through exclusive partnerships.
Simply put, the Adbeat platform relies on a massive amount of information and a range of robust tools that allow them to utilize this data as effectively as possible.  The platform collects data from more than 120 networks and it can help unveil the best creatives, landing pages, and buying strategies. Plus, you'll also have access to estimated ad spend information about specific competitors, giving you a true birds-eye view of your industry.
In addition to the above, some of the top features of Adbeat include:
Research Features
Adbeat has a superb list of research features that allow you to see what the leaders in your space are doing. For example, media buyers and other affiliates can see where competitors are running campaigns, which creatives are being used, keywords that are being targeted, and even the domain where the ads are appearing.
In addition to this, you can run searches by plugging in specific blogs or URLs of pages that you're thinking about advertising on. In this scenario, you can check out who's running ads, and figure out if it's a good fit for your campaign. Plus, you can set up domain tracking to keep a close eye on the performance of your competitors or even set it up for your own site to get alerts whenever there's a big change.
Filtering and Analysis Options
Adbeat has a great collection of filtering and analysis options as well as additional features that improve the platform's overall functionality. Users can opt to filter by date range, traffic type (mobile or desktop), ad network, and other basic variables as long as they have a standard plan.
Moreover, if you want to filter options based on more advanced variables like supported countries, device types, and similar variants, you'll have to sign up for the advanced plan. We will go over the difference in pricing for both later in this post, just think about what features you really need in order to make the best choice.
Supported Countries and Traffic Types
One of the best features of Adbeat is the number of countries it supports. At the time of writing, this marketing intelligence tool supported more than 20 countries, making it one of the most comprehensive solutions in terms of reach and scope. Note that this list includes some of the top GEOs in the affiliate world, including regions in North America, South America, Europe, Asia, and the Pacific.
Besides having enormous reach, it's important to understand that Adbeat also covers some of the most profitable ad formats. This platform parses an unimaginable amount of information throughout the entire web in order to collect data about pre-roll, desktop, mobile, and native ads.
Pricing
Finally, the pricing schemes for Adbeat are among the best in the industry. The platform has no free version, but there are three different plan tiers designed to fit all potential users. These are the standard, advanced, and enterprise plans.
The standard plan includes data about display, programmatic, and native ads, plus it allows users to search for different elements using keywords. It also allows access to data from 26 countries and provides 1000 results for each search inquiry.
What's more, the advanced plan includes all of the features found in the standard plan, plus the ability to apply additional filters. Additionally, there's a dedicated reporting tool designed to compare advertisers, plus the number of results per query is unlimited.
Finally, the enterprise plan provides intricate data like estimated ad spend for each advertiser, dedicated campaign analysis reports, and up to 2 years of information.
AdPlexity
AdPlexity is known as one of the most powerful and comprehensive options for marketing competitor intelligence. This juggernaut has dedicated analysis platforms that vary according to the type of traffic: mobile, desktop, native, push, e-commerce, and carriers. Plus, there is an enterprise alternative for stakeholders that are located in regions that have additional features available.
Let's take a look at the features available at AdPlexity and how they stack up against Adbeat's options.
Research Features
In simple terms, AdPlexity allows you to conduct extensive inquiries and unveil everything there is to know about competitor campaigns. This includes the most popular publishing sites, keywords, domains, and ad creatives. Not only this, but you can also see the browsers, devices,  and landing pages that are producing the best results.
Keep in mind that the research features vary slightly depending on which AdPlexity platform you're using. For example, the mobile intelligence tool gives you the ability to see results based on OS and connection type. That said, all of the dashboards on the different platforms are intuitive and easy to use, shortening the proverbial learning curve.
Filter and Analysis Options
As for filtering and analysis, AdPlexity lets users refine their searches based on ad type, device, language, and country. Plus, it shows you what type of connection was used to load the landing page, for example, Wi-Fi or 4G. Additionally, users can filter results based on the duration of the campaign, ad network, or a combination of all of the variables. For instance, you can search for campaigns on a distinct network that lasted a specific amount of time, say, during the end of year holidays.
Supported Countries and Languages
AdPlexity's list of supported countries by any standard, boasting of more than 75 nations on mobile at the time of writing. Additionally, the list of countries for native advertising stands at 32 and it's quickly growing, giving the platform possibility the most diverse range among all native intelligence platforms when it comes to reach.
Pricing
The pricing scheme of AdPlexity has both benefits and disadvantages. Each analysis platform needs to be purchased separately, which means that you don't pay for benefits or features you don't use. But, the price of each platform can quickly add up, so if you want to enjoy the entire AdPlexity experience you may end up with a relatively high monthly bill. That said, the platform is perhaps the most wholesome alternative in terms of affiliate marketing competitor analysis, so it's worth every penny.
So, Which One Should You Choose?
All affiliates, advertisers, and networks are different, which means that they need distinct resources to succeed.
Adbeat and AdPlexity are both superb platforms, but they are geared towards slightly different users. Adbeat is a powerful intelligence tool that provides intricate analysis and data-rich sets that can unveil competitor patterns.
AdPlexity, on the other hand, is more wholesome in terms of the regions it supports, so it's more suitable for large-scale stakeholders running multilingual platforms.
Instead of making a decision based on each platform's features, you should look at the goals you want to achieve and determine what elements will help you achieve this. Then, select the platform that's most suited to your requirements. To learn more about choosing the best tool, reach out to our team today.
Found the Ideal Marketing Intelligence Tool? Take the Next Step By Partnering with lemonads
Adbeat and AdPlexity are both powerful platforms that are suitable for slightly different scenarios. Therefore, you need to evaluate the feature list of both options and make sure that you choose one based on your unique requirements.
We hope that our head-to-head comparison above helps you make the best decision for your specific case. If you're an affiliate looking for the best programs or an advertiser that needs help finding the best marketers, contact lemonads today and we'll be glad to help.
Accelerate your Conversions, Increase your Revenue
with lemonads
---
You would like