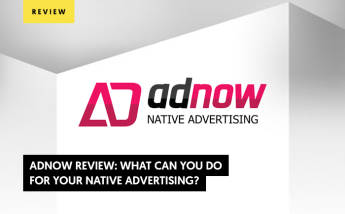 AdNow Review 2021: What Can You Do For Your Native Advertising?
Our AdNow review will dive through the potential of its advertising platform with prices, tips, pros & cons covering targeted personalized information for advertisers and publishers!
AdNow is a profitable and targeted advertising network helping advertisers who want to generate a lot of traffic to their business sites through interesting article recommendations with ads strategically placed as widgets on the publisher's blog sites that look like original content with related post models.
And publishers can benefit from sponsored content every click and view advertiser content on their website.
AdNow advertising service has been used by millions of webmasters, making really good profits from the platform, having 114 countries benefit from it!
So, let's discover more and earn that engagement you've been looking for by discovering all you need to know:
AdNow Review: Company, Ads, Tips;
Native Advertising;
AdNow Review For Advertisers: Prices, Pros & Cons;
AdNow Review For Publishers: Prices, Pros & Cons;
AdNow Review Conclusions.
AdNow Review
AdNow is an advertising network company founded in 2014 by a Big Data digital marketing team with more than 10 years of experience, to not mention that AdNow is very popular for their native content ads!
Not only providing PPC and CPM, but also by their unique ads which are in the form of widgets, displayed as part of the content that is related content, banners and hybrid ads!
Hybrid ads are those ad formats combining an ad with other interesting site content to increase user engagement, and we know that user engagement, today, is a necessary part to increase your brand awareness!
AdNow ads are available for several devices with various screen sizes such as mobile, tablet and also desktop.
Take a look at their audience profile!
AdNow can be the best alternative to the Ad Network besides Google Adsense to make money with your blog and, if you have joined AdSense ads, then it will not be a problem to put AdNow ads on your website or blog together with AdSense.
In particular, if you currently have a new blog with low traffic, you can try to join the AdNow advertising program to speed that traffic, increasing your brand awareness!
But, let's discover more about AdNow's company!
AdNow Review Company
AdNow began in 2014, when a group of digital "geeks" passionate about digital marketing, RTB and Big Data, came up with the idea of creating a new hybrid native ad format.
The hybrid format was designed to serve ads and make the discovery of new and interesting content very easy and user-friendly, allowing to use media banners and native ads in the course of the same campaign, which comes in handy for clients and agencies when running brand promotion campaigns.
The concept of serving interesting ads and content is quite obvious, however, the technical solution is complicated. It took the AdNow team over 1 year to develop the first platform prototype.
The effectiveness of its algorithm was impressive from the outset!
The combination of passion and experience made it possible to improve this platform and turn it into an effective advertising tool you sure would love to try out!
In December 2015, AdNow first launched cooperation with webmasters, and the publishers' platform became available for everyone willing to use it.
Since then, the algorithms and mathematical model were changed over 12 times to improve the selective mechanics and also by listening to each feedback from clients and partners.
AdNow's big strength is having the skills to make you earn:
Global Reach
Precise Targeting
High Traffic with Native Ads
User Engagement Content Promotion
Monetize your Website
Sell traffic
Generate high income from all!
To not even mention their native advertising platform reach...
And their Global reach....
So, let's check out some AdNow Ads and see what they're talking about!
AdNow Review Ads:
AdNow Ads shown on Tablet:
AdNow Ads shown on Mobile:
AdNow Ads shown on Desktop:
AdNow Native Advertising
AdNow Native Ads, Banners and Hybrid Ads
Clean, user-friendly and user engagement Ad formats created specifically to adapt your needs, reaching higher traffic from potential interested audiences and much more with your native advertising!
So, let's see what native advertising truly means...
What Is Native Advertising?
"Native advertising is simply a paid advertising where the ad matches the form, feel and function of the content of the media on which it appears."
This "Native Advertising" is particularly effective on an open web, but ads are getting more intrusive, annoying, and ineffective than ever!
Have you ever got bothered by those ads popping-up, interrupting your reading while you were so concentrated?
That's how native advertising is done wrong!
Non-disruptive ads, are those ads, that don't interrupt the experience of the user as they're consuming another content they've originally intended, and they easily blend in with the look and feel of the site!
Now that we are aware of what native advertising truly means and AdNow's potential, let's see what their platform can offer to each one of you!
AdNow Review For Advertisers
Hello Advertisers! It's all about you!
Ready to discover about AdNow's prices, pros & cons to see if they're the right fit for you?
Let's go!
"Buy website traffic with native ads! - Global reach and precise targeting with their premium websites and apps with a highly engaged audience"!
Let's see how!
With their native ads buying platform, you can promote any products and services, content, blog posts or video and pay only for real visitors!
In fact, Native Ads receive twice as much visual focus and generate a 3 times higher amount of consumer attention than banner ads, providing a powerful influence platform for marketers!
The combination of a native ad's headline, thumbnail, brand name and logo, stands out in the editorial news feeds and has been proven to drive an 18% lift in purchase intent.
And with AdNow, creating an advertising account and making your first ad is stress-free, easy to use with their user-friendly platform!
Peek here below how AdNow interface for advertisers looks like, especially with their new AdNow self-serve Ad platform:
AdNow Self-Serve platform offers a completely intuitive interface and unprecedented efficiency in driving customers to your business!
It relies on self-learning neural networks to find the most relevant audience for your ads!
Set basic targeting by location, device, OS, provider and connection type, and let their smart algorithm do the rest for you!
There is no need to manually fine-tune your target settings missing some of your potential clients! Serving ads, the system constantly gets feedback from users, learns from it and improves the audience profile, which boosts CTR enabling them to give you the best price.
AdNow uses data mining and machine learning algorithms to maximize your audience with a high CTR for the bid amount you set, meaning it will easily help you get a more quality audience with much less effort at the same price.
Fast, constantly improving and ultra precise - easier than ever!
What more could we possibly search for?
Tips:
Remember, your ads go through the RTB auction on CPC models. Be smart, start with a budget and bids that will let you test their capabilities of winning the best spot at the lowest price for your ad.
Generate the highest revenues with best selling product categories on high-quality traffic sources.
AdNow provides 100% native traffic. They work directly with publishers. Pre-moderated and safe, all their websites have search (60%+) and social traffic core with a highly engaged audience. Average AdNow ads have about 1% CTR.
Reach your customers efficiently with self-serve targeted native ads with:
Advanced Targeting Options:
Target your users by geo, devise, carrier, connection, operating system, browser and additional custom parameters.
Geo Targeting
Increase your targeting relevancy by identifying visitors based on geolocation from country to region and city level.
Career Targeting
Take your mobile targeting to the next level and execute a precise career targeting!
Their exclusive database of IP ranges from 500+ carries in 100+ countries is crucial for your success.
Let's see some AdNow pros!
AdNow Review Pros for Advertisers:
The support system is helpful and faster
Non-English sites also get approved
Works well with all the platforms
Now... with all these beautiful pros, what could the cons possibly be?
Let's check them out!
AdNow Review Cons for Advertisers:
CPC is slightly slow for the non-English sites
Make sure you read AdNow's Terms Of Use.
AdNow Review Pricing for Advertisers:
AdNow CPC works excellently in specialized sites. You can get about $4 from tier 1 countries like the United States.
Minimum deposit: $ 30
CPC: from $ 0.01
AdNow is an excellent choice as it works well for the various legit sites.
The prices are slightly higher for the sites that have Canada, US, European and UK traffic.
AdNow Review For Publishers
Hello Publishers! It's all about you now!
Ready to discover about AdNow's prices, pros & cons to see if they're the right fit for you?
Let's go!
"Monetize your website by selling traffic and generating high incomes"
Let's see how!
AdNow provides widget-based native ads that publishers can use to monetize their sites.
It is an advertising network with over 160,000 publishers at the moment. It is the network to work with when you want high RPM rates, especially for those wishing to monetize their sites through native ads.
With AdNow for publishers, you can generate revenue directly from your website or mobile app with targeted recommendations from their sponsored content marketplace providers, and it also provides best profits for publishers with female audience focus!
In the last two years, their network has emerged as one of the most efficient native ad tools serving over 4 billion impressions per month in 114 countries.
As we previously stated, AdNow provides related posts widgets that publishers can place on their site. The widgets display sponsored content that earns the publisher money when visitors click and view the related content.
AdNow has several advantages for publishers:
weekly payments,
easy customization of widgets,
prompt multilingual support system
And so much more!
Publishers with good sites get approved instantly, it's surely a great place for whom may have failed to get approved by other similar networks such as Taboola, OutBrain and RevContent.
However, as a publisher, you have to post at least one informative article every day, in order for  AdNow to place their ads.
This amazing advertising platform provides a unique way of monetizing website traffic through relevant and engaging user content that visitors are highly likely to click and view.
If you have good traffic for your website, then this is one of the best networks you can use to earn a good profit!
Also, tracking is a breeze in AdNow since they have an efficient real-time reporting system. Their rates are quite competitive and they even have a good referral program too.
AdNow Referral Program
AdNow provides publishers with extra revenue generating options through referrals.
You can earn income simply by referring others to join the network through your unique link.
The network will evaluate your referrals' websites and, if they are accepted, you would start earning 5% of their total revenue each week for a period of 12 months, and the revenue you earn from referrals, is usually added to your normal billing.
Let's see AdNow pros!
AdNow Review Pros for Publishers:
AdNow allows non-English websites to join
Have weekly payments,
Competitive rates,
Works with other ad networks safely including Adsense, PropellerAds, and Adtomatik,
Real-time reporting system,
If your website gets rejected, you can always apply again after fixing the recommended issues.
One of the greatest advantages of working with AdNow is the fact that publishers get detailed statistics reports of their performance in real time.
The network has an efficient reporting system that shows you the following on a daily basis:
Number of clicks
Number of views
Sources of clicks
Income earned
CTR
eCPM
You can even generate reports from different time zones - the system provides hourly stats -  using stats from the network's reporting system and the number of widgets you have on your site.
Now... with all these beautiful Pros what could the cons possibly be?
Let's check them out!
AdNow Review Cons for Publishers:
It is not possible to filter irrelevant or inappropriate ads directly.
You have to contact support every time you are served irrelevant or inappropriate ads.
AdNow Review Pricing for Publishers:
Minimum Payout Threshold: Paypal, ePayments, Web-money ($20), Bank/Wire ($200)
AdNow calculates your earnings on the basis of impressions. You get paid on a weekly or Net 7 basis.
Payment methods available are: PayPal, Bank Wire Transfer, ePayments, Web-money
If you want to ask for more information, contact them by clicking here!
The prices are slightly higher for the sites that have Canada, US, European and UK traffic. You should place the widget below content.
So, it's time for you to start monetizing your website with AdNow widget ads and maybe their referral program too,  if you haven't yet!
AdNow Review Conclusions
As we arrived at our conclusions, as a content recommendation service, AdNow is one of the best options publishers can use to monetize their website traffic and advertisers to drive results with rising and acquiring valuable traffic.
And, as you've just overviewed in our AdNow Review, there are many benefits publishers and advertisers can get from AdNow.
We hope we've fully satisfied all your doubts and if our AdNow review was useful, why not get started with them by signing up?
Don't forget to leave your personal experience with AdNow in our comments below!
Accelerate your Conversions, Increase your Revenue
with lemonads
---
You would like