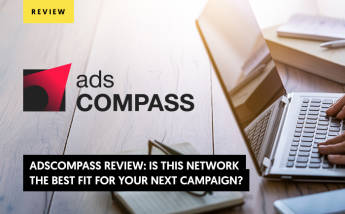 AdsCompass Review: Is This Network the Best Fit for Your Next Campaign?
Despite the fact that all stakeholders have different goals, one thing that advertisers and publishers have in common is the needt for a reliable ad network.
There are dozens if not hundreds of options to choose from, some of which specialize in a few different types of traffic while others offer a huge collection of ad formats. Choosing the best network may not be straightforward, but taking the time to find the perfect fit will only increase your chances of success.
AdsCompass has been around for almost a decade and this ad network has quietly established itself as one of the top options for both publishers and advertisers. In this AdsCompass review, we'll discuss the platform's best feature and give you the details you need to figure out if this is the best network for you.
AdsCompass Overview: What You Need to Know
AdsCompass was founded all the way back in 2013 and it has been amassing a huge collection of publishing platforms, which has drawn more than 5000 top-quality advertisers to the network. In addition to guaranteeing engaged, real users, AdsCompass has also focused on implementing innovative formats and features that help deliver outstanding results on a consistent basis.
Furthermore, AdsCompass also offers features like:
Advanced Technology
In a day and age where consumers are more conscious of privacy and safety, the only way to attract and engage users is through an innovative network that has all the right systems in place. The team at AdsCompass works restesstly to develop, test, and implement innovative technology that supports high-volumes of quality traffic without sacrificing performance.
Fast Implementation
Whether you want to advertise your products or monetize your platform, AdsCompass has developed easy implementation protocols for all stakeholders. Publishers can deploy AdsCompass in their platforms in a matter of minutes, and it takes even less time for advertisers to get started with their campaigns.
Ideal for Various Industries
While the network started with just a few specialties, AdsCompass has become a leading platform that's suitable for a huge variety of industries. These include, but are not limited to:
Privacy and Security
Modern consumers only like to visit platforms and interact with ads that respect GDPR laws as well as other privacy guidelines. Likewise, AdsCompass demands the best quality traffic from publishers, plus the platform has put a wide set of security protocols in place that filters out fraudulent interactions based on different parameters.
Multiple Support Channels Available
AdsCompass members can choose to contact the support team via a form on the platform's website, email, or via live chat through Skype. In most cases, customers receive a response within 24 hours if using the website form or email, but keep in mind that their support team is not available around the clock via instant messenger.
Advantages of Partnering with AdsCompass
There's no denying the fact that AdsCompass is a powerful ad network, but you should carefully analyze their features in order to ensure this platform is a good fit. All ad networks have their unique pros and cons, so the only way to find the ideal fit is to understand how the different capabilities will affect your experience.
After conducting in-depth research, we found that the biggest advantages of partnering with AdsCompass are:
Simple and Straightforward Service
Instead of specializing in a niche segment or ad format, AdsCompass has strived to create the perfect one-stop-shop for both affiliates and advertisers. The secret sauce to the platform's success juggling different types of traffic has been the simplicity of its service. Publishers are allowed to attract an unlimited number of visitors from desktop or mobile devices, plus they can monetize virtually any type of traffic they want.
User-Friendly Interface
In addition to having simple and no-nonsense service offerings, the platform also has a user-friendly interface that's intuitive and easy to understand. In the dashboard, you'll receive a summary of key performance metrics, plus you can also access the network's wide array of features from this area.
Traffic Quality
Any network can produce low volumes of quality traffic, but finding a platform that consistently delivers engaged users is truly special. AdsCompass has spent the best part of the last decade building strong relationships with the best publishers in all parts of the world. This has enabled the network to deliver superior quality traffic, regardless of the size of the campaigns being developed.
Worldwide Coverage
All comprehensive ad networks allow members to find and monetize traffic from all over the world and AdsCompass is no exception. Publishers can make money off traffic from more than 200 regions and thousands of languages/dialects across the world. Advertisers can leverage the network's global reach to promote their brand and sell their products to users around the planet.
Well-Defined Payout System
AdsCompass works under a standard Net30 payout system, so it's not particularly fast. However, the platform does ensure that payments are sent out without delays, which is part of the network's simple services. You can submit a request for a minimum of $10 at the time of writing, but keep in mind that this value may fluctuate in the future.
Robust Targeting
AdsCompass' network is composed of thousands of websites that receive more than 80 million unique visitors every single month. Fortunately, the platform has developed robust targeting capacities that help advertisers filter out traffic and ensure that only relevant users see their ads.
You can choose to target your audiences based on:
Location
Browser
Interests
Demographic information
Device
IP
Day of the week
Frequency capping
Time zone and many more variables
Powerful Reporting Features
Reports allow you to condense large volumes of data into digestible chunks of information that help you visualize and analyze the performance of your campaign. AdsCompass has gone above and beyond by developing customizable reports that you can generate on demand. Both publishers and affiliates can develop tailored reports based on the metrics that have the most value to them and use these to help improve the results they're getting.
Multiple Withdrawal and Deposit Options
While depositing and withdrawing funds may seem trivial to some, platforms that don't offer flexible options may ramp up expenses for all stakeholders. Luckily, AdsCompass offers a wide variety of options for you to fund your campaign or withdraw the funds you've generated through your publishing platforms.
Additionally, you can choose to work with CPA, CPC, or CPM bidding, so it's ideal for any type of budget.
The financial options in AdsCompass include:
Direct wire transfer
Credit/debit card (for payments/deposits)
Paypal
ePayments
Webmoney
Which Ad Formats Are Available at AdsCompass?
We've mentioned a few times that AdsCompass offers a variety of ad formats, which is due to the size of its network. However, the most important element is that the platform ensures high-quality visitors regardless of the traffic type you choose. Plus, it doesn't matter if you want to start off with tier-3 countries and run a few tests or jump into tier-1 to make more money from the get-go, you'll definitely find a combination of formats that provides stellar results.
Pop ad
Mobile
Display
Social media
Organic search engine traffic
Various video formats
Pros and Cons for Publishers and Advertisers
As we mentioned before, publishers and advertisers have different goals, but both of these parties benefit from partnering with a superb network. Nevertheless, no ad network is perfect, so we'll go over the different pros and cons for advertisers and publishers to help you make the best choice.
Advertisers
Advertisers may want to promote a specific product or their brand, but the main goal of their campaigns is to make money. To succeed, advertisers need to partner with a network that has implemented powerful anti-fraud features, making AdsCompass one of the best solutions available.
Here are some of the pros and cons of AdsCompass for advertisers:
Pros
Thousands of reliable publisher with high-quality traffic
3rd party security checking mechanism that ensures traffic quality
Advanced features like targeting, blacklisting, and optimization tools
Visitors from more than 200 countries around the world
Various ad formats including video push notification, native ads, pop ads, banners, and many more
Cons
Lack of a referral program
Publishers
Publishers are a key part of a healthy affiliate ecosystem and their main objective is to generate profits from the visitors on their site. Unlike advertisers, they don't want to promote one brand or product, but find a way to market different offers on their sites without overwhelming their visitors.
Here are the pros and cons of AdsCompass for publishers:
Pros
Superb real-time bidding (RTB network)
No restriction on the amount of traffic you can monetize from
Publishers claim 35% of the profits generated
Intricate tracking and reporting
More than 5000 advertisers and the list is growing
Cons
Relatively low CPM rates
Lack of AdsCompass in-house offers
Find Out More About the Best Ad Networks at lemonads
When trying to find the best ad networks, taking shortcuts can result in a less-than-ideal partnership. On the contrary, you should take the time to research your different options and contact the ad network you're interested in working in order to gauge the quality of its support team.
We hope that our AdsCompass review above can help you understand the pros and cons of partnering with this platform and allow you to make the best decision.
If you want to learn more about the best ad networks and their features, stay tuned to the lemonads blog or contact us today and our team will be glad to assist you.
Accelerate your Conversions, Increase your Revenue
with lemonads
---
You would like