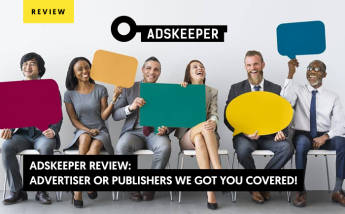 AdsKeeper Review 2021: Advertiser or Publishers? We Got You Covered!
Our AdsKeeper review will dive through the potential of its advertising platform with all you need to know, covering targeted personalized information for advertisers and publishers!
AdsKeeper is one of the fastest-growing native content ad networks similar to other native ad networks like MGID, Taboola, RevContent, but let's see what they can offer you by making the difference!
AdsKeeper helps publishers monetize their ad inventory by displaying original content recommendations in the sidebar, meanwhile, it helps advertisers to acquire new audiences that perfectly match offers and works on a CPM basis, and has good advertisers throughout Europe!
So, let's discover more and earn that engagement you've been looking for by discovering all you need to know:
AdsKeeper Review: Company, Ads, Tips;
Native Advertising;
AdsKeeper Review For Advertisers: Prices, Pros & Cons;
AdsKeeper Review For Publishers: Prices, Pros & Cons;
Top 5 AdsKeeper Native Advertising Platform Alternatives "Flash" Reviews
AdsKeeper Review Conclusions
AdsKeeper Review
AdsKeeper, as being a native advertising network, focuses on delivering the best results to both publishers and advertisers, this is also thanks to AdsKeeper's AI (Artificial Intelligence!
AdsKeeper AI, tracks the behavioral pattern of visitors on different websites, serving the best advertisements, increasing users engagement!
AdsKeeper's ads are of high quality and they can also be easily customized! Not only do they offer various customization options, helping publishers to customize their native ads as per their websites, but they also offer various types of native ads widgets that you can place on various sections of your website!
Take a look at AdsKeeper Site Traffic!
AdsKeeper advertising reaches 68.2M visitors across desktop and mobile web in countries such as the United States, Russia, Mexico, Ukraine, Vietnam, and the United Kingdom.
AdsKeeper pricing models are CPC on channels such as Display, Mobile, Native, Social Advertising and it will allow you to reach consumers in industries or verticals such as Entertainment, Mobile App Installs, Health, and Beauty.
Did you know that AdsKeeper also works with these Advertising Technology Companies such as Google Remarketing, DoubleClick.Net, Google Adsense, Yadro BannerHost, MarketGID, Google Ad Partner Services, eXelate, Facebook Exchange FBX, ContextWeb, Specific Media, AppNexus, Turn, VINDICO, Google Publisher Tag, Pubmatic, Rubicon Project, AudienceScience, SiteScout, SpotXchange, MGID, Dstillery, Criteo, Accuen, BlueKai, AcuityAds, DemDex, Zedo, DoubleVerify, Drawbridge, Experian?
That's right, but let's discover more about AdsKeeper's Company!
AdsKeeper Review Company
Founded in 2013, AdsKeeper is a fast-growing ad recommendation platform that adjusts native ads to the needs of direct advertisers, media agencies, and affiliates. Being partners with over 3,000 publishers, AdsKeeper helps advertisers acquire engaged audiences through personalized content recommendations.
AdsKeeper's mission is to equip marketers with breakthrough advertising technologies that drive performance and revenue growth, keeping digital consumers' best interests in mind.
In 2018, AdsKeeper expanded its inventory and hit the mark of 5 billion ad recommendations daily!
So, let's check out some AdsKeeper Ads and see what they're talking about!
AdsKeeper Review Ads:
Example #1 AdsKeeper Ad
Example #2 AdsKeeper Ad
Example #3 AdsKeeper Ad
So, let's see what native advertising truly means...
What Is Native Advertising?
"Native advertising is simply a paid advertising where the ad matches the form, feel and function of the content of the media on which it appears."
This "Native Advertising" is particularly effective on an open web, but ads are getting more intrusive, annoying, and ineffective than ever!
Have you ever got bothered by those ads popping up, interrupting your reading while you were so concentrated?
That's how native advertising is done wrong!
Non-disruptive ads are those ads that shouldn't interrupt the experience of the user as they're consuming another content they've originally intended, and they easily blend in with the look and feel of the site!
Now that we are aware of what native advertising truly means and AdsKeeper's potential, let's see what their platform can offer to each one of you!
AdsKeeper Review For Advertisers
Hello Advertisers! It's all about you!
Ready to discover about AdsKeeper prices, pros & cons to see if they're the right fit for you?
Let's go!
AdsKeeper provides a set of tools for advertisers like- macros, retargeting ability, and selective bidding. These together help marketers to make better revenue from their investment.
With AdsKeeper, the advertiser has the option to work with traffic that converts, hands-on optimization tools to further enrich your campaigns, a wide range of targeting options, and finally attractive bids to ensure the highest return on investment!
What you can do with AdsKeeper:
AdsKeeper has also a user-friendly dashboard, where you can log in to both publishers and advertisers account:
AdsKeeper likes keeping everything simple.
The main page of the dashboard shows stats of your ads, earnings, websites and it provides links to various sections of the website.
AdsKeeper offers a simple but effective stats reporting system that shows all the necessary stats of your ads. Its stats reporting system reveals:
Total revenue,
Retained revenue;
Last 30 days revenue;
A graph which shows your earnings daily;
It also offers various filters to break down your reports to better analyze them.
AdsKeeper Review Pros for Advertisers:
User-Friendly Dashboard System easy to use;
Wide Targeting Options;
Real-Time Statistics;
Selective Bidding;
Retargeting;
Set of Macros;
Stats Reporting System: Ads, earnings, and website traffic.
To not even mention their two options for campaigns you can set to create:
Self-served campaigns;
Fully managed campaigns.
AdsKeeper Self-served campaigns
Enjoy an easy-to-navigate platform to run and adjust your campaigns.
Intuitive Dashboard to set up and optimize campaigns.
Traffic Insights into volumes available.
Bid Recommendation Engine.
Wide targeting options.
Fully managed campaigns
AdsKeeper will take care of your campaign, hitting your KPIs & budget goals.
Campaign & tracking setup.
In-house ad creation.
Campaigns optimization.
Creation of unique funnels for your offers.
Now... with all these beautiful pros, what could the cons possibly be?
Let's check them out!
AdsKeeper Review Cons for Advertisers:
Support is slow;
A lot of testing before earning BIG
AdsKeeper Review Pricing for Advertisers:
Minimum Payout of AdsKeeper Network is $50
AdsKeeper is an excellent choice as it works well for various legit sites.
Now, let's check the publisher's site!
AdsKeeper Review For Publishers
Hello Publishers! It's all about you now!
Ready to discover about AdsKeeper prices, pros & cons to see if they're the right fit for you?
Let's go!
Monetize your audience with AdsKeeper by simply displaying native recommendation ads on your website in places where you never imagined could generate revenue!
Since you came to this article, we believe you're planning to use this advertising network platform on your blog or website to increase your overall revenue with native ads.
As we previously stated, AdsKeeper AI Entrepreneur tool automatically selects the best performing campaigns from the advertiser's 1000s campaign database for your website traffic and thereby ensures a higher clickthrough rate, engagement, and revenue potential for higher publishers.
But, be aware!
If you try to scam them by trying to earn more money, they'll notice and ban you without paying your earnings!
The AdsKeeper ad unit is flexible and responsive so that it can improve websites with screen size and resolution effectively.
So, as a publisher, you are required to install widgets in the main location of your site for maximum clickthrough.
But don't worry, AdsKeeper offers a type of widget ad, that can blend well with the style of the website and their widgets offer deep customizations to provide a truly original experience for users.
Their ad format is pretty similar to MGID, Taboola, and Revcontent formats.
just like here below!
Take note that the BPS rates offered by AdsKeeper will vary based on the widget placement since the CPM page/widget is a function of the CPC and CTR.
AdsKeeper different types of native ads widgets:
Under Article Widget
Header Widget
Sidebar Widget
Exit Pop-Up
Media Widget
AdsKeeper widgets customization page:
That would look like this:
AdsKeeper Ad Recommendation Units, thanks to their Artificial intelligence, pick the content that visitors are most likely to engage with, based on the behavioral patterns they were following on other websites! These ad recommendations, as you can see, will show up smoothly and fit easily on your page!
Ad Recommendation Units
Check what you can do with AdsKeeper:
AdsKeeper Benefits for Publishers
Publishers benefit from the following when they join the original AdsKeeper ad network;
Have the highest fill rate in the industry. Plus, the network can monetize all traffic in all geographies;
Get attractive revenue for high conversion traffic;
Enjoy a payment schedule every month (we'll check that in just a sec)
AdsKeeper also provides an intuitive dashboard for publishers and advertisers as we previously saw in the AdsKeeper for Advertisers section.
Let's check out the Publisher's Dashboard side!
Once you click on the publisher tab and add your name, it will take some time for the domain to be approved, but usually not more than 24 hours.
Once you get approved you can generate a widget ad code and implement it on your site and start making money from it!
AdsKeeper works for all types of sites, small or big but, the revenue will depend on the quality of the site for sure (niche, ads placement, and visitor's location)!
AdsKeeper has a simple sign-up and approval but once you've created your account, you are required to submit your website and wait for a second approval.
Only once your website is approved, you'll be able to generate a native ad widget to place on your website and begin to earn money.
AdsKeeper Review Pros for Publishers:
Decent CPM rates for Tier-1
Great customer support provided via Skype
The referral program allows earning 5% of the publisher's lifetime commission!
AdsKeeper has recently introduced a referral program for its publishers.
To activate this function, you have to turn to your account manager, then use the dashboard and get a referral link to share with other publishers. You will, of course, get a commission fee, 5% of your referrals' revenue!
Now... with all these beautiful pros, what could the cons possibly be?
Let's check them out!
AdsKeeper Review Cons for Publishers:
NET30 based payments
GEO they can offer you is limited
You can get banned if you don't respect their terms of service!
AdsKeeper Review Pricing for Publishers:
The minimum amount of money you can withdraw is $50 however, some networks set their minimum payouts at $5.
AdsKeeper makes payments to publishers once per month, on Net30 system terms.
The preferred payment option: PayPal, Bank Wire Transfer, Web-money, or ePayments.
For sure, AdsKeeper is known to make timely payouts to its publishers without any troubles or delays.
Let's quickly compare AdsKeeper alternatives!
Top 5 AdsKeeper Alternatives
Let's quickly Overview Top 5 AdsKeeper Native Advertising Platform Alternatives:
AdsKeeper Review Conclusions
With AdsKeeper, you can also decide to add more ads on your website to earn more money, but you would also have to keep in mind that, if you choose in taking this decision, you could fall into a bad user experience.
Unfortunately, the major drawback is a limited "GEO", which many native advertising platforms offer.
We hope we've fully satisfied all your doubts and if our AdsKeeper review was useful, why not get started with them by signing up?
Don't forget to leave your personal experience with AdsKeeper in our comments below!
Accelerate your Conversions, Increase your Revenue
with lemonads
---
You would like