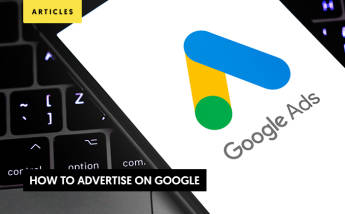 How to Advertise on Google: A Complete Beginner's Guide
Are you thinking to advertise on google? In this guide, we tell you everything about it.

Affiliate marketing is used by 4 out of 5 companies around the world, making it perhaps the most popular form of advertising used today. That said, affiliate publishers and content creators still need a bit of help getting traffic to their sites, especially if they are just starting to break into space. There are multiple alternatives to help you acquire more traffic, but Google is undoubtedly among the best places to drive more visitors to your site.
At lemonads, we partner with some of the top affiliates across various industries, so we're familiar with the techniques these specialists use to get more people to their sites and apps. Our team knows why Google is one of the best places to advertise, plus it's also familiar with the steps required to successfully promote content on the search engine's digital real estate.
Below, we'll go over the reasons why Google is a great alternative to advertise through and provide tips on building organic as well as paid advertising campaigns on the search giant.
Why Is Google a Great Place to Promote Content?
Google handles more than 5.6 billion queries per day, which averages out to more than 230 million searches per hour. Moreover, 87% of all shopping instances now begin online, and if Google is the most popular search engine in the world it's safe to assume that a large chunk of these searches is performed with Alphabet's search engine.
Considering the numbers above, it's safe to assume that Google and the internet as a whole allow you to reach a large portion of your audience, regardless of your industry. Not only this, but advertising on Google also ensures that your content is available to the most relevant audiences whenever they need it most. This is because modern consumers turn to search engines to find new products and services in their area, so appearing on Google will give you the credibility you need while helping you drive more traffic at the same time.
Promoting Content on Google: What Options Do You Have Available?
Now that we've established that Google is a great place to promote your content, it's important to explore the different alternatives you have available. Remember, Google is a platform that's used by billions of people around the world for all types of purposes, so the team behind the search engine has developed different methods to help content creators attract more users.
The two main ways that you can advertise on Google are search engine optimization and paid campaigns through Google Ads. These are also called organic search marketing and paid ads campaigns respectively.
Organic Marketing (Search Engine Optimization)
Search engine optimization (SEO) is a form of organic marketing, which means that publishers don't have to pay to appear on the search engine or for leads generated through it. SEO consists of a variety of steps that help improve your rankings in relevant search engine queries. These steps include the improvement of your website architecture, development of quality content, management of social media profiles, and other actions.
SEO is among the most cost-effective forms of promotion because you can attract huge volumes of visitors without having to pay for each individual user. Additionally, users that find your content through organic means like search engines tend to be more engaged because they feel completely in control of the interaction, so they tend to be easier to convert.
Paid Advertising (Google Ads PPC)
Google Ads is the search engine's paid advertising platform and it allows you to place ads across the platform's entire network.
Note that Google Ads provides access to both the display network and search network. The search network allows you to place ads in Google results pages for relevant searches. Moreover, the display network consists of a collection of more than 2 million websites, apps, and other platforms where Google is allowed to place banners as well as other forms of visual ads.
One of the many differences between Google PPC and organic campaigns is the former's ability to create targeted campaigns. When you create a PPC campaign, you can set specific targeting settings that limit the number of people that see your ad based on their location, age, type of search, and other variables.
How to Advertise on Google
Now that we've covered the advertising options you have available on Google, let's go over the steps to promote your content using each alternative.
Remember, SEO is a long-term strategy that doesn't require a direct investment every month. In other words, you can develop an SEO campaign with a limited budget and gradually reduce your spending while maintaining the same performance.
But, in order to run PPC campaigns on Google Ads, you need to make a direct investment and dedicate a sum of money to it every month. That said, PPC campaigns provide immediate results, so many publishers choose to combine both and gradually transition into more organic means once they start generating enough unpaid traffic.
Before choosing which type of advertising you'll implement, remember that all publishers are unique. This means that you need to develop a tailored strategy that takes the resources at your disposal into consideration. This will prevent you from going over budget while giving you the highest chances of success.
With the above in mind, here are some of the general steps you need to take to implement both paid and organic techniques into your marketing strategy.
Search Engine Optimization
Search engine optimization encompasses a huge variety of different actions that help improve the way search engines analyze and rank your site. Google aims to deliver the most relevant and high-quality results whenever a user performs a search. SEO ensures that your content is available and easy to access to Google while making sure that your pages have everything needed to achieve a top position.
In order to build and implement a solid SEO plan, you have to:
Evaluate Your Current Site
The architecture of your site is crucial to your search engine ranking. But, if your site doesn't have the right structure, then it won't produce the best results even if your content is on point. For this reason, the first step you need to take is to evaluate your current website and decide whether you can adjust it or if you need to build it from scratch.
Improve Technical SEO
Once you decide how you will approach the site improvements, it's time to improve the technical SEO elements within each page. Technical SEO elements include everything from the structure to the tags and even the keywords you target. Keep in mind that SEO is a full-time job, so you may need to work with a specialist or take the time to learn how to make these improvements in order to get the best results.
Generate SEO-Friendly Content
Once the technical side is covered, you can focus on creating and publishing quality content on a regular basis. Besides delivering valuable information to your readers, your content should also be easy to read and contain the main keyword (as well as relevant variables) scattered throughout the text.
Track and Optimize Your Efforts
Finally, you need to keep a close eye on the performance of your organic campaign and evaluate the performance of your content. Use the data collected to make adjustments or run tests in order to find the best alternative. Just remember, you have to collect enough information before optimizing your content. If you optimize content with too little data, you run the risk of making changes with information that's not statistically significant.
Google Ads PPC Campaigns
Launching a Google Ads campaign is relatively simple because the network is available to all Google (Gmail) users. With that said, remember that there are some exceptions to the type of content you can promote on Google Ads, so your ads will be reviewed thoroughly before going live. What's more, remember that you can't promote affiliate links through the platform, so you can only drive traffic to your site or app and place ads on there.
If you want to create a paid campaign, some of the actions you'll likely have to take include:
Identify the Audiences that Hold the Most Value
Google Ads allows you to target specific users based on their region and other demographic variables. But, this feature is only effective if you know which segments of your audience are the most profitable. If you're not sure, the first thing you need to do is figure out which users you want to target based on how engaged they are.
Develop a Robust Campaign Structure
After identifying the best user segments, it's time to build the blueprint of your campaign. Google Ads campaigns are broken down into ad groups, and each one should only contain related terms as well as synonyms of the keyword. Decide exactly which keywords and ad groups you're running to start creating a plan and update it with other decisions you make thereafter.
Create High-Performing Ads and Landing Pages
Once your plan is complete, craft the ads that will appear in each ad group. Once everything is ready, choose your targeting settings and launch your campaign. As a general rule of thumb, it's a good idea to create three versions of each ad and compare the results you get for each during the first optimization phase.
Optimize and Create a Remarketing List
After your campaign is live, keep a close eye on the performance of your ads and optimize them as soon as you have enough data. You can also create a remarketing list and start working on a strategy to market your services to the same users using different means. The idea is to use the data you already have about these users to create better ads that are tailored to their specific circumstances.
Ready to Promote Your Content on Google? Find the Best Affiliate Programs at lemonads
Promoting content on Google may be challenging, but it's definitely one of the best ways to drive traffic to your platform, whether it's new or well-established. To learn more about monetizing the traffic you drive through Google Ads and SEO, contact lemonads today and our team of experts will be glad to help.
Accelerate your Conversions, Increase your Revenue
with lemonads
---
You would like