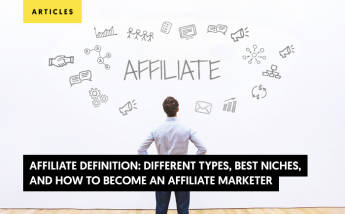 Affiliate Definition: Different Types, Best Niches, and How to Become an Affiliate Marketer
Becoming an affiliate is a great way to take control of your professional life and make money out of the knowledge you already have. Affiliate marketing is one of the most popular forms of digital advertising and companies rely on this technique to connect with different consumer segments that have distinct needs. With that said, establishing yourself as a leading marketer takes a significant amount of effort and knowledge, starting with mastery of the affiliate definition.
At lemonads, we work closely with top affiliates across a variety of niches, so we have an in-depth understanding of all the elements that influence this type of advertising. In this article, we will go over the definition of an affiliate and the different types of independent marketers that exist today. We'll also discuss the different payment formats that these marketers can work with and provide a list of companies that have a successful affiliate program in place.
What Is Affiliate Marketing?
Before going any further, let's take a moment to define affiliate marketing.
In simple terms, affiliate marketing is a promotional strategy that requires companies or advertisers to rely on third-party marketers, who are known as affiliates. In this setup, advertisers pay affiliates to produce conversions, which can consist of leads, sales, or personal information like name and email address.
There are many different structures when it comes to affiliate marketing. But, almost all of them involve consumers, advertisers, affiliates, and affiliate networks.
Affiliate networks are platforms that work as the connection between affiliates and advertisers. Rather than searching for each other manually, both affiliates and advertisers can rely on networks to help them find the most profitable partnerships.
Affiliate Definition and Types of Affiliate Marketers
Now that we've discussed the basics of this advertising strategy, let's go over the affiliate definition.
In the digital marketing context, an affiliate is an independent advertising specialist that focuses on helping multiple brands connect with their target audiences. These specialists can connect with their audiences and deliver marketing messages more effectively because the content isn't coming directly from advertisers. So, the goal of all affiliates is to form strong relationships with their audience to influence these users' decisions.
Affiliates can specialize in a variety of advertising platforms, so these professionals are usually categorized based on the tools they use. Let's take a look at some of the most common types of affiliates.
Mass Media Affiliates
Mass media affiliates are marketing professionals that own multiple publishing platforms. Known sometimes as commerce editors, these affiliates usually drive a huge amount of organic and paid traffic by producing high-quality content at a large scale.
Mass media publications can be general or follow a specific niche, but they all focus on developing both evergreen and seasonal content. Some examples include Forbes, Business Insider, and all of Vox Media.
Bloggers Affiliates
Bloggers may have been the first type of digital affiliate to gain a reputation for making a living off this type of marketing. As the same suggests, these affiliates focus on producing blog content that consists mostly of written articles, but can also include images, videos, and other types of rich media content.
As with all other types of affiliates, bloggers have to include an affiliate disclosure in their content to inform readers about their potential commissions.
Influencer and Content Affiliates
Influencers are affiliates that have a certain degree of sway over the decisions that their audiences take. In the vast majority of cases, this type of affiliate earns a reputation for being knowledgeable about a specific industry, like technology or fashion. Influencers then use the power of their reputation to promote advertiser goods and generate conversions through different channels.
The most common channels for influencers are social media networks and video platforms. But, it's common for these affiliates to also attend in-person events and hold digital interactive gatherings for their followers.
Social Media Marketers
Social media marketers focus on promoting affiliate programs through Facebook, Instagram, TikTok, and a variety of other networks. Affiliates that specialize in social media usually leverage both organic and paid content to drive traffic to their sites or directly to the advertiser's program landing page.
Consumer preferences are in a constant state of flux, which means that social media affiliates need to monitor traffic on their platforms closely. Moreover, specialists that leverage innovative platforms first tend to have the best historic performance on these new networks. So, don't be afraid to test the water on new platforms that may interest your audiences.
Media Buyers
The term "media buyer" is used in conventional advertising as well as affiliate marketing, and its definition is very similar in both contexts. In the affiliate world, a media buyer is a marketing specialist that purchases traffic from different sources and focuses on building great ads, rather than developing organic content.
Media buyers can create simple landing pages that contain affiliate links or promote these directly on their ads. Moreover, a lot of affiliates use a hybrid approach that includes organic traffic generation as well as purchased visitors, so they technically fall under the media buyer mantle as well.
Email Affiliate
It's impossible to discuss the affiliate definition without talking about emails. Even though it's one of the oldest forms of advertising out there, email marketing is still one of the best ways to connect with consumers. This is so true, that some affiliates specialize in collecting emails, building sales funnels, and monetizing this contact information through comprehensive sequences.
How to Become an Affiliate Marketer
Becoming a knowledgeable and successful marketer is a long-term project that requires a significant amount of learning and practice. It's essential to understand that all affiliates are different, so the process of becoming a marketer is unique for every individual.
Some affiliates begin by looking at the industries they know of, choosing the most profitable, and then learning about affiliate marketing in that niche. Prospective marketers that don't have mastery over a particular industry take a completely different approach and learn the basics of affiliate marketing before deciding what vertical to specialize in.
To become an affiliate, you should evaluate your specific scenario and learn as much as you can about this type of marketing. Moreover, you need to find an affiliate marketing platform that gives you access to advertisers with attractive programs.
How Do Affiliates Get Paid?
One of the biggest questions that beginner marketers ask is: how do affiliates get paid?
There are a few things to consider before going over the answer to the question. First off, the amount of money that a marketer gets paid per conversion depends on the affiliate program. The affiliate program is the agreement between the affiliate and the advertiser.
Keep in mind that the advertiser sets forth the requirements that affiliates have to follow to generate valid conversions. So, as an affiliate, you should aim to only work with programs that have favorable conditions.
Secondly, there are many different payment channels and commissions models. It's important to remember that advertisers also decide the payment schedules, so affiliates have to evaluate this element before deciding whether or not to work with a program. If you're working with an affiliate network, the payment schedule may be defined by this platform, which usually works in favor of affiliates.
Let's take a close look at common affiliate payout models, channels, and schedule structures.
Payout Models
There are many commission models in affiliate marketing, but the most popular alternatives often fall under the mantle of performance advertising.
This means that affiliates need to achieve a certain goal with their ads and generate a certain interaction from users. These interactions can be as simple as viewing content or as complex as installing software and using it within a specific time period.
The most common payout structures found in affiliate marketing are:
CPS
CPS stands for cost-per-sale and it's a commission structure that requires affiliates to generate sales to receive payment. This payout structure is among the most demanding because affiliates need to take users through the entire sales funnel. With that said, CPS programs also boast of higher commission amounts due to their degree of difficulty.
As with other structures, you need to pay close attention to the CPS programs you're evaluating to ensure that the sales can come from locations you've worked with before.
CPI
Cost-per-install or CPI is similar to CPS. The difference is that instead of generating sales, affiliates have to convince users to install a specific app on their devices.
Even though CPI campaigns are technically suitable for all types of digital platforms, these are often designed for mobile devices. It's important to note this distinction because consumers behave differently on mobile devices. So, affiliates that work with CPI programs need to ensure that they are comfortable with this type of traffic.
CPM
CPM is a type of commission structure that's known as cost-per-mille or cost-per-1000. Rather than charging advertisers for each conversion generated, affiliates earn commissions for every 1000 impressions they accumulate. In other words, an affiliate gets paid for every 1000 people that see the content promoting the advertiser's program.
Some of the most classic affiliate ad formats work on CPM-basis, like pop-ups, banners, and so on. But, even though it's among the oldest affiliate commission structures, CPM is still one of the most common alternatives found today.
CPC
Cost-per-click or CPC is also one of the original structures and it's almost as old as the digital advertising industry. To earn commissions, affiliates have to convince users to click on an ad and visit an advertiser's landing page. However, as with other simple conversion flows, it's important to note that CPC payouts are not as high as with CPI and similar alternatives.
CPL
Cost-per-lead is considered an advanced conversion model because of its difficult conversion flow. To become a conversion, each user must leave contact details like name, email address, and phone number. Remember, advertisers are the ones who decide what data needs to be collected, so keep a close eye on the requirements outlined in the program.
With the above in mind, also note that CPL campaigns offer much higher return-on-income (ROI), at least when analyzed at the individual conversion level.
CPA
Cost-per-action or acquisition is an umbrella term that describes a conversion model where affiliates have to convince users to take a specific step. While some of the other commission models fall under this category (CPI and CPL, specifically), CPA models encompass any form of affiliate agreement where affiliates have to generate an action.
Now, remember that CPA campaigns usually have various moving parts. This means that affiliates need to implement advanced tools like landing page builders, innovative trackers, and a significantly larger budget.
Payment Frequency and Channels
Understanding the different commission structures is the only way to make the right choice. But, successful affiliates also have to evaluate other payment features before committing to a network or program.
For starters, you need to look at the payout frequency, or in other words, how often you get paid. The payout frequency depends directly on your partners. So, if you work with individual advertisers, you need to check the frequency of each program.
By partnering with a network, you can help standardize this process and get paid all of your commissions at once on a convenient day. For instance, at lemonads, we pay our affiliates every week and we give them three different withdrawal options, which are:
Direct bank transfer
Paxum payments
Paypal transfers
Is Affiliate Marketing Limited to a Small Number of Niches?
Affiliate marketing is extremely popular because it's compatible with almost all industries, including B2C, B2B, and other types of verticals. This is partial because most consumers begin researching their purchases online. Because of this, affiliates can build niche sites, publish valuable content, and include affiliate links to generate conversions.
Some prospective marketers build an affiliate niche site in a vertical that they already have a lot of knowledge about. Others take a more gradual approach and develop an affiliate site about a vertical they are passionate about and feel motivated to research.
Let's take a look at some of the top verticals you can choose:
Lifestyle and Wellness
The key to finding profitable industries is thinking about the goals that everyone wants to achieve, regardless of language or location. The lifestyle and wellness vertical is a great example because everyone wants to live long, happy, and healthy lives.
This industry includes sub-verticals like mental health, diet, nutrition, and personal improvement services, among others. Consumers interested in lifestyle and wellness content are usually looking to make changes in their collective lifestyle, which gives affiliates a great opportunity to connect with these individuals.
Nutraceuticals
The nutraceuticals vertical is closely related to wellness, but it's given its category due to its sheer size.
Nutraceuticals are described as any food-derived product that can bring additional health or performance benefits, in addition to the nutritional value of the ingredients. The main goal of nutraceutical products is to promote wellness, prevent potential issues, and help control common symptoms that people face on a daily basis.
Some of the common sub-verticals associated with nutraceuticals include skin care, weight loss, vitamins, muscle-building supplements, testosterone boosters, and memory enhancers, just to name a few.
Smartphones and Other Technological Gadgets
Smartphones are among the most popular products in the world and new models are released every single year. This same phenomenon can be observed with other smart devices, including traditional gadgets like computers as well as internet-capable home appliances like refrigerators.
This industry is perfect for affiliates because these marketers can provide honest reviews and share first-hand experiences with these products. Advertisers understand that consumers are more receptive to a promotional message if it comes from a reliable source, so these companies are happy to collaborate with affiliates to get the best results.
Personal Finances and Digital Utilities
Digital banking is now the golden standard in dozens, if not hundreds of countries. While it's still relatively new, the personal finances vertical is already one of the top industries for affiliates, with some expecting it to grow 20% by 2025. Personal finance services include new-wave banks, peer-to-peer payment solutions, and consumer-level data security.
The rise of digital banking solutions has paved the way for another innovative industry to breakthrough: the digital utilities vertical. Digital utilities refer to anti-virus software, cleaning tools, and other platforms designed to improve the performance of a user's device. The target audience for this vertical is very similar to that of personal finances.
So, affiliates that develop one type of campaign can see great results with the other.
Medical Services
The 2019 global health crisis has extended almost into 2022, which has affected a wide range of verticals. One of the fields to maintain a steady performance was the medical services industry. That said, it's important to understand that the health crisis hasn't been the main direct driver of this industry's success.
Therefore, affiliates should avoid centering their campaigns around the global challenges of the past two years and focus on consumers' renewed interest in living healthy lives.
Office Supplies
The office supplies vertical has been a steady, evergreen industry for a while now. That said, the vertical has recently experienced a boost in performance and re-established itself as one of the top money-makers for affiliates.
The newfound interest in the office supplies vertical can be attributed to the rising number of people working from home. At the same time, many regions are starting to ramp up their in-office activity, which will only fuel the growth of the industry even more.
Online Dating
Very much like health and well-being, everyone wants to find love, which makes online dating a great vertical for affiliates.
The practice of finding partners and making friends online has become mainstream in the last few years. Today, it's common for adults of all ages to use dating apps and engage in relationships started on these platforms. That said, note that online dating has been an affiliate darling for a while, so you'll need to invest a significant amount of resources into developing original content.
Mental Health and Self-Improvement
Anxiety and other mental health problems are on the rise across most demographics. Affiliates can not only develop successful campaigns but also have a positive impact on their audiences by promoting mental health and self-improvement programs.
Besides traditional mental health services, you should also experiment with self-improvement niches like career coaching and lifestyle coaches.
Luxury Items
Luxury items like gold watches, designerwear, and jewelry may be much harder to promote than conventional products. But, these high-ticket goods are so profitable that many affiliates generate most of their revenues in luxury programs. The key to success with the luxury products niche is to know what channels to use to connect with this exclusive audience.
Exercise, Sports, and Outdoor Hobbies
Like a few others on this list, the exercise, sports, and hobbies vertical have experienced exponential growth since the end of 2019. Particularly fueled by consumers' renewed interest in staying in shape, this vertical encompasses popular sporting goods, exercise accessories, and equipment such as camping goods.
One of the biggest advantages of this vertical is that it covers all age ranges. This means that you can develop distinct campaigns to promote children's goods as well as adult products for all genders and sizes.
Examples of Brands with Affiliate Programs on lemonads
Affiliate marketing is used by one of the biggest brands in the world, including companies in industries like fashion, retail, and home improvement accessories. Our team at lemonads works with a collection of leading companies, including advertisers like:
Our goal is to help our advertiser partners find the top affiliates in their respective fields. At the same time, we ensure that our affiliate publishers have all of the tools and resources they need to produce the best results for advertisers.
Ready to Become an Affiliate Marketer? Find the Best Network to Monetize Your Traffic
Understanding the definition of an affiliate is the first step to becoming a successful marketer. You also need to study your audience, build a niche site and find partners that increase your chances of success. For instance, you should evaluate affiliate networks side-by-side and ensure that the provider you choose has all the features you need already in place.
To find out more about working with lemonads, contact us today and our team will be glad to help.
Accelerate your Conversions, Increase your Revenue
with lemonads
---
You would like