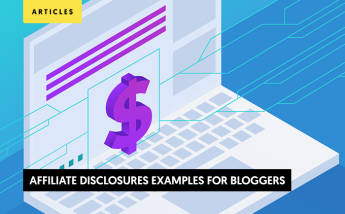 Affiliate disclosures examples for bloggers and media website
Affiliate disclosures are very important if you are a blogger and you are thinking of using affiliate marketing to monetize your blog.
We will explain to you what affiliate disclosures/disclaimers are and how you need to use them inside your blog.
Let's get right to it!
What's Affiliate marketing (in very few words)
What is affiliate marketing? It's a process where Advertisers (brands) pay their affiliates (in this case you as a blogger) when they bring qualitative leads or sales of their product or services.
These deals are done through an affiliate program. Brands create a program where they specify certain game rules for their affiliates. These are things like the amount or the percentage they will receive for each sale or lead, the payout conditions like from what accumulated amount they can cash out and or what day of the month, and more.
When a publisher decides to affiliate to one particular program, the advertiser provides an affiliate link, the blogger ads this link to their content. Affiliate links are unique trackable codes used so both you (the publisher) and the advertiser can know that a sale comes from your blog.
If you want to learn all about affiliate marketing, these are some of the best affiliate marketing courses available.
What are Affiliate Disclosures / Disclaimers?
An affiliate disclosure or Affiliate disclaimer is the term used to inform your audience that within your content you have included some affiliate links that will eventually make you some money if they click on. By using them you are being transparent about your relationships with brands, products, services, or companies you publicly recommend.
Is it mandatory to use affiliate disclosures on your Blog?
If you are using affiliate links, yes it is. The Federal Trade Commission (FTC) requires that all publishers are transparent on whether their content will generate revenue through some marketing strategies like affiliation.
The FTC protects U.S. consumers from online scams and bad products promoted by unethical businesses. Part of its role is eliminating deceptive marketing practices that trick consumers into buying products.
Failing to disclose financial partnerships is considered to be a deceptive marketing practice. Deceptive marketing practices fall under the legal category of false advertising.
Long story short, getting caught without an affiliate disclosure is a good way to get slapped with a fine or even have your website shut down.
But don't see affiliate link disclosures as something negative. By displaying a correct affiliate disclaimer you are being transparent and this is key to building trust amongst your audience.
It's no secret that people are getting some kind of compensation when promoting x product or service. If people follow you is because they trust your criteria or share some similar points of view. Being rewarded for your work is normal and the more transparent you are about it, the more your audience will appreciate you.
What forms of compensation should I disclaim?
It's very common to get confused especially for new influencers. Any time you have contact with a brand for commercial purposes, you need to disclose your affiliate relationship. Be careful, this is not only when you receive an affiliate commission in cash. Even if they bought you lunch to pitch a product it's seen as compensation, so watch out!
This is a list of ways you can be getting compensation from brands and in consequence, you should tell your audience about this relationship.
Affiliate marketing links are present on your content.
If you received free products from the certain brand you're talking about.
Store credit or special discounts you've got in exchange for brand exposure.
Special access, free services, upgrades, or any form of incentive properly disguised as unintentional.
Any favor with a financial value.
These disclaimers should be included from the first moment the content goes online. There is no halfway transparency, especially for the FTC.
What are the FTC Guidelines for affiliate disclosures?
You can read the full endorsement guides on the FTC webpage with all the disclosure guidelines. Here we will tell you the things you need to know in a nutshell and will make it more understandable through several examples
Tell your audience you are getting paid:
Plain and simple. However, you don't need to tell them how much or how.
The Affiliate disclaimer needs to be VISIBLE
Customers need to be able to see it, and they shouldn't have to search for it. If only a minority sees the disclaimer, it's not visible enough for the FTC.
Disclosure Placement
Where should you place your disclaimer?
Disclosure at the Top of the blog post
At the bottom of the blog post (always before the affiliate link)
On the top of your main page
On the bottom of your main page (always before the affiliate link)
In your Social Media post description
Next to the affiliate link
Or all of the above
Having only a disclosure page is not accepted.
Affiliate Disclosures Narrative
The message has to be clear. The objective is that your audience knows you are getting paid, but this doesn't mean the disclaimer has to sound like a legally super boring block of text. Happily, you can use your tone of voice to speak about the ways you are getting some financial benefit out of your content creation. You will next in our examples, some creative, funny yet valid affiliate disclosures.
Affiliate Disclosures Examples
1. At the top of the Blog Post
Our first example is the Brew Smartly Blog affiliate disclosure. We chose this one first because most bloggers are Amazon Associates. Amazon Affiliate Program requires its affiliates to add an affiliate disclosure any time they use their affiliate links.
As you can See. In a very simple line, Brew Smartly says they earn from qualifying purchases and specifies (what people want to know) and that is that "it comes with no extra cost for them".
The disclaimer is in a smaller font BUT it is highlighted which makes it the first thing a reader would see. There is a link to an extensive explanation in case the reader wants to find out how the blogger is being remunerated.
Visible, Clear, Effective.
2. At the bottom of the Blog Post
Our second example is taken for the review site gadgetreview.com
It is more detailed than the first example and it has a very logical narrative. They are telling loud and clear that the blog post and the site, in general, has affiliate links but they justify this by saying that this is the way they can avoid having advertising within their content. This disclaimer at the bottom of the page includes an Amazon disclaimer so it is effectively checking all the boxes.
They also address the fact that these commissions do not affect the way they rank or judge the products they review.
3. Disclaimer under the Title.
This next example is used by a big publisher. As you can see in the image below, the disclaimer is just under the article's title. Yes, the font is significantly smaller but it is placed in a visible place and the information is clear and complete.
4. Wording Camouflage
This is the way mashable.com places affiliate disclosures in their reviews.
As you can see on the image above, the affiliate disclosure is placed on top of the article, under the writer's name. It is visible and the message is clear. However, they were very smart in the way they used words.
They begin the phrase by saying "All products featured here are independently selected by our editors and writers". Then the second part "If you buy something through links on our site, Mashable may earn an affiliate commission".
The affiliate disclosures requirements are met. They say they can earn money if a reader clicks and buys through their links, but they were smart enough to speak first about their objectivity while choosing the products and the way they review them.
5. Detailed Affiliate Disclosures

This last example is from the blog Cookie & Kate and the image says it all. She explains in detail how affiliate marketing works in her blog.
Conclusion
Is mandatory to add affiliate disclosures or affiliate disclaimers in your blog even if you only have one single affiliate link. You can get full information on the website of FTC.
We suggest that you "spy" how your competitors wrote them and where do they place them.
There is no need to be afraid of adding these disclosures to your blog. It is a good business practice and customers appreciate transparency.
Make your affiliate disclosures Visible, clear, and fun.
Accelerate your Conversions, Increase your Revenue
with lemonads
---
You would like