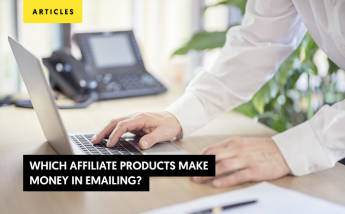 Which Affiliate Products Make Money In Emailing?
The number of daily emails sent and received each day has risen from 281 billion in 2018 to more than 305 billion in 2020. While new ad formats and innovative approaches are changing the way companies market their products, many affiliates are still relying on email campaigns to generate a large portion of their profits.

If you don't know what email marketing is, we invite you to start by reading our article: What is email marketing?
The reason is that even though email campaign performance metrics can look less than stellar across the board, the sheer volume and credibility of this channel make it a viable option for most verticals.
With this in mind, email marketing has become an art form that's extremely difficult to master. Developing the right strategy is crucial, but you also have to find products that are performing well at the time of launching your campaign. This has proven to be a major challenge in 2020 because of the shift in consumer purchase patterns.
But, this doesn't mean you should give up on email marketing.
In this article, we'll go over the different affiliate programs that have the potential to generate significant profits this year and beyond.
Exploring the Affiliate Landscape
Before delving into the products that will likely make you the most money in an email campaign, it's important to understand the global economic context.
The 2020 global health crisis has affected more than 200 countries and territories as well as every single industry on the planet. Affiliates working in the ecommerce vertical may have noticed a boost in the early stages of the pandemic, but these numbers are starting to decrease due to order fulfillment and supply chain challenges.
Furthermore, consumer purchase patterns have shifted dramatically in the last few months. Instead of making purchases based on impulse or trends, consumers are now taking the time to do research and opting for goods that are attractive, but also fulfill a functional purpose.
For this reason, affiliates have to tweak the language used in the email marketing resources and try to advertise products that align with new consumer interests.
Is Email Marketing Still Effective?
Despite the fact that it's earned a reputation for low conversions, email marketing is still an effective way to promote products and services in almost every region. There are 3.9 billion unique email users worldwide and the global penetration for this type of marketing sits below 56%, which means that there is still a lot of untapped potential you can take advantage of.
When crafted properly, email campaigns can also yield a whopping $42 return-on-income (ROI) for every $1 spent in B2C companies. B2B companies, on the other hand, boast of a 35$ ROI for every $1 spent, which makes this type of marketing ideal for companies targeting consumers as well as other businesses.
Products that Can Make You the Most Money via Email Sales in 2020
A large percentage of email marketing campaigns are designed to reel in more sales, but it's safe to assume that not all of these ventures are successful. To be effective, email marketing campaigns must have the perfect combination of informative and actionable information that pushes them to make a purchase.
Out of all the factors that influence the performance of your campaign, the products you promote are among the most important. If you choose products that are out of season or simply not trending, your chances of success will be minimal.
To help you out, we've put together a list of the products that have a high chance of boosting your revenue at least until the end of the year.
Functional Software
Functional software applications like VPNs, antiviruses, and converters have gained a lot of popularity since the beginning of the year. One of the reasons for this is that cybercrime has been on the rise, making these applications more essential than ever before. By sending well-crafted, informative emails that have a clear CTA, you may be able to capitalize on this new trend.
Infrared Thermometers
Thermometers have become extremely popular for obvious reasons. More specifically, infrared thermometers that help monitor body temperature with minimal contact have seen a huge increase in demand. So, you can craft emails that explain the benefits of this product in the global health context, without fear-mongering of course.
Running Shoes
Running shoes have always been best sellers but 2020 is proving to be a truly golden year for this vertical. As consumers focus more on health and wellness, affiliates can help them find the right product by developing comprehensive email campaigns that also include a link to a promotion or voucher.
Recycled and Sustainable Goods
In addition to running and well-being as a whole, a lot of consumers have gained awareness of the environmental impact of consumerism. Recycled goods and sustainably-sourced materials are among the hottest consumer trends.
But, remember that people looking for these products are also likely to conduct extensive research, so you should only partner with brands that are trustworthy and transparent.
Posture Corrector
With global lockdowns and strict social distancing orders still in place, working from home and spending hours in front of a computer every day has become a normal occurrence. This also increases the chances of developing posture-related issues.
Posture correcting devices can rely on physical accessories or digital technology to protect consumers, making them an ideal choice for email marketing campaigns.
Handmade Earrings and Other Accessories
Non-essential items like jewelry haven't been performing all that well this year, except for handmade earrings and similar accessories. While the reason is unclear, the boost in popularity has allowed small e-Commerce businesses and independent sellers to thrive, so building email resources to promote these products is a great way to transition into this vertical.
Natural Health and Wellness Products
Natural supplements, weight loss solutions, and other wellness products can help boost the immune system and result in a better overall mood, two things that consumers are very interested in at the moment. For this specific vertical, including pleasant images that feature happy people can greatly improve the performance of your campaign.
Hiking Backpacks and Camping Equipment
Countries in the northern hemisphere are starting to see hotter weather, which for many consumers means that it's time to go hiking and camping.
This is even truer this year as many consumers are expected to travel locally and explore their own countries' natural resources. Even though limitations are still in place in almost every country, consumers are eager to spend money on camping equipment that they'll use as soon as they're able to.
Minimalist Wallets
Before the beginning of this year, minimalist and super-durable wallets were becoming a major trend in the world of personal accessories. This movement did pause for the first two quarters of 2020, but now consumers are starting to order these items as they prepare to exit lockdowns and enter summer holiday mode.
Water Filter
Like running shoes and natural supplements, water filters became a mainstream favorite since the beginning of the year. These devices help filter out toxins and contaminants that have an unhealthy effect on our bodies, so affiliates should focus on these benefits whenever crafting an email campaign. The good news is that water filter manufactures have used affiliate marketing since its inception, so you'll be able to find plenty of great offers to work with.
Terrarium
Terrariums, which are round glass containers designed to grow plants in, were already gaining a lot of traction before 2020. With so many people spending time at home, these decorative pieces are not among the best sellers in e-Commerce platforms across the globe. These come in a huge variety of sizes, but as a general rule of thumb, smaller models that can be easily fastened to a wall generate the best results.
Furniture Protection Accessories
One-size-fits-all sofa covers and other protective accessories are a great way to make money via email marketing. Consumers spend a lot of time researching covers for their specific pieces, but you can also offer a more practical solution by selling products that can be used on furniture of all sizes.
Robot Vacuums
Robot vacuums became a major hit in the mid-2000s, but the technology was far from perfect. Thanks to modern technology, robot vacuum manufacturers are now manufacturing smartphone-compatible models that can be controlled even when you're not at home. This, combined with consumers' growing interest in maintaining a clean house, have made Roombas and other robot vacuums one of the hottest commodities available.
Smart 3D Pens
Smart 3D pens allow for the creation of three-dimensional object designs, allowing children and adults alike to bring their most creative ideas to life.
As one of the most innovative products on this list, it's worth noting that every smart 3D pen campaign should be informative to some extent in order to educate consumers about the product and include sales-oriented CTAs to boost conversions.
Find Out More About the Best Affiliate Products in 2021
Email marketing may be a volume game, but if you play it right you can definitely make a significant profit by selling a combination of new and proven products.
If you're interested in learning more about the best channels to reach your audience, the best affiliate verticals, and other industry updates, stay tuned to our blog or get in touch with us and we'll be glad to help.
Accelerate your Conversions, Increase your Revenue
with lemonads
---
You would like