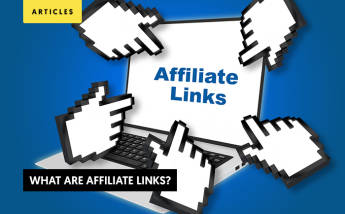 What is an Affiliate Link? - Affiliate Marketing Essentials
If you are new to affiliate marketing or are curious about it, you might have seen the term affiliate link almost in any piece of content that speaks about the affiliate business.
In this short article, we will explain what affiliate marketing is and the importance of affiliate links in the affiliate cycle.
Affiliate links in the affiliate marketing process
Affiliate marketing is a model of performance marketing where merchants (aka advertisers) pay publishers (aka affiliates) a commission for promoting their products or services only when they drive quality leads or sales to their business.
If we see it as a process, the first step would be when the publisher joins a certain affiliate program. These programs have their own conditions, commission rate, and rare window.
In return, the advertiser provides the affiliate with a unique URL. This URL is our famous affiliate link. These affiliate links contain the affiliate's id and they record the traffic that is sent to the advertiser's website from the publisher's site, social media, or blog.
The affiliates then add this link in their content's call to action (CTA).
Next, whenever a user clicks on that CTA containing an affiliate link, both the advertiser and the publisher can track when a conversion is derived from it.
As we mentioned before, each Affiliate Program has a rare window expressed in a cookie. The lifetime of the cookie is also determined by the merchant. For example, Amazon Affiliate Program (Amazon Associates) has a 24 hour cookie lifetime. This means, that if the user purchases products on amazon in a window of 24 hours after clicking on the affiliate link, the affiliate earns a commission.
How to know if a website includes affiliate links?
Most of the time, when we go and ask Google for the best brand or the best product for X or Y, we get as result some comparison websites, blog posts, or articles that provide a very deep comparison of the top brands and products for what we are looking for. Most likely, the publishers behind these websites are successful affiliate marketers.
This doesn't mean that the information s/he is providing is false. Most affiliates are authorities in their niches and they put a lot of effort into their content and recommendations. The information they provide is complete and brings value to the user, otherwise, they wouldn't even be displayed by Google or other search engines.
They are not advertising a certain product. They display the cons and pros or benefits of each option or service they are comparing in their content, and when the user is convinced about one or another, clicks on a certain link (which includes the affiliate URL) and allows the publisher/affiliate to earn a small commission. This is how these publishers
All websites or blogs must disclose affiliate links if they include them in their content. These disclosures must be readable for the reader but honestly, we almost never see them.
Affiliates Transparency
Affiliate link disclosures are a Federal Trade Commission-mandated practice. Essentially, whenever a link is used on a website that results in a commission, the publisher must disclose this information to site visitors. This extends beyond affiliate links, and must also be done for endorsements, sponsorships, and others. By not compelling to this, the publisher can get finned heavily.
Conclusion
Affiliate links are the first transaction between an advertiser and a publisher. When the publisher affiliates the advertiser gives in exchange this unique URL, they both track the successful operations that lead to a reward or commission. All affiliate programs offer different commissions and cookie lifetimes.
Affiliates are transparent by disclosing the presence of affiliate links on their platforms. Yes, they can earn a commission if a conversion results from clicking on their links but they have put some marketing efforts into converting those customers. The customer doesn't pay a dime for this commission. It is the advertiser who pays the publisher and it is a part of their marketing strategy.
If you are interested in monetizing your digital content with affiliate marketing, subscribe to our blog to get all the latest tips and tricks, or contact us if you'd like to learn more about our affiliate network.
Accelerate your Conversions, Increase your Revenue
with lemonads
---
You would like