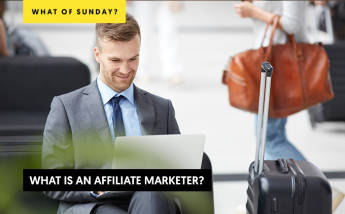 What is an affiliate marketer?
An affiliate marketer is someone who promotes products or a brand in exchange for a commission or someone who manages the affiliate marketing program of a company. Affiliate marketing is the concept of affiliates (businesses) and publishers (online content creators) working hand in hand. It's a great way to make money from your blog, social media page, or any other quality content. If you have online content and an audience, you can decide to monetize it or work with an affiliate marketer who will be in charge of your affiliate program.
How do I become an affiliate marketer?
An affiliate marketer manages affiliate marketing for a company through an affiliate network. You can decide to become an affiliate marketer to make a living out of that great online career path or learn about affiliate marketing to promote your products.
If you have a website or products that you want to promote online, affiliate marketing can be the way to do so. It allows you to work hand in hand with great content websites and marketplaces.
If you want to make a career in online marketing, becoming an affiliate marketer can be a very rewarding path, both on a personal and financial level.
Structure of affiliate marketing
In affiliate marketing, several core players work hand in hand:
The Advertisers
The Publisher
The Affiliate network
The Advertisers is a business or a brand that wants to increase brand awareness, promote its website, increase sales or traffic or generate more leads.
The Publisher or Advertiser is an online content (a blog, a marketplace, a social media page, a website, emailer…), and an audience. There are many different types of publishers.
Advertisers and publishers join an affiliate network, which is a platform through which they have a profile. They can describe their content or activity, contact one another and form partnerships.
The publisher promotes the Advertiser through different mediums such as banners, product catalogs, Affiliate links or articles, posts… When a web user clicks on a link and is redirected to the Advertiser's website, they are tracked by web cookies.
Publishers are usually receiving a commission on sales made on the Advertiser's website or application, but conditions can vary and are defined by the Advertiser and the publisher beforehand.
Origins of affiliate marketing
E-commerce developed shortly after the world wide web was developed. The first retailer to develop the concept of affiliate marketing was PC Flowers and Gifts. They originally developed it in real life: they paid a commission to the prodigy network for promoting their products. In 1996, the owner of Flowers & Gifts created an online website for the brand and developed an affiliate network. He also patented the affiliate marketing tracking and concept.
In 1994, the music CD seller CDNow launched a similar kind of marketing program: they imagined a partnership with music-related websites. Those blogs and content websites had an audience of music lovers, and would often post CD reviews. CDNow approached them so that those websites could add a link towards CDNow at the end of those reviews, allowing potential buyers to buy the CD easily.
Amazon also had a big impact on the development of the concept of affiliate marketing. In 1996, they launched their "Amazon associates" program. Associates could place Amazon banners on their website, and if web visitors clicked on that banner and ended up making a sale on Amazon, that associate would receive a commission. It developed the key concept of affiliate marketing, which hasn't changed since.
The development of Web 2.0, which is the web of blogs and interactive communities, also had an impact on affiliate marketing. As the focus on the web shifted towards more communication, communities, and C2C interactions, content websites and blogs became key players of affiliate marketing, and web marketing strategies in general.
How to make a career in affiliate marketing?
An affiliate marketer is a person in charge of affiliate marketing for a company or a blogger. If you would like to start a career in online marketing, you can start by following online marketing training, and then specialize in affiliate marketing.
You will have to master the affiliate marketing platforms and have good interpersonal skills to develop and nurture strong bonds with Advertisers, and good data analysis skills to analyze performance and improve the affiliate marketing strategy.
You are also likely to have to create banners or ask them from a graphic designer. Creativity and some knowledge of creation software are therefore also useful.
How do I make money from my blog?
If you have a blog, a social media page, a content website, or any other medium with an online audience, you might want to make money from it. Affiliate marketing can be perfect for you. It will allow you to promote products or a brand, and get paid for it.
The key concept of CPA marketing is a partnership between Advertisers who wish to promote products or a brand and a publisher who has an audience. The publisher promotes the products and receives a commission on the sales, which creates a strong bond between the Advertisers and the publisher.
It's an ROI-oriented strategy that is rather safe for the Advertisers and motivating for the publisher. It allows the Advertisers to have control over their expenses, and to only pay a commission when a sale occurs.
As a blogger, it can be very rewarding, as you will feel involved in the promotion of the products. If they suit your audience, they will add to your content and it's a great way to make money and keep developing your online community.
To find out more, I invite you to read our article: What is a CPA Network?
How to do affiliate marketing on your blog
If you would like to become an affiliate marketer and make money from the web, you will first have to create and nurture that audience. You can then develop a network of Advertisers and promote them. It is a very rewarding job that will allow you to work from wherever you want, and to make a living from your passion.
Steps to become an affiliate marketer:
Create great content
Your audience comes first
Decide on a platform / join a network
Find affiliate programs to join
Promote your Advertisers Offers
Receive commissions
The first thing to do to begin your adventure as an affiliate marketer is to create content to develop a community. Depending on what you do best, it can be a blog, a vlog (video blog), a social media page, a website…
Blogs and online communities are increasingly important on the web, and quality content, as well as interactions among a strong community, are always more valued.
Once you have decided upon your type of content, think about your subject. Be aware that you will be facing a lot of competition, as the blogosphere is a highly competitive world, where most subjects are already broadly covered. Many blogs have existed for years and have a very strong community. Topics such as fashion, beauty, travel, parenthood… are especially well covered. The ideal is to find a niche subject that you enjoy and know well. The competition will be less high, and it will be easier to appear high in google search results and to attract and keep an audience.
Once you have decided upon the form and subject of your content, you can start creating great, quality content. We hear it all the time about the web: content is king! It's important to have interesting, well-written articles, quality pictures, or your own style. Before thinking of making any money, focus on your content and on sharing something you love with the world! Keep in mind that developing a strong community and ranking in Google takes time.
Once you start having an audience, keep interacting with them and nurture them. They are the pillars of your affiliate marketing.
You are now ready to start as an affiliate marketer. Choose an affiliate marketing platform and join a network of Advertisers. When you join it, you will have a publisher profile, on which you can tell Advertisers about your content and community, give them data to convince them to work with you, and so on.
You will be able to find Advertisers that suit your audience and subject, contact them and create your own CPA network within the platform. You can then promote your Advertisers by putting banners on your blog, by writing articles about them, or by promoting their products.
When your audience clicks on the links or banners, they will be redirected onto your Advertiser's website, and be followed by a cookie. If they end up purchasing on the website, you will receive a commission, which is a percentage of that sale.
There are other possible ways to get paid by your Advertisers, for example by the number of clicks on the banners, or the number of views, but a commission on sales is the most used payment in affiliate marketing.
It is therefore important to choose your Advertisers wisely. Among other things, you can pay attention to the following criteria: products of the Advertisers, commission offered, duration of the cookie, and conversion rate of the Advertiser.
You will have access to some data on the platform regarding the commissions and your Advertisers. It will allow you to choose which Advertisers you wish to promote most. It is important to stay in touch with your Advertisers, to stay informed of their different actions (raise of commissions, new banners, sales rally)…
How much money can you make as an affiliate marketer?
Promoting products or brands through your blog can be very rewarding. The revenues you will make will depend on your commissions, and on the type of pricing model you ask for your advertising spaces.
Affiliate marketing usually works with a pricing model based on commissions paid on sales. You will agree upon the amount of that commission with your Advertisers. It depends on the Advertiser's strategy, but also the product they sale.
To evaluate how much money you will make with an Advertiser, you can ask for their conversion rate and average sale value. The conversion rate is the percentage of people who buy something on their website. The average sale value is the amount people spend by purchase on average. It will give you an idea of the number of sales you can expect from the traffic you send the Advertiser, as well as the value of those sales.
Other pricing models exist, such as a cost per click or impression, or even a fixed fee for advertising space. Depending on the model that suits you better and your negotiation power with your Advertisers, you can define the conditions beforehand.
Accelerate your Conversions, Increase your Revenue
with lemonads
---
You would like