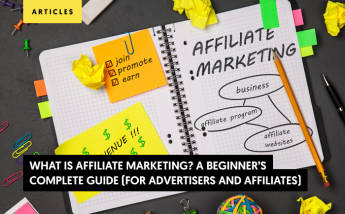 What Is Affiliate Marketing: A Beginner's Complete Guide (For Advertisers and Affiliates)
For decades, advertising a company's products and services was more of an art rather than a science. Marketers had to use rudimentary techniques like focus groups in order to collect data and figure out if their campaigns had any impact whatsoever. Today, online advertising techniques like affiliate marketing have changed the way businesses promote their products and services. Not only can they be tracked, but digital advertising techniques are also suitable for businesses of all sizes.
Affiliate marketing is used by approximately 80% of all businesses, making it the most popular form of online advertising used across all industries. In addition to being extremely effective, affiliate marketing poses little risk for companies that are promoting their services (known as the advertisers), while empowering independent marketers to leverage their passion as a legitimate revenue-generating tool.
With the above in mind, both marketers and advertisers need to understand the affiliate ecosystem in order to get the best results from their efforts. At lemonads, our team strives to connect advertisers with the best affiliates in order to create profitable relationships for all of our partners, so we're very familiar with this type of online advertising and how it works.
Below, we'll go over the affiliate marketing definition and explain how the entire ecosystem works. After answering the question "what is affiliate marketing?" we'll discuss the steps that advertisers and affiliates need to take to enter the industry.
Defining Affiliate Marketing
So, what is affiliate marketing?
In simple terms, it's a form of performance advertising where companies work with independent marketers in order to generate web traffic, leads, or sales. Advertisers are only required to pay affiliates when they generate conversions, so this form of marketing is extremely low-risk for the companies advertising their products.
There are a few different types of affiliate marketing structures, but the most popular type includes four main stakeholders, which are the advertiser, the affiliate, the target audience, and the affiliate network.
Let's take a look at the definition of each one of these.
Merchant or Advertiser
Also known as the merchant, the advertiser is the company that wants to promote its services, products, and other solutions through affiliate marketing. These businesses attempt to attract top-notch marketers by developing attractive affiliate programs, which we'll cover in detail later in this article.
Advertisers can come from any industry and work with as many affiliates as they like. Some merchants choose to create completely different affiliate programs for each product or promotion they want to make available. And, there is no set amount of involvement that advertisers need to have, so they can simply develop a program and reap the rewards later on.
Affiliate Marketer
Affiliate marketers are advertising experts that specialize in promoting third-party products and services through paid campaigns, organic channels, social media, and other methods. As a matter of fact, "affiliate marketer" is an umbrella term that includes media buyers, content publishers, streaming service providers, and any other marketing expert that leverages different platforms to promote affiliate programs.
The best affiliate marketers tend to specialize in verticals that they are passionate about and have expertise in while still having high chances of being profitable. Furthermore, these experts need to have the ability to analyze large sets of data, track multiple campaigns, and identify the improvements that will have the most positive impact based on the information available.
Consumers
Consumers are the most important part of the affiliate ecosystem because they are the potential customers both advertisers and marketers are interested in. Simply put, consumer preferences are the most important trends because these shape how affiliate programs and marketing campaigns are developed and through what channels.
A few years ago, affiliates were not required to tell consumers that they were participating in an affiliate system. Today, some countries and regions require that marketers disclose the fact that they are getting paid through affiliate links, which has empowered consumers more than ever before.
Affiliate Networks
Although some companies decide to manage their own affiliate programs, this process can become tedious and time-consuming. Affiliate networks are entities that specialize in connecting advertisers to the most relevant affiliates. Moreover, affiliate networks work as intermediaries, taking over most of the program management responsibilities.
Affiliate networks relieve a significant amount of pressure from advertisers, but they also simplify the process that marketers go through to find the best programs. Rather than looking for programs manually, affiliates can rely on networks like lemonads to track down the best programs and make them easy to find.
Affiliate Programs and the Affiliate Ecosystem Explained
We've mentioned affiliate programs in this article before, but what exactly are they? And what role do affiliate programs play in the ecosystem?
An affiliate program or offer is the agreement that contains all the details and requirements that affiliates have to follow in order to partner with a specific advertiser. In other words, this agreement contains everything you need to know about the target audience, location, type of ad allowed, and other details. Plus, the program also contains resources that advertisers have developed to help their affiliates, like custom banners, logos, and other elements.
Having an affiliate program allows advertisers to streamline their entire marketing strategy and attract new marketers without having to onboard them personally. This means that the more details the program the better, although some advertisers still choose to provide additional support when necessary.
How Can Advertisers Set Up an Affiliate Program?
Now that we've covered the affiliate marketing definition and how the ecosystem works, let's take a look at the steps that advertisers need to follow in order to create a successful program.
For starters, it's crucial to understand that the quality of the product or service being promoted will directly impact the performance of the program. If the product or service is not attractive to the target audience, there's a strong chance that the program will not deliver the desired results.
In most cases, advertisers already have established businesses that they wish to grow through performance digital marketing. This doesn't mean that the products have to be digital. As a matter of fact, this form of internet marketing is suitable for a huge collection of verticals, including fitness equipment, home remodeling products, and electronic gadgets.
Additionally, advertisers also have to:
Choose a Product or Service
In addition to making sure that the goods promoted are attractive, make sure that affiliates have additional resources to help attract more customers. These resources can include elements like better materials to use in content (banners, logos, etc.) so take the time to develop materials around your product or service if you think these will have a positive effect on closing rates.
Research the Industry and Create a Strategy
Even though you may already know your vertical, you should thoroughly research your industry and create a strategy based on your findings. Specifically, you should research your target audience and try to identify patterns that you can use to your advantage later on. For example, if you are able to identify the times when your ads perform best in terms of conversions, you can focus most of your efforts on these.
Develop the Product or Service
Businesses that already have the product or service they want to promote can skip this step and create an affiliate program right away. If you are just setting up your business or looking to promote a new solution, you should develop your product or service in this step. Remember, consumers hold the key to your success, so don't be afraid to reach out to your current customers and ask probing questions in order to find out what parts of the platform are used most.
Create an Affiliate Marketing Program and Find Partners
Lastly, you should create an affiliate program designed to be both profitable and easy to find by the top affiliates in your industry. Again, manual distribution and affiliate program management may be an obstacle, especially for businesses that want to scale their affiliate efforts as they grow. In these cases, finding a reliable affiliate network can be the difference between using resources wisely and wasting valuable time.
How to Become an Affiliate Marketer
Affiliates are marketing specialists that specialize in the most effective online promotion channels. While affiliate marketing pre-dates the internet, it's become an almost full endeavor today, so it's safe to assume that all leading affiliates run all of their campaigns online.
Remember, there are dozens of different digital channels you can use to promote affiliate programs, including blogs, social media, paid channels, video platforms, and many more.
Moreover, you can choose to become a publisher that develops original content and uses a variety of channels to drive traffic. Or, you can become a media buyer that simply purchases traffic from third parties and creates paid campaigns that don't require as much content creation.
Each affiliate is different, so you need to follow your own path to become a knowledgeable marketer. That said, most affiliates follow three general steps during their journeys, which are:
Identify Ideal Niches and Choose the Best Fit
As we mentioned before, you should choose a vertical that you're interested in, that's profitable, and that you have a bit of knowledge about. If you can't think of an industry that matches these three, make sure that you choose something that's profitable and relatively easy to learn about.
Find an Affiliate Program
Next, you need to track down the ideal offers in your vertical. This step will vary depending on your expertise level and industry, but in most cases, the easiest way to find the best programs is to join an affiliate network. These platforms often allow you to filter programs based on location, language, and other variables, simplifying the process as much as possible.
Design an Affiliate Strategy
Now, it's time to start creating an affiliate strategy. During this process, keep all of your assets in mind including your financial capital, time availability, overall industry knowledge, and any other resource you can use to your advantage. Your strategy should be customized to your particular case, so avoid using someone else's blueprint at all costs.
Launch Your Campaign and Nurture the Audiences
Finally, it's time to launch your paid ads, organic content, and all other parts of your campaign. Keep a close eye on the performance of your ads and perform regular optimizations once you've collected enough data. Your goal should be to nurture your audiences and pave the road to easier conversions in the future.
Ready to Get Started? Our Team Is Here to Help
Affiliate marketing is one of the leading forms of online advertising because it's beneficial for advertisers, marketers, and consumers. We hope that the article above allows you to understand the affiliate marketing definition and what you need to do to succeed with this technique.
If you are looking to launch or find quality affiliate programs, contact lemonads and our team will be glad to help.
Accelerate your Conversions, Increase your Revenue
with lemonads
---
You would like