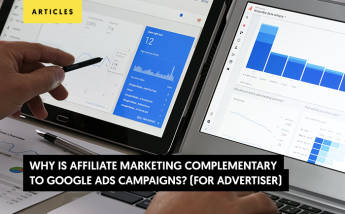 Why Is Affiliate Marketing Complementary to Google Ads Campaigns?
Affiliate marketing compliments google ads. Today, consumers and business owners alike turn to the internet to help them find the best products and services in their areas. As a matter of fact, 59.5% of the world's global population regularly connects to the internet, with more than 4.3 billion people doing so through mobile devices. Therefore, promoting your products and services online is one of the best ways to connect with your audience when they need you most.
With the above in mind, finding the best techniques to help you advertise your solutions isn't always easy, especially if you consider the number of different alternatives you have available. Pay-per-click or PPC advertising has become one of the most popular ways for companies to market their goods online and the top platform is undoubtedly Google Ads (formerly known as Google Adwords).
However, affiliate marketing is another popular form of advertising that's used by millions of companies across the globe. And, this technique is actually compatible with a huge collection of online marketing approaches, including Google Ads.
At lemonads, we work closely with some of the top affiliates and advertisers on the planet, so we've witnessed firsthand how affiliate marketing can produce excellent results when paired with Google Ads PPC campaigns. Below, we'll go over the definition of affiliate marketing and explain why this form of promotion is complementary to your Google Ads campaigns.
Defining Affiliate Marketing
Affiliate marketing is a form of online advertising where the companies that are promoting their products (called the advertisers) work with independent marketers, which are known as affiliates. Simply put, affiliates create digital content, publish it through different platforms, and generate leads as well as other types of conversions for advertisers. In most cases, affiliates receive a commission for each conversion they generate.
Affiliate marketing is known as a performance-based technique because advertisers only have to pay affiliates when these generate conversions. A conversion is defined as a certain action that advertisers want consumers to take. This can consist of watching a video clip, filling out a contact form, or making a purchase, among other actions.
Let's take a closer look at how the affiliate ecosystem works.
Consumers (or the Target Audience)
Consumers, which are sometimes referred to as the target audience, are the users that advertisers want to transform into paying customers. The main goal of all affiliate programs and campaigns is to attract consumers to generate leads or sales.
That said, the target audience also enjoys significant benefits from being a part of the affiliate ecosystem. For example, these users usually receive a discount or another type of reward when they become conversions, which creates a positive experience for them as well.
Just remember that consumer behavior is affected by variables like location, age, gender, culture, and other elements, so consider these when deciding what group of consumers you want your affiliates to target.
Advertisers
Advertisers come in all shapes and sizes, but these companies usually have the same goal: generating more leads and sales through their affiliate programs. As an advertiser, your main task is to review the quality of the conversions generated by affiliates and making sure that these meet your validity requirements.
Although you should develop a comprehensive plan beforehand, you also need to keep a close eye on the performance of your affiliates to figure out what tweaks you need to make to your program.
As an alternative, advertisers can also partner with reliable affiliate networks like lemonads. Affiliate networks are platforms that specialize in uniting top affiliates with leading advertisers, so these providers can manage your program while you focus on closing more deals.
Affiliate Marketers
Affiliates marketers, usually referred to simply as affiliates, are independent advertising specialists that work with one or more advertisers at the same time. Affiliates are experts at developing organic as well as paid campaigns to produce a high number of conversions for their partners.
There are many types of affiliates, so you need to think about the type of audience you want to target and figure out which marketer you need to work with. In most cases, advertisers partner with content publishers, but they can also opt for influencers, media buyers, or a combination of these and various others.
What Is the Purpose of An Affiliate Program?
The affiliate program is the agreement between an independent marketer and an advertiser. Each program is created by an individual advertiser, so the companies promoting products and services are in direct control of the program specifics. In other words, you can define what constitutes a conversion, how long affiliates have to convert a user after initial contact and all other specifics about your own program.
Some advertisers look for help with their branding, but almost all companies aim to generate leads or sales through their affiliate programs. This means that you have to identify the most profitable leads, figure out what they have in common, and make sure that your program targets the right audience.
How Does Google Ads Work?
Now that we've covered the basics of affiliate marketing, let's take a brief look at Google Ads. Google is the world's most popular search engine, but the company also owns countless digital properties spread across the internet. Through Google Ads, you can place adverts in both the search engine results pages and throughout different properties in the company's huge network or properties.
Google Ads is a PPC platform and it's performance-based, like affiliate marketing. When running a Google Ads PPC campaign, advertisers only have to pay once users have clicked on the adverts. That said, you can also set up cost-per-mille (CPM) campaigns and choose to pay for impressions rather than clicks.
Does Affiliate Marketing Complement Your Google Ads Campaign?
Successfully developing a Google Ads campaign takes a significant amount of research and practice. But, if it's set up properly, a PPC campaign can have a stellar return-on-income (ROI) while also keeping your customers engaged. The best part is that affiliate marketing can help complement your Google Ads campaign and give your paid adverts an indirect boost.
Let's go over some of the benefits of setting up an affiliate marketing program to go with your Google Ads campaign.
Better Reputation
One of the unsung benefits of Google Ads PPC campaigns is that they increase your visibility and help you make the most of your branding. Affiliate marketing, on the other hand, relies heavily on quality content that usually includes a link back to the advertiser's site. When combined, both of these improve brand reputation and help cement your business as a leader in the industry.
Continuity Across a Higher Number of Platforms
Working with affiliates means relinquishing control over some of the methods and content used to promote your business. But, remember that you have control over the affiliate program, so you can ensure continuity across a higher number of platforms by taking certain steps. For example, advertisers can provide a large number of resources (like pre-made banners with the company logo) in the affiliate program and request that these be used as much as possible.
Wider Brand Coverage
In addition to achieving continuity, having the same logo, color schemes, and other branding elements will result in a wider brand coverage. This increases the chances of making a memorable impression in your audience, boosting overall brand recognition, and convincing the target audience members to purchase your goods.
Powerful Remarketing Campaigns
Advertisers can see what URLs and landing pages their affiliates are using to send traffic their way. Instead of simply using this information to verify the source, you can actually develop retargeting campaigns that single out users who have accessed your affiliate partner sites. Just keep in mind that the retargeting campaign feature was only available on Google Display Network and YouTube ads at the time of writing.
Boost in User Experience Metrics
Potential customers will evaluate your company based on the type of experience it provides them with. It's important to maintain the same tone and brand identity through multiple campaigns. The reason for this is that it tells customers what to expect when interacting with your brand, thus creating a better user experience across the board.
Combining Affiliate Marketing and Google Ads
Now that we've explored the ways affiliate marketing complements your Google Ads campaigns, let's take a look at the steps you need to take to combine both of these techniques. However, remember that you can also combine both of these with other forms of digital marketing to have a balanced marketing stack.
Every advertiser is different, so you need to create a tailored strategy to increase your chances of success. That said, there are some general steps that almost all companies need to follow to combine PPC and affiliate marketing.
To combine both of these, you have to:
Create a Comprehensive Strategy that Includes All Channels
First off, you need to take all of your resources into consideration and build a wholesome strategy that takes all of these into consideration. This includes PPC, affiliate marketing, email marketing, SEO, and all other forms of promotion you want to use. The idea is to make sure that there is no interference between any of them and that any overlap results in a positive event for your business.
Maintain the Same Tone and Branding Across Different Platforms
As we mentioned before, you need to maintain the same brand image, colors, and tone across all platforms. If not, the target audience will not be receptive to your message, regardless of how good the affiliate content may be.
Monitor Performance to Make the Right Adjustments
Affiliate marketing and PPC can generate great results together, but you need to monitor the performance of each campaign separately and optimize the different areas of improvement. Remember, you should wait until you have enough statistically significant data before you start optimizing to ensure the results you get are accurate.
Ready to Combine Google Ads PPC with Affiliate Marketing? Develop Your Affiliate Program Today
Creating an affiliate program may take time, but it can generate great results when paired with Google Ads PPC efforts. To learn more about this powerful combination, contact us today and our team will be glad to help.
Accelerate your Conversions, Increase your Revenue
with lemonads
---
You would like