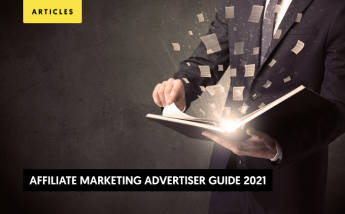 Affiliate Marketing Guide 2021 for Advertisers: How to implement it into your business?
In this Affiliate Marketing guide for advertisers, we will tell you exactly how you can incorporate this marketing strategy into your business.
Affiliate marketing is used by approximately 81% of all advertisers, so it's no surprise that the industry is worth well over 12 billion US dollars. But, even though this form of advertising is extremely popular, not all companies are able to implement it successfully into their marketing mix.
After working with some of the leading brands in the world, our team at lemonads understands the different challenges that advertisers face when promoting their products or services. We have helped countless companies overcome many of the obstacles that prevent them from setting up a successful affiliate strategy, so we're familiar with the steps businesses need to take to improve their chances of success.
Below, we've put together an affiliate marketing guide for advertisers to help them understand this promotional approach and find the best marketers available.
What Is Affiliate Marketing?
Affiliate marketing is a type of performance advertising where the companies that want to advertise their services, or advertisers, create affiliate programs to attract independent marketers. These marketers are known as affiliates and they specialize in building different types of campaigns that help advertisers produce conversions in exchange for a commission.
In simple terms, advertisers only have to pay affiliates whenever these marketers generate leads or another type of conversion. Furthermore, advertisers define what constitutes a conversion, how much commission gets paid, and demographic requirements that the user has to meet. That said, the more attractive your offer, the more likely you are to attract reliable affiliates that generate top-notch traffic.
How Does Affiliate Marketing Work?
The affiliate marketing commission structure can vary depending on the ad format and industry you're working with. That said, the ecosystem itself is usually the same and it's made up of four different stakeholders. These are consumers, advertisers, affiliates, and affiliate networks, all of which play an essential role that keeps the entire industry growing.
Consumers
Consumers are the users that are being targeted by advertisers and affiliates. Needless to say, consumers are the most important part of the ecosystem as they define how profitable (and successful) your affiliate program is.
Remember that in this context the term "consumer" includes all customer groups, including B2B decision-makers that are usually targeted in business affiliate programs.
Advertisers
As we mentioned before, advertisers are businesses that are looking to partner with affiliates in order to attract more consumers. Besides creating and promoting the affiliate program, advertisers also need to manage their affiliates, send payouts regularly, and make adjustments to their offerings based on the results they get.
Moreover, as an advertiser, you should also create basic marketing materials and make these available to your affiliates. For example, basic banners, logos, and other elements that help them build better ads and get better results.
Affiliates
Affiliates are third-party marketers that specialize in helping advertisers connect with their target audiences using a variety of methods. There are dozens of different types of affiliates, but the vast majority employ digital channels like social media, blogs, YouTube, and similar platforms to publish custom content.
At the same time, these marketing experts also create a bond with their followers and gain enough traction with these users to influence their purchase decisions. Remember, there are affiliates in all parts of the world, so there's definitely someone out there that can help you attract more customers and generate a higher number of sales.
Affiliate Networks
Affiliates and advertisers have a symbiotic relationship. But, it's not always easy for advertisers to track down the best affiliates and the same goes for marketers that are looking for the top programs.
Fortunately, affiliate networks are platforms that focus on connecting the top marketers to advertisers looking for their skills. Simply put, advertisers can publish their affiliate programs through these networks. The network goes through the process of vetting affiliates and ensuring that they are able to help out advertisers, which simplifies the process for the companies promoting their products.
What Roles Do Advertisers Play?
As marketers, there are different types of affiliate advertisers. Most advertisers are companies that want to promote their products or services. But, some advertisers work as middlemen between providers and the final consumers, which means that these entrepreneurs can have slightly different goals from conventional businesses.
Although it's not a requirement, most advertisers provide valuable resources that affiliates can use to bolster their campaigns. This includes basic text about the advertising company, banners, landing pages, branded images, and similar elements. Remember, advertisers also decide what constitutes a conversion and what requirements affiliates have to adhere to in order to generate valid conversions.
Benefits of Affiliate Marketing
There are many benefits to developing an affiliate marketing strategy for your business, starting with the fact that it's suitable for all types of businesses. All companies can develop an affiliate marketing program, regardless of size or the industry they're in. Advertisers decide how their affiliate program will work, so these businesses can even ask marketers to generate sales in order to get a commission.
In addition to the above, some of the biggest advantages of creating an affiliate marketing program for your company include:
Wider Audiences
Affiliates can use a large collection of channels to generate conversions. Advertisers can choose to limit these channels or allow affiliates to cast a wider net and attract a larger audience. The best part is that you can always measure which audiences generate the best results and adjust your program accordingly.
Stronger Connection with Your Customers
One of the biggest advantages of affiliate marketing campaigns is that they tend to be charismatic and brand-centric at the same time. Customers love branded content, so this allows you to build a much stronger bond with your audience than a conventional PPC campaign or advertising strategy.
Cost-Effective
As we mentioned already, affiliate marketing is among the most cost-effective ways to advertise your products because it only incurs cost when it generates results. That said, you should carefully think about what type of leads or conversions you're looking for in order to set the right requirements.
Fast and Flexible
Affiliates often employ PPC platforms that are known for generating faster results. Not only this, but you can choose to allow (or prohibit) incentivized traffic, which is made up of users who are receiving something for viewing your content or leading their contact information. Both of these elements give advertisers a huge amount of flexibility in terms of the structure they want their programs to have.
Brand Reputation and Image
Because your content is promoted through channels that give your business more personality, affiliate marketing has the ability to improve your brand reputation and image. That said, it's important for advertisers to understand that they also relinquish some control over their brand image by working with affiliates.
But, as long as you partner with professional marketers, you don't have to worry about garnering negative attention, so don't hesitate to work with a network if it gives you more peace of mind.
Easy to Track and Monitor
Affiliate marketing is easy to track and monitor for affiliates as well as advertisers. Depending on the program and the type of relationship you have with your affiliates, you can request monthly reports that give you an update on how the campaigns are performing. This, combined with the payment tracking on the advertiser's end, means that it's easy to determine how successful the affiliate program is.
Improved SEO
It's true that getting a traffic boost from paid advertising doesn't boost your website's search engine optimization ratings. However, having more visitors on your site means that your user experience and performance metrics will hold more value. If you improve your content and encourage people to spend more time on your pages, you'll get better ratings from Google and boost your search engine rankings.
Lower Internal Costs
Affiliate marketing can relieve a huge amount of pressure from your in-house marketing team. Some companies actually use affiliate marketing as their main and only source of advertising, keeping a lean team that manages a large number of independent marketers.
How to Get Started as an Affiliate Advertiser in 2021
Getting started as an affiliate advertiser in 2021 is easier than ever before. There are countless reliable affiliates you can partner with and consumers are turning to the internet to find new products more than ever before.
Finding Affiliates
It's true that you can promote and manage your affiliate program by yourself. But, in our experience, working with an affiliate network is the fastest and most cost-effective way to attract reliable marketers.
Finding Affiliate Networks
Finding affiliate networks is more challenging because there are dozens to choose from and each one offers a unique set of advantages. At lemonads, we've worked closely with countless advertisers to find and evaluate the best affiliates for their programs. To learn more about partnering with us, get in touch with our team and we'll be glad to help.
Types of Affiliate Marketers
Becoming an affiliate is a great option because it allows people to specialize in an industry they are passionate about while having the opportunity to make a living from it. There are many types of affiliates that publish different types of content, so you need to learn about the distinct specialties and choose the marketer that aligns most with your business goals.
Some of the types of content your affiliate marketers can specialize in include:
Reviews and listings
Image content like infographics
Videos, including review videos, instructional videos, and others
Shopping directories and vouchers
YouTube content
Ready to Create an Affiliate Marketing Strategy? Contact lemonads and FInd the Top Affiliates Today
Developing an affiliate program for your business may take time and effort, but it can exponentially increase the number of leads and sales you're currently generating. We hope that our affiliate guide for advertisers helps you understand the different steps you need to take.
To learn more about starting your own affiliate program, contact lemonads today and our team will be glad to help you through the whole process.
Accelerate your Conversions, Increase your Revenue
with lemonads
---
You would like