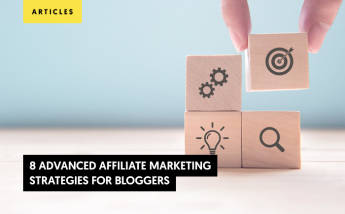 8 Advanced Affiliate Marketing Strategies For Bloggers
Today, successful bloggers need to implement advanced affiliate marketing strategies to get the biggest possible return from their content.
The concept behind modern affiliate marketing is relatively simple and it dates back at least a few decades, if not hundreds of years. With this in mind, the internet has completely changed the way affiliates generate revenue commissions from the businesses that want to advertise their services.
With the above in mind, setting up a successful affiliate blog isn't easy, especially if you're in a competitive industry. At lemonads, we've worked with some of the most successful bloggers in the affiliate world, so we're familiar with some of the most advanced affiliate marketing strategies available today.
Let's go over 8 advanced strategies that affiliate bloggers can use to increase their profits.
Affiliate Marketing Blog Overview
Affiliate marketing is a type of promotion where affiliates (like bloggers) generate leads and sales for advertisers (the companies that want to promote their products and/or services).
While there are many different channels that affiliates can opt for, blogging has become one of the most popular alternatives because they are low-cost, offer the ability to publish all types of content, and is used by a huge percentage of consumers around the world.
However, affiliates need to implement advanced strategies to make sure that they are generating as much revenue as possible from their content. In simple terms, advanced affiliate marketing strategies consist of more sophisticated techniques that often involve the use of additional tools to improve the performance of your affiliate campaign.
8 Advanced Affiliate Marketing Strategies For Bloggers
Although many people see affiliate marketing as a great way to have passive income, the truth is that this belief is only partially accurate. The reason is that consumer trends are always changing, which means that all affiliate content requires updating to stay effective. Moreover, affiliates can exponentially improve the performance of their content by taking a more advanced approach to the strategies they implement.
Let's take a look at 8 advanced affiliate marketing strategies to help bloggers develop better content and make more money from their online platform.
1. Personalize Every Aspect of Your Marketing Campaign
Many affiliates fall into the trap of recycling content on their campaign, to the point of not adjusting it properly for all audiences. Unfortunately, this results in poor ad performance and lower profits. To avoid this, you should personalize every aspect of your affiliate content.

This doesn't necessarily mean that you have to create new content every single time. But, you should invest resources into reviewing and optimizing any piece of content you're reusing.
To nail this strategy, you should:
Study the Audience
Your audience holds the key to success. So, you should research visitors and figure out what parts of your blog are generating the most conversions. You can start with a classic affiliate marketing strategy, identify the type of content that has the highest profit margin, and slowly work on tweaking minor elements. The more time you take to learn about the users you want to attract, the better your campaign will be later on.
Set Short and Long-Term Goals
As with other forms of digital advertising, affiliate marketing works best when it follows an organized plan. To improve your chances of success, you should set up long-term goals as well as short-term objectives that work as milestones that help you keep track of your progress. Just make sure to set up realistic goals that you can achieve, rather than setting yourself up for failure with unrealistic objectives.
Produce Quality Content
Whether you are revamping a small sentence in a banner or rewriting an entire piece, you should always focus on delivering quality content. Online users always respond well to quality content that delivers value, so remember to go beyond your goal as an affiliate marketer and go the extra mile to deliver useful information every time.
2. Establish a Good Relationship Through Transparency
Many bloggers make the mistake of failing to be transparent with their readers. Most people are familiar with the concept of affiliate marketing or they understand it at the very least. Rather than making your reader base feel like you're hiding something, you can try to be transparent and inform visitors about the fact that your content contains affiliate links.
Some of the most important benefits of establishing a transparent relationship include:
Creates a Trusting Bond
Having a loyal reader base is the best way to boost your website's performance in terms of metrics as well as profitability. The reason for this is that transparency creates a trusting bond, so users are more likely to return to your blog, spend more time reading your content, and make a purchase based on your suggestions.
Makes Users Feel Empowered
Making your blog readers feel comfortable is just as important as publishing accurate information. And, there's no better way to make consumers feel good than to empower them by letting them know what you're getting from your blog content. This tells your audience that you're willing to show your hand and that you trust them enough to put them in the driver's seat.
Backs the Idea Behind Affiliate Marketing
Admitting that you have affiliate links in your content helps the entire marketing industry because it shows everyone that, unlike old stigmas, this type of marketing focuses on value and quality. The more bloggers include a notice in their content explaining their affiliate links, the more credibility the entire affiliate marketing industry will have.
3. Only Work with Programs that Have High Chances of Success
It's normal for bloggers to want to publish unique content or specialize in obscure topics. But, for affiliate content publishers, the best alternative is always to find popular niches and only work with programs that have high chances of success. This means only doing business with reliable partners, looking for goods that are trending, and targeting audiences in higher-tier countries.
Remember, to track down affiliate programs with a high chance of success you have to:
Partner with the Top Networks
Affiliate networks are platforms that help bloggers find the best affiliate programs. But, not all networks are created equal, so you need to find a reliable partner that offers exclusive deals from the top advertisers in the world.
At lemonads, we've partnered with renowned advertisers and content publishers to create a superb network that's suitable for almost all industries. To learn more about our affiliate network and the affiliate programs we have available, contact us today.
Work on Improving Your Site Content
Even if you've been curating your site content and publishing quality blogs for years, there's always a bit of fine-tuning that can be done to help improve your results. In most cases, updating outdated blogs and performing other content improvements results in a more engaged audience. This affiliate marketing strategy helps generate more conversions from the same amount of traffic.
4. Drive the Most Traffic Through SEO
Search engine optimization or SEO is one of the most popular forms of online marketing. Also known as organic search marketing, SEO focuses on driving traffic from search engines to your website. The good news is that SEO is free in the sense that you don't have to pay per visitor or lead. But, remember that search engine optimization requires ongoing improvements, some of which occur on your blogs while others have to take place on third-party platforms.
On-Page SEO and Off-Page SEO
On-page SEO is a type of search engine optimization that focuses on improving loading time, the content on your pages, and every other element on your site that affects your ranking. This includes the images you use, the URL structure in place, and many other variables.
Off-page SEO focuses on making improvements on third-party platforms that also affect your pages' rankings. These platforms include local directories, social media platforms, and review sites, just to name a few.
5. Run A/B Tests on All Your Website
A/B testing is the process of adjusting one or more variables on your pages by creating different versions and comparing the results of each. This technique has proven to be effective in other forms of digital marketing, from social media to PPC and SEO, all of which follow similar concepts to affiliate marketing. Remember that you need to collect enough information from your audience before you compare the results to have statistical significance.
6. Develop Different Content for Visitors From Different Countries
It may seem challenging if you have visitors from all over the world, but you should develop distinct content for people from different parts of the world. You don't necessarily have to create content from scratch, but optimize your current materials depending on where most of your visitors are coming from. You may also have to translate your content, but you may be able to use a plugin if you don't have the budget for a translator.
7. Install a Robust Tracker and Focus Heavily on Analytics
Affiliate marketing requires both data analysis as well as the ability to evaluate consumer trends and make predictions on them. To assure that the information you collect is accurate, you should install at least one robust tracking platform and use the data gathered to create better materials.
Some of the top trackers available today include:
8. Experiment with New Approaches
Finally, you should give yourself enough freedom to explore approaches that you believe can be successful. For instance, affiliates that started using TikTok to promote their content were not taken seriously at first, and now these marketers are generating millions of dollars through this social platform. You should not be afraid to get creative with your blog and do things like organize live events or develop deluxe content that's only available to subscribers.
Ready to Start Your Affiliate Campaigns? Find the Best Programs at lemonads
Are you looking to implement advanced affiliate marketing strategies in your blog? We can help you find the top affiliate marketing programs for bloggers, so contact us today and we'll be glad to help.
Accelerate your Conversions, Increase your Revenue
with lemonads
---
You would like