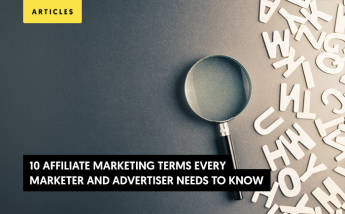 10 Affiliate Marketing Terms Every Marketer and Advertiser Needs to Know
Affiliate Marketing Terms. As of 2021, the affiliate marketing industry is worth around 12 billion US dollars and projections suggest that this number will only grow over the next few years. It's no surprise that more than 80% of advertisers and online content publishers leverage this type of promotion. After all, affiliate marketing can help connect advertisers to their audiences while allowing publishers to monetize their content.
What's more, entering the affiliate marketing space is relatively simple, especially because you don't need a high degree of technical knowledge to succeed. That said, there are many different concepts you need to be familiar with in order to be successful. And, even though there are dozens of free courses that offer a huge amount of information, some of these definitions are not easy to find.
Our team at lemonads has decades of combined experience in the affiliate industry, so we know a thing or two about the terms you'll definitely encounter. Below, we'll go over 10 important affiliate marketing terms that every marketer and advertiser needs to know to succeed.
Why Do You Need to Learn the Lingo in Affiliate Marketing?
Before delving any deeper, let's take a moment to define affiliate marketing and understand why learning relevant terms will help you achieve success.
Affiliate marketing is a type of paid digital advertising which focuses on promoting a product or service through the help of third-party marketers, also known as affiliates. When companies have an affiliate marketing program, these businesses rely on affiliates to drive traffic to their site, generate leads, and even sales.
The main goal of the affiliate program varies according to the needs of the advertiser. But, in most cases, the main goal is to produce a conversion, which is a specific action that customers take like filling out a contact form or making a purchase.
Understanding the different terms you'll encounter in the affiliate industry will help you make informed decisions and increase your chances of success. For example, if you leverage a tracking tool or platform for traffic validation, you'll only know how to use it properly if you understand its interface and the terms it uses.
10 Affiliate Marketing Terms Every Marketer and Advertiser Needs to Know
Our team works hand-in-hand with some of the top advertisers out there, but many of these businesses are just starting to leverage the power of affiliate marketing. Below, we've put together a list of 10 definitions that our advertisers ask us about the most. Remember, you may run into these terms when working with your affiliate network or with any other stakeholder you communicate with, so make sure to understand them before getting started.
1. Affiliate Program
An affiliate program is an agreement developed by the advertiser, which contains all details and specifications that marketers need to know in order to generate conversions. When building an affiliate program, advertisers have to specifically define what makes up a conversion, how much money is paid for each one, and the length of the advertising cookie. Affiliate programs are all different, so you need to develop a tailored one for your business and keep the marketers you want to work with in mind during the whole process.
2. Two-Tier Affiliate Program
A two-tier affiliate marketing program allows third-party marketers to generate commissions from the direct sales they generate as well as the additional affiliates they recruit. In simple terms, advertisers that develop this type of ad are interested in getting sales as well as exponentially growing the number of marketers they have.
3. Ad Formats
Publishers can place different types of ads on their websites, apps, and other digital real-estate. There are dozens of different ad formats or types of ads out there, some of which are compatible with both mobile and desktop platforms. Others are only suitable for one type of platform, which is the reason why many affiliates specialize only in one single type of ad format.
Some of the most popular ad formats include banners, pop-ups, pop-unders, push notifications, native ads, SMS ads, and in-page push notifications, just to name a few.
4. Earnings Per Click (EPC)
As the name suggests, earnings per click or EPC represents the amount of money you generate from each click or interaction in your affiliate campaign. In order to calculate earnings per click, you need to divide the number of money your campaign has generated by the total number of clicks (or interactions, as the same concept can be applied to impressions).
5. Split Testing
Split testing is a technique that allows you to measure the performance of different content versions in order to find the top performer. For example, you can use split testing to determine which ad colors and other elements produce the best results. That said, split tests need to be performed in an organized and methodical way to be effective and accurate.
6. Lock Period and Lock Date
The lock period can be defined as the timeframe during which advertisers can verify the validity of the conversions generated by their affiliates. During this period, advertisers can cancel an order if the conversions produced are not up to scratch. The day after this period ends is known as the lock date because the commission generated by affiliates is "locked-in" and needs to be paid out as is.
7. Country Tiers
Country tiers refer to the grading system used by many affiliate networks and other platforms to determine the value or conversions generated in a certain geographic location. There are four different country tiers commonly used in affiliate marketing. Starting with the best, these are tier-1, tier-2, tier3, and tier-4 countries. As a general rule of thumb, tier-1 countries are the hardest to convert but offer the highest payouts. The opposite is true for tier-4 as these regions are easiest to convert but usually have the lowest commissions.
8. Affiliate Metrics
Affiliate metrics are statistics that you need to monitor in order to ensure that your affiliate campaign or program is producing the right results. The set of affiliate metrics for each advertiser and affiliate is different, so you need to figure out the most important numbers for your specific case before you start monitoring.
9. Niche Market or Vertical
A niche vertical, market, or industry is a specific field that you can specialize in. Some of the most popular niches in affiliate marketing include beauty and nutraceuticals, electronics, automotive, mobile utility apps, and sweepstakes, just to name a few.
10. Tracking Tools
Tracking tools are platforms that keep a record of all the activity in your website, ads, campaign, or affiliate program. There are dozens of tracking tools and these have different features, so remember to evaluate your requirements and make sure that the tracking tool you choose has these available.
How Does Affiliate Marketing Work?
The affiliate ecosystem can vary slightly from one industry to the next. But, it almost always includes four different stakeholders, which are consumers, advertisers, affiliates, and networks.
Consumers
Consumers are often regarded as the most important element of the affiliate marketing ecosystem and for good reason. Consumers are the target audiences that advertisers, and therefore affiliates, are looking to target. In simple terms, the main goal of any and every affiliate program revolves around the consumers it's trying to attract.
At the same time, remember that consumer trends change. This means that affiliate marketing is not a static practice, but an approach that requires the constant observation of consumer trends. Affiliates are experts at reading, analyzing, and predicting potential changes in these trends, so they can give your entire marketing strategy a boost in a matter of weeks.
Advertisers
Advertisers are the companies looking to promote their products and services through affiliate marketing. For these stakeholders, the most attractive feature of affiliate marketing is that it's performance-based, so it actually carries very little risk for advertisers. However, it's important to understand that each advertiser is different, so businesses need to have a tailored strategy and find the affiliate that will help them produce the best results.
Furthermore, advertisers are responsible for developing affiliate programs, so they need to figure out which audiences they want to target. For instance, the affiliate program of a company contains the target audience and demographic requirements, including the location, age, gender, device, and any other details that marketers need to know.
Affiliates
The affiliates are the masterminds behind the entire ecosystem because they help connect advertisers to consumers. There are dozens of different types of affiliates that produce numerous types of content. Some affiliates don't even produce content, simply choosing to purchase media from third parties and monetize advertiser programs through these means instead.
One of the best things about being an affiliate is that these specialists can choose to work in virtually any industry. Today, modern consumers turn to the internet to find products and services in their area, regardless of what they are looking for. For this reason, affiliates are usually passionate about the industries they specialize in and are capable of generating engaging content that would otherwise require an extensive amount of time.
Affiliate Networks
While marketers may be the reason the ecosystem comes to life, affiliate networks make everyone's job much easier and simpler. Affiliate networks are platforms that are tasked with connected advertisers to the top affiliates in their industries. At the same time, these platforms ensure that affiliates have access to the best affiliate programs available in the market.
Without affiliate networks, all advertisers would manage their own affiliate program, putting a huge amount of pressure on their internal teams. Besides issuing payments and verifying that the leads generated are legitimate, managing an affiliate marketing program also means answering questions for marketers whenever they have any doubts.
Affiliate networks simplify the whole process by partnering with leading advertisers and creating a database of the top programs. Then, the networks attract leading affiliates and make sure that they are able to find the most suitable program for each one.
Want to Launch Affiliate Programs for Your Business? lemonads Is Here to Help
Understanding how the affiliate ecosystem works is not always easy, especially if you're learning everything from scratch on your own. We hope that the 10 definitions, as well as the tips above, give you a good idea of how different elements affect the entire landscape.
Looking for the top affiliate network to help with your company's marketing program? Our team is here to help.
Accelerate your Conversions, Increase your Revenue
with lemonads
---
You would like