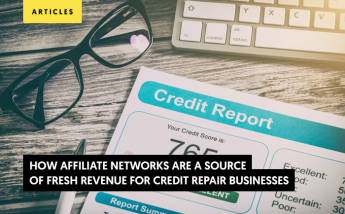 How Affiliate Networks are a source of fresh revenue for Credit Repair Businesses?
Let us guess: You work in the credit repair industry and you're interested in understanding how affiliate marketing can help you generate more revenue, don't you?
Or maybe, you already use affiliate marketing as a customer acquisition strategy for your services, but wonder if you are getting the most out of it? If so, this article is made especially for you.
Before we go on, we crafted a Whitepaper 14 Steps to Skyrocket Revenue of Credit Repair Services in 2021 to help credit repair businesses get the most out of affiliate marketing.
If you are interested, you can download it here for free!
Credit repair services
Credit repair companies offer a very important solution for people who depend on credit to live. Sometimes, credit scores are affected by external factors like identity theft or negative items that have been wrongly reported by creditors. However, not all consumers check their credit report or wonder why their scores get lower if "they are doing the right things".
According to a study made by Balancing Everything, one-third of American consumers have bad credit. What credit repair companies can do for them is to challenge the negative items and they have success rates of over 56% on their disputes. Only 15 percent of the items that consumers disputed were addressed internally by the credit reporting company. That means that 85% of the disputes never made it to the original creditor to investigate for accuracy. Consumers can try to challenge and dispute negative items themself, the truth is that without knowing the system and how to proceed in a right and effective way, chances of success are very low. This may lead to more consumers using credit repair companies to ensure that the federal law with regard to their dispute of accounts on their credit report is followed. But credit repair works also for people who have a good credit score and wants to improve it even more.
Fierce competition
The credit repair industry counts as more than 69000 companies in the United States solely offering the credit repair service. To these, we can add the realtors, financial services, assurance companies, and others that offer credit repair as a complimentary service. The competition is huge and the benchmark holds only 5% of the market share.
How can your company reach potential customers needing credit reparation in 2021?
Affiliate marketing - A great channel for customer acquisition
Even if your company is on the top list of credit repair businesses there is a lot of room to grow. Currently, none of these companies is concentrating more than 5% of the market share. There are thousands of small players.
Right there is where Affiliate Marketing can change your game
Affiliate marketing is a figure where you as an advertiser pay publishers only when they deliver results.

The concept is that you have people (affiliates) that are specialized in a credit-related industry like real estate, mortgage, solar, or the auto industry, have high traffic sites or more generally, access to a high volume of qualified traffic. They advertise your credit repair service. If someone they refer to your site buys from you, you get a sale and they get a commission.
If you can offer attractive commissions to these very talented publishers every time they refer you to a paying customer, they will be more than happy to put a lot of work into creating engaging content that converts.
Why working with an affiliate network is the best alternative for your credit repair business?
Affiliate networks help credit repair companies by recommending the affiliate program to the best-suited publishers and fully assumes the grunt work of managing the relationship with hundreds of publishers, and optimizing their performance at scale. For an increasing number of credit repair companies, this is a working growth formula.
By working with an affiliate network such as lemonads®, credit repair businesses can focus their resources on solving their core business problem.
Which affiliate network is ideal for your credit repair services?
lemonads® obviously! Apart from a shameless plug, we believe that collaborating with several well-chosen affiliate networks is the optimal approach for advertisers.
The rationale behind this statement is that many of the most talented publishers work exclusively with one network only, so you won't be visible to them anywhere else. Working with several affiliate networks will grant you enough coverage and visibility to maximize the chances of success and revenue from affiliate marketing.
Also, every affiliate network has a unique approach to customer service. At lemonads®, we strive to offer a personalized service, with a strong focus on the long-term success of our customers.
Conclusion
Affiliate marketing has a lot to offer to a credit repair company. We only mention a few reasons why you should give affiliate marketing a try, or why you should try working with lemonads® in addition to your actual affiliate networks.
You will find an in-depth study, with more compelling examples in our dedicated whitepaper 14 Steps to Skyrocket Revenue of Credit Repair Services in 2021. If you are in the credit repair industry, this is a must-have.
If you are a publisher interested in the promotion of credit repair programs, check out the best affiliate programs in the market right now.
What's the next step? Contact lemonads®, our team will be thrilled to start you up in the right direction.
Accelerate your Conversions, Increase your Revenue
with lemonads
---
You would like