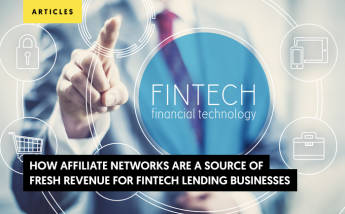 How Affiliate Networks are a source of fresh revenue for Fintech Lending Businesses?
Let us guess: You are a Fintech Lending business and you're interested in understanding how affiliate marketing can help you generate more revenue and accelerate your business growth, don't you?

Before we go on, we crafted a Whitepaper 14 steps to successfully set up your credit affiliate program with any affiliate network to help lending companies get the most out of affiliate marketing.

If you are interested, you can download it here. It's free!
Some customer lending business models are making life quality approachable for people who are not seen as creditworthy in the traditional financial industry.
Consumer loans help people fill in the gaps of cash and give them a chance to get to the end of the month, grouping different credits in one, or allowing them to purchase items that make their life easier, or happier.
Centered on the individual and household consumer, these loans include home and auto as well as personal loans extended to people who use the funds for individual or family purposes.
According to Statista, In 2018, fintech companies provided 38% of personal loans, which made them the largest provider of consumer loans in the U.S. The graph below shows how, in only a few years, Fintech grew and absorbed market shares from banks, credit unions, and non-bank financial companies.
Privileging Digitalization over customer acquisition
The consumer lending landscape shifted dramatically over the past years and this shift will be permanent. To attract and retain customers, personal lenders need to deliver easy-to-use technology and adapt communication channels to market demands.
The competition is very fierce, and consumers are expecting a seamless user experience as they already have in other aspects of their digital life. This pushes lenders to make a digital transformation and integrate technology to remain competitive and better assess the true risk and increase the number of potential borrowers they can offer financing to.
On the customer acquisition side, the strategies should include any medium possible to touch those who don't even think they have a chance to access a loan. This group of wrongly misjudged potential borrowers, who are used to being rejected by traditional banks, are data-proven creditworthy consumers.
Right there is where Affiliate Marketing can change your game
With Affiliate Marketing, you pay publishers only when they deliver results.
If you can offer an interesting payout to your tribe of affiliate publishers every time they send you qualified, creditworthy individuals looking for financing, they will be more than happy to put a lot of work into creating content on your behalf and theirs, of course.
Do you know how to fix these payouts? Follow the link.
Affiliate networks - Zero risk investment for Fintech lending businesses.
Affiliate networks are very strong partners for any consumer lending business. The first reason is their interest aligns perfectly with these companies, being performance-based.
Affiliate networks leverage their relationship with thousands of talented publishers and assume the grunt work of recommending the affiliate program to the best-suited publishers, managing and optimizing the performance of hundreds of publishers, at scale. For an increasing number of banks, neobanks, fintech, and in general consumer lending companies, this is a working growth formula.
While they pay an affiliate network such as lemonads® for recruiting new creditworthy consumers and trust experts for acquiring new business for them, they can focus their internal resources on solving their core business problems such as operational efficiency and retention, and so on.
Which affiliate network is ideal for your B2C credit business?
lemonads® obviously! Apart from a shameless plug, we believe that collaborating with several well-chosen affiliate networks is the optimal approach.
The rationale behind this statement is that many of the most talented publishers work exclusively with one network only, so you won't be visible to them anywhere else. Working with several affiliate networks will grant you enough coverage and visibility to maximize the chances of success and revenue from affiliate marketing.
Also, every affiliate network has a unique approach to customer service. At lemonads®, we strive to offer a personalized service, with a strong focus on the long-term success of our customers.
Therefore, working with affiliate networks helps lending businesses to increase their brand awareness and reach talented publishers that operate directly in the right vertical or another one, but have an audience very relevant to your consumer loan business.
Conclusion
As you see, affiliate networks host a big opportunity for your business.
In this article, we tried to handpick a few reasons why you should give it a try if you haven't, or why you should try lemonads® if you are already working with another affiliate network to improve your customer acquisition and customer retention.
You will find an in-depth study, with more compelling examples in our dedicated whitepaper 14 steps to successfully set up your credit affiliate program with any affiliate network. If you are in the lending business, this is a must-have.
What's the next step? Contact lemonads®, our team will be thrilled to start you up in the right direction.
Accelerate your Conversions, Increase your Revenue
with lemonads
---
You would like