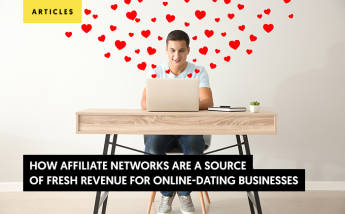 How Affiliate Networks are a source of fresh revenue for Online Dating Businesses?
Let us guess: You work for an online dating company and you're interested in understanding how affiliate marketing can help you generate more revenue?

Or maybe, you already use affiliate marketing for your programs, but wonder if you are getting the most out of it? If so, this article is made especially for you.
Before we go on, we crafted a Whitepaper 14 steps to Skyrocket the Revenue of Online Dating Businesses in 2021. to help Online-Dating service providers get the most out of affiliate marketing. If you are interested, you can download it here. It's free!
Online Dating Today
Online dating changed the way we relate to potential relationships in the last decade. According to Statista Digital Market Outlook, There were 44.2 million users of online dating services in the United States in 2020. The forecast estimates the number of users in this segment will increase to 53.3 million by 2025.
This disruption goes further on cultures. Even the most conservative ones are accepting cyber matches of their kids more openly. This means that what was once only an option for random hookups, is now becoming an actual place to find love, and people are keener to give it a try, which has expanded the market.
Also, the pandemic pushed people's need for companionship to another level. Feeling more lonely, online dating was a solution to meet and hang out in the socially distanced world.
But now, with vaccination and the world finding new normality, online dating businesses need to go harder and stronger for those single love birds, and affiliate marketing might be the influential piece of user acquisition strategy, the one that sets businesses apart and help them beat their competitors.
The affiliate marketing channel: The secret weapon for online cupids to reach high-value customers?
Affiliate marketing puts online dating companies in touch with publishers. The main benefit of this match made on the web is that you don't need to spend a cent until these publishers bring you, subscribers or customers, to your online dating platform. Affiliate is built around performance marketing models. If you are into learning everything about what is affiliate marketing, for advertisers our blog is a great source of information.
But let's say you are already aware of how affiliate works. You know you have a great product and you want to capture more high-value customers. If you can offer an interesting commission to very talented publishers every time they send you qualified leads or even sales, they will be more than happy to put a lot of work into creating content on your behalf and theirs, of course.
Why working with an affiliate network is the best alternative for your online dating business?
Affiliate networks help online dating businesses by recommending the affiliate program to the best-suited publishers and fully assumes the grunt work of managing and optimizing the performance of hundreds of publishers. For an increasing number of online dating companies, this is a working growth formula.
While they pay an affiliate network such as lemonads® for recruiting new high-value customers, they can focus their internal resources on solving the core business problem of their platforms and tackling issues such as customer retention, and so on.
Which affiliate network is ideal for your online dating business?
lemonads® obviously! Apart from a shameless plug, we believe that collaborating with several well-chosen affiliate networks is logical and the optimal approach.
The rationale behind this statement is that many of the most talented publishers work exclusively with one network only, so you won't be visible to them anywhere else. Working with several affiliate networks will grant you enough coverage and visibility to maximize the chances of success and revenue from affiliate marketing.
Also, every affiliate network has a unique approach to customer service. At lemonads®, we strive to offer a personal and personalized service, with a strong focus on the long-term success of our customers.
Therefore, working with affiliate networks helps online dating companies to increase their brand awareness and reach very talented publishers that operate directly in the relevant market and have direct access to an audience very relevant to their thematics (dating, love, sexuality, relationship tips, etc.).
Conclusion
As you can see, affiliate marketing has a lot to offer to online dating businesses.
In this article, we tried to handpick a few reasons why you should give it a try if you haven't, or why you should try lemonads® if you are already working with another affiliate network to increase the revenue from your affiliate program.
You will find an in-depth study, with more compelling examples in our dedicated whitepaper. If you are a dating business owner or working for one, this is a must-have.
If you are a publisher interested in the promotion of online dating affiliate programs, you should check out this list.
What's the next step? Contact lemonads®, our team will be thrilled to start you up in the right direction.
Accelerate your Conversions, Increase your Revenue
with lemonads
---
You would like