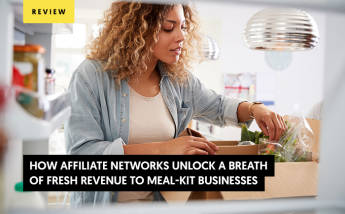 How Affiliate Networks Unlock a Breath of Fresh Revenue to Meal-kit Providers?
Let us guess: You are in the meal-kit business and you're interested in understanding how affiliate marketing can help you generate more revenue, don't you?
Or maybe, you already use affiliate marketing for your programs, but wonder if you are getting the most out of it? If so, this article is made especially for you.
Before we go on, we crafted a Whitepaper "14 Steps to Skyrocket Revenue of Meal-kit Providers in 2021"  to help Meal-Kit providers get the most out of affiliate marketing. If you are interested, you can download it here. It's free!
Meal-kit delivery services have exploded over the past years!
Bridging the space between home-cooked meals and restaurant take-out, or deliveries was undeniably a homerun. What is not to love about the idea of a pre-portioned meal, with step-by-step instructions, dropped on their doorstep? Meal kits are very appealing for almost everybody.
The overall value proposition of meal-kit products versus buying in a supermarket is strong and can be summed up like this:
Time-saving: Grocery collection and meal prep are minimized
Reduction of food waste
Balanced meals
Dietary restrictions or strict diets friendly
New recipes and ingredients.
But is the business sailing smoothly?
A great value proposition, but a poor customer retention
Meal-kit businesses are pushing through a disruptive force and are one of the industry's strongest examples of the movement towards providing greater convenience and bringing fresh food to the consumer.
But we know how it goes. Many of these companies will offer a 50% discount for new customers hoping to gain their loyalty... The truth is, most of them, will take advantage of the initial discount and then move to the next meal-kit company that has the best introductory offer.
Despite the unbelievable value proposition, meal-kit delivery businesses have offered over almost a decade an ongoing master class in how consumers can be merciless when it comes to being loyal to a brand.
Double-digit customer churn rates each quarter, the high cost of producing, packaging, and delivering products combined with over 200 competing companies operating in the United States alone make it a real-life cutthroat industry.
The consequence, an incredible amount of pressure to find new customers that replace existing ones, all the time.
The affiliate marketing channel: The secret sauce to reach high-value customers?
Affiliate marketing has a strong value proposition for the players of this industry. Why? Because they pay affiliates for performance, which is mostly risk-free and they can reach a large and targeted audience.
Many meal-kit companies started to develop in-house affiliate programs and hired program managers to manage internally the process of recruiting affiliates, communicating with them, and handling transactions.
The power of affiliate marketing is in big part attributable to the ability of affiliates (aka publishers) in finding customers. These publishers are strictly seeking customers that are willing to commit in the long-term to a meal-kit service while having more affinity with a certain business or product.
Why working with an affiliate network is the best alternative for your meal-kit business?
Affiliate networks (aka "performance networks") help meal-kit businesses by recommending the affiliate program to the best-suited publishers. They also fully assume the grunt work of managing and optimizing the performance of hundreds of publishers, if not thousands.
For an increasing number of meal-kit delivery companies, joining an affiliate network is a working growth formula.
While they pay an affiliate network such as lemonads® for recruiting new high-value customers, they can focus their internal resources on solving the core business problem of their logistics efficiency and tackling customer retention issues.
Which affiliate network is ideal for your meal-kit business?
lemonads® obviously! Apart from a shameless plug, we believe that collaborating with several well-chosen affiliate networks is the optimal approach.
The logic behind this statement is that many of the most talented publishers work exclusively with one network. If you are a meal-kit business looking for the best affiliates to partner with, this means you won't be visible to them unless your affiliate program is present in their specific network of preference.
Working with several affiliate networks will grant you enough coverage and visibility to maximize your chances of success and revenue from the affiliate marketing channel.
Also, every affiliate network has a unique approach to customer service. At lemonads®, we strive to offer a personalized service, with a strong focus on the long-term success of our customers.
Working with affiliate networks helps meal-kit businesses to increase their brand awareness and makes them visible to talented publishers specialized in the meal kits vertical, or with a digital audience that can be connected effectively to meal-kit products.
Conclusion
Meal-kit subscription services are slaughtering one another, trying to retain customers by offering derisory prices. The discount strategy is no longer effective and most customers are proven to only be loyal to the lowest price or the biggest discount. Finding loyal customers, who produce long-term value for the business has become critical for meal-kit companies.
This is why affiliate marketing is a great ally. Using marketing that takes care of your bucks, making you pay only for quality leads, from a more loyal audience that relates more with your brand.
Joining various affiliate networks is a smart move because talented publishers work with different platforms. By making your affiliate programs available to different affiliate networks, you will be seen by more publishers, including the best.
In this article, we tried to handpick a few reasons why you should give it a try if you haven't by now, and encourage you to join lemonads® if you are already working with another affiliate network. We would love to help you increase the revenue from your meal kit programs.
You will find an in-depth study, with more compelling examples in our dedicated whitepaper. If you are a meal-kit business owner or working for one, this is a must-have.
Do you know how to make your affiliate program attractive for publishers?
What's the next step? Contact lemonads®, our team will be thrilled to start you up in the right direction.

Accelerate your Conversions, Increase your Revenue
with lemonads
---
You would like