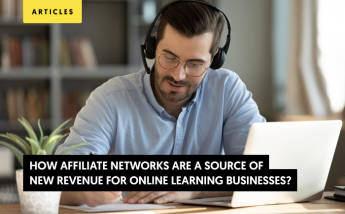 How affiliate networks are a source of new revenue for Online Learning businesses?
Do you work in the online education industry and you're interested in understanding how affiliate marketing can help you generate more revenue? Maybe, you already use affiliate marketing for your programs, but wonder if you are getting the most out of it? If so, this article is made especially for you.
Before we go on, we crafted a Whitepaper Acquire high-value customers for your online learning business with Affiliate Marketing to help Online learning businesses get the most out of affiliate marketing. If you are interested, you can download it here. It's free!
Online Learning is getting widely accepted
MOOCs (Massive open online courses) came with a utopian vision of providing education to anyone who can access the internet. Bit by bit the offer has increased and more platforms with different propositions and business models from free access with ad space to subscription-based institutions are offering a wide range of content so people can get knowledge in almost anything at any time and from anywhere.
From specialization degrees to hobbies and occupations, being present and having face-to-face instruction was the way to get a prestigious certificate. However, 18 months of schools, universities, and professional training institutes shifting their operations online as much as they could have proved a point: Whatever institution that was not prepared to instruct online, is behind the trends and the needs of the moment.
How to scale the acquisition of high-value clients for online courses or programs now that the competition is more fierce than ever?
Successful online learning brands rely on Affiliate Marketing, a model where brands pay publishers only when they deliver results. Affiliate marketers are talented publishers creating content to monetize their niche audience.
Affiliate marketing requires a set of skills and expertise that not every business has in-house.
Affiliate networks help online education companies by recommending the affiliate program to the best-suited publishers and fully assumes the grunt work of managing and optimizing the performance of hundreds of publishers. For an increasing number of online education companies, this is a working growth formula.
When online learning brands work with an affiliate network such as lemonads® for recruiting new high-value customers, they can refocus their resources on improving their products, operational efficiency, and tackling customer retention issues.
Also, every affiliate network has a unique approach to customer service. At lemonads®, we strive to offer a personalized service, with a strong focus on the long-term success of our customers.
Therefore, working with affiliate networks helps online learning businesses to increase their brand awareness and reach talented publishers that operate directly in the right vertical or another one, but have an audience very relevant to your online courses, specializations, degrees, professional certifications, or memberships.
What are the best practices and recommended steps for ambitious online learning businesses looking to step into affiliate marketing?
Affiliate marketing has a lot to offer to online learning platforms and Edtech companies.
You will find an in-depth study, with more compelling examples in our dedicated whitepaper Acquire high-value customers for your online learning business with Affiliate Marketing.
If you work for an online learning business, this is a must-have. In it, we will also explain why you should try lemonads® if you are already working with another affiliate network to increase the revenue from your online learning affiliate programs.
What's the next step? Contact lemonads®, our team will be thrilled to start you up in the right direction.
Accelerate your Conversions, Increase your Revenue
with lemonads
---
You would like