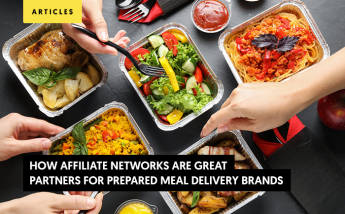 How Affiliate Networks are great partners for Prepared Meal Delivery Brands?
You are in the food-tech industry, you run a brand of prepared meal delivery subscriptions and you want to boost the acquisition of new customers? Then, this article is made especially for you.

Have you heard about affiliate marketing? Have you already launched an affiliate program for your meal subscription plans? Are you already working with an affiliate network or are you directly running it?

Before we go on, we encourage you to read this whitepaper we especially crafted for you: 14 Steps to Skyrocket Revenue of Prepped Meal Delivery Services in 2021 to help Home delivery meal subscription providers get the most out of affiliate marketing.
If you are in the meal-kit delivery service and not the prepared meal delivery business, check out this article on how Affiliate Networks Unlock a Breath of Fresh Revenue to Meal-kit Businesses.
Home delivery meal services: The product everyone is up to try.
Home delivery meal services gain even more force during Covid-19. We all know deliveries since we have memory. But them being the only way to eat a nice chef-prepared meal without cooking, took the business to a next level.

Meal planning is a headache. Everyone would choose a healthy meal if it was an easier option. Each individual or family group seems to have a different conviction when eating, nowadays.  But the heat and eat meals industry has grown and adapted to various lifestyles, and not every brand is made for everyone. Today, we find prepped meal delivery companies that allow choosing dietary preferences like keto-friendly, high protein, gluten-free, vegetarian, vegan, nut allergies, plant-based, weight loss options… you name it. People can get their appetite satisfied with only a couple of clicks at a very reasonable price. What's not to love about it?
Meal delivery service, a very crowded space?
Yes, the meal delivery services space is more competitive than ever. Just take as an example, the restaurants that had to search for new strategies to survive. While they were unable to sit down customers at their tables, they reinvented to deliver fresh meals. Being able to keep feeding their local fans, and keep their kitchens going, and most importantly their brands alive.
The good news is that 90% of Americans don't like to cook. And, about 70% of American adults have never tried meal subscription services before.
Now let's see it from your point of view.
You have this great service you have worked so hard to build and shape, but acquiring new customers is being so complicated that you wonder what else you can do to boost your sales, right?
This is what's happening. You and your competitors are giving great prices for the first order. Customers are delighted to try your subscription one time until a great offer from another brand comes up. Making these customers loyal to your brand seems like an impossible mission, and all the money you are spending in digital marketing or traditional advertising seems not to be bringing the right ROI… it's just not adding up.
Focusing on your unique selling proposition is crucial to acquire high-value customers now more than ever.
Right there is where Affiliate Marketing can change your game
Affiliate marketing is a figure where you pay publishers only when they deliver results.
If you can offer an interesting commission to very talented publishers every time they send you qualified leads or even sales, they will be more than happy to put a lot of work into creating content on your behalf and theirs, of course.
Affiliates bring valuable customers to prepared meal delivery services that you might not reach with your traditional strategies. Why? Because they are focused on a certain niche, they are seen as an authority and they know how to get them to try the products they promote. If they affiliate to your program is because they can relate with the uniqueness of your brand or there is something about your company that they know their customers will feel identified with.
Why working with an affiliate network is the best alternative for your prepared meal subscription services?
Affiliate networks help home-delivered meal subscription services, by recommending the affiliate program to the best-suited publishers and fully assumes the grunt work of managing and optimizing the performance of hundreds of publishers. For an increasing number of prepped meal delivery companies, this is a working growth formula.
While they pay an affiliate network such as lemonads® for recruiting new high-value customers, they can focus their internal resources on solving the core business problem of their logistics efficiency and tackling customer retention issues.
We invite you to read the 14 Steps to Skyrocket Revenue of Prepared Meal Delivery Services in 2021 whitepaper, with our full study and recommendations on how to create your affiliate program or how to improve your conversion rates.
Which affiliate network is ideal for your prepared meal delivery service?
lemonads® obviously! Apart from a shameless plug, we believe that collaborating with several well-chosen affiliate networks is optimal.
The rationale behind this statement is that many of the most talented publishers work exclusively with one network only, so you won't be visible to them anywhere else. Working with several affiliate networks will grant you enough coverage and visibility to maximize the chances of success and revenue from affiliate marketing.
Also, every affiliate network has a unique approach to customer service. At lemonads®, we strive to offer a personalized service, with a strong focus on the long-term success of our customers.
Therefore, working with affiliate networks helps home meal delivery businesses to increase their brand awareness and reach talented publishers that operate directly with a very relevant audience to your home meal delivery service.
Conclusion
Affiliate Networks like lemonads have a lot to offer to a prepared meal delivery company.
In this article, we tried to handpick a few reasons why you should give it a try if you haven't, or why you should try lemonads® if you are already working with another affiliate network to increase the revenue from your meal kit programs.
You will find an in-depth study, with more compelling examples in our dedicated free whitepaper. If you own a prepared meal delivery business owner or working for one, this is a must-have.
If you are a publisher, you might be interested in learning how to make money with meal kit affiliate programs this year.
What's the next step? Contact lemonads®, our team will be thrilled to start you up in the right direction.
Accelerate your Conversions, Increase your Revenue
with lemonads
---
You would like