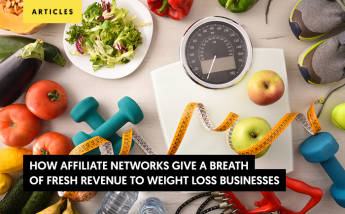 How Affiliate Networks Give a Breath of Fresh Revenue to Weight Loss Businesses?
Your business offers weight loss products or services and you are wondering how affiliate marketing can help you generate more revenue? Or maybe, you already use affiliate marketing for your programs, but wonder if you are getting the most out of it? If so, this article is made especially for you.
Before w go on, we crafted a Whitepaper 14 Steps to Skyrocket Revenue of Weight Loss Businesses in 2021 to help businesses in the weight loss industry get the most out of affiliate marketing. If you are interested, you can download it here. It's free!
2021 Weight Loss Industry: Coming for consumers' post-pandemic bodies
As a consequence of the pandemic, the weight loss and weight management business is estimated to have decreased by 21% between 2020 and so far in 2021.
Weight Loss centers, specialized doctors and clinics, health and fitness clubs had to close for several months, affecting the market. Besides that, people confined at home had less interest in taking care of their personal appearances and put on hold the objective of dropping those extra pounds. Another undeniable factor is the actual economic struggle.
With the population getting vaccinated and businesses reopening, 2021 is going to be very competitive for Weight Loss companies and they must consider every influential piece of strategy that allows them to outpace competitors and acquire high-value customers for their products, services, and subscriptions.
But, how can you engage with the people who are willing to lose weight and search for an adequate solution? And more so, how can you retain them for the period of time a healthy weight loss process takes or keep them engaged with your weight management services?
We think that affiliate marketing is the best ally for your business. The reach is limitless, and the risk is minimal, as you control the cost of acquisition of your customers by paying affiliates a commission based on their performance to grow your business.
Getting the attention of powerful affiliates
There are 3 keys for the affiliate marketing business to be successful. First, a great product. Second, a talented publisher, and third, a network that makes both ends meet efficiently, taking care that the deal is a win-win.
As a weight loss brand aka advertiser, you have worked hard to develop the product or service you are ready to offer. Diet and exercise monitoring, supplements, blood pressure measuring devices, physical activity machines, meal plan deliveries… you just know that yours is the best in the market and you are offering interesting commission rates.
Affiliates aka publishers are expert digital marketers that work with niches using their social media, websites, or blogs and their online marketing tools. They target a very specific audience and know exactly how to speak to them and engage them.
When a publisher decides to affiliate to a certain program, it is because they see potential in the product or service for their niche audience. If you have a great product and you build an affiliate program that offers great advantages, they will do their part to convert as many users as possible to earn your commissions.
Affiliate networks build strong relationships with the most talented publishers in the affiliate world. They are ready to put both your business and them to work together, facilitating affiliate commissions payment processing amongst other services.
How Affiliate Marketing can change your game
Affiliate marketing is a figure where you pay publishers only when they deliver results. Performance marketing guarantees that you pay only for results. This way, you are sure that your return on investment is ideal and there are no campaign failures.
By offering an interesting commission, you will attract very talented publishers that will be more than happy to put a lot of work into creating content on your behalf and theirs, of course. Every time they send you qualified leads or even sales, they receive their commissions but until that happens you spend nothing, nada, niente.
Why working with affiliate networks is a great alternative for weight-loss businesses?
Affiliate networks help weight loss businesses by recommending the affiliate program to the best-suited publishers and fully assume the grunt work of managing and optimizing the performance of hundreds of publishers. For an increasing number of weight loss companies, this is a working growth formula.
While you pay affiliate networks such as lemonads® for recruiting new high-value customers, you can focus the internal resources on solving the core business problem of logistics efficiency and tackling customer retention issues.
Which affiliate network is ideal for your weight-loss business?
lemonads®! Apart from a shameless plug, we believe that collaborating with several well-chosen affiliate networks is the optimal approach.
The rationale behind this statement is that many of the most talented publishers work exclusively with one network only, so you won't be visible to them anywhere else. Working with several affiliate networks will grant you enough coverage and visibility to maximize the chances of success and revenue from affiliate marketing.
Also, every affiliate network has a unique approach to customer service. At lemonads, we strive to offer a personalized service, with a strong focus on the long-term success of our customers.
Therefore, working with affiliate networks helps weight control businesses to increase their brand awareness and reach talented publishers that operate directly in the right vertical or another one, but have an audience very relevant to your weight loss services.
Conclusion
Affiliate marketing has a lot to offer to a weight-loss business.
In this article, we handpicked a few reasons why you should give affiliate networks a try if you haven't, and why we think lemonads® it's a great ally for you. If you are already working with another affiliate network to increase the revenue from your weight loss affiliate programs.
You will find an in-depth study, with more compelling examples in our dedicated whitepaper. If you are a weight-loss business owner or working for one, this is a must-have.
If you are a publisher, you might be interested in this article with the best weight loss affiliate programs.
What's the next step? Contact lemonads®, our team will be thrilled to start you up in the right direction.
Accelerate your Conversions, Increase your Revenue
with lemonads
---
You would like