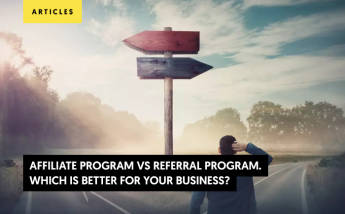 Affiliate Program VS Referral Program. Which is better for your business?
Two things that get frequently confused are referral programs and affiliate programs. If you are willing a program for your business, and the concepts are not quite clear for you yet, allow us to explain to you both and their differences.
What is a Referral program?
In a customer referral program, the business offers a customer, a reward when they bring new customers. This reward can be a big one-time discount, a service upgrade, or a gift card.
What is an Affiliate Program
An affiliate program is designed by the business to work with actual marketers or "publishers". This business rewards the publishers (affiliates) for the new clients they bring to their business and the reward is cash-based. Contrary to the referral program, the affiliate doesn't have to be a customer to bring new clients.
How do they work?
Referral programs:
Referral processes are more likely between friends and family. Kind of the things you share as a tip or as a hack. "I am loving this store because I find this brand at the best price. If you are interested you can use my referral code".
Affiliate programs:
When publishers decide to partner with a business/advertiser, the publisher enrolls in the program, and in exchange, they get a link called the affiliate link. This trackable link is unique to each affiliate and it tracks the operations that come from the affiliate's link.
Where can they be shared?
Affiliate links and Referral codes can't be shared in the same way. As the affiliate programs have some cash rewards they have some limitations. For instance, Facebook would ban people who are spamming affiliate links. There are strategies to use Facebook for affiliate marketing. It is a bit more complex than sharing a referral code and it requires some digital marketing skills that the referral programs do not require.
An affiliate is constantly creating content and giving people important information. This is with the interest of making some money through the affiliate programs they promote.
Referral programs go more as a reward to loyal customers that are passionate about the brand and spread the word. They will be more than happy to get a big discount on the next purchase or to be upgraded in their loyalty membership. They don't share because they are making a living out of it.
How are affiliate programs and referral programs rewarded?
The referral marketing program rewards:
As we were saying before, the referral rewards are to use in the referred business. It can come in the shape of a gift card, a one-time big discount or a loyalty program upgrade.
This reward is often offered both to the actual customers and their referred customers. Some businesses just reward the customer who refers.
If you want to start a referral program, try to make it as interesting as you can for both the referral and the referred. This increases the chances of them to get motivated enough to become a customer and continue referring potential customers.
The affiliate marketing program rewards:
The affiliate program rewards its affiliates with cash-based affiliate commissions.
Affiliate marketers put some work to promote the advertiser's program. This work consists of creating quality content that informs their niche audience about the benefits of the product or service they are promoting.
They can also develop very in-depth reviews of the product or compare it to other competitors. Affiliates are seen as authorities in their niche and their audience trusts their advice. They are a great partner for businesses and through them, as a business, you can reach audiences you might not reach through other marketing strategies.
If you want to start your affiliate program, we suggest that you think about the potential affiliates as your partners. Offering them an affiliate program full of advantages and good rewards will get them interested to work hard in promoting your digital products or services. If you are a publisher, you can check out this list of the best affiliate programs for Facebook ads.
Affiliate commission rate can be a percentage of the sale, a flat fee for a sign-up, or a quality lead. Sometimes affiliates get free products on top of their commissions especially if they over-perform or have been affiliated with the brand for a while.
Client Lifetime value
The CLV - Client lifetime value tells us how much you will earn from customers in the period they have a relationship with your business. This depends on the product or service you offer. Is it a one-time-only purchase like a car or a house? Or is it a product subscription that will keep the client coming several times over time?
To calculate your customer lifetime value you need to calculate the average purchase amount, and then multiply that by the number of purchases per client in a year. This is the average customer lifespan. Now you can multiply the customer lifespan by the customer relationship length (in years). As a result, you have the customer lifetime value. We made a graphic that might make it simpler to understand.
What kind of program works best for your business depending on your Customer lifetime value (CLTV)?
Referral programs:
Since these programs are based on loyal customers that trust the brand, referral programs work especially well for products or services that have a higher customer lifetime value CLTV.
Affiliate Programs:
These programs pay for every new customer. Affiliates are more focused on quantity and scale. An affiliate program usually works better for businesses with a lower customer lifetime value CLV.
Can a company have both affiliate and referral programs?
Some companies have both affiliate and referral programs. Such is the case of Hello Fresh. Hello-Fresh is a meal kit delivery service that provides recipes and fresh ingredients delivered to the customer's doorstep weekly. This example can help you understand in what ways one program or the other is interesting for the business.
HelloFresh Refer A Friend Program
Customers can give a friend $40 off their first delivery box, and HelloFresh will also give them $20 toward their next box. They can then redeem a $20 referral credit toward the next delivery.
HelloFresh Affiliate Program
The HelloFresh affiliate program offers up to 40% commission for every new customer led by the affiliate. They don't need to be acquaintances and most probably the new customer will not even notice someone is getting paid as a reward.
With the referral program, the customer gets credit to use inside the business while with the affiliate program it's a cash-based commission. In the affiliate program, cookies are involved.
Examples of Referral Programs and Affiliate Programs
Referral program example
Uber-
Uber has a very extensive referral program both for new riders and new drivers.
Whenever you refer a new rider with your customer referral code, both you and your referral are rewarded up to $20 on rides. This reward can change from time to time depending on the marketing strategy.
In the case of drivers, incentives are higher. A new driver can expect a $1000 credit when subscribing as a driver and get 50-100 passengers in the first 30 days. Here you have Uber referral program conditions.
Affiliate Program Example
Amazon
This is not the highest paying affiliate program but it's almost a fact that users will find what they need at a competitive price.
Amazon Associates program has a very complex commission system. Commissions can go up to 10% depending on the product category. Also, they offer a set of rewards for conversions on different partner products or services paying up to $25.
Conclusion
The first difference between a referral program and an affiliate program is that referred customers are not doing it as a job while affiliates are. People taking advantage of a referral program are usually happy customers. They are interested in earning credit or perks for a specific brand. Affiliates are there for the money and will be able to spend it elsewhere.
Some companies have both affiliate programs and referral programs. To be eligible for a referral program, the person has to be a customer. On the other hand, to be an affiliate the person doesn't have to be a customer as a requirement.
Referral programs are great for products or services where the lifetime value of the customer is longer. Affiliate programs are for companies where the customer's lifetime value is short.
Want to start your affiliate program? Contact lemonads®, our team will be thrilled to start you up in the right direction.
Accelerate your Conversions, Increase your Revenue
with lemonads
---
You would like