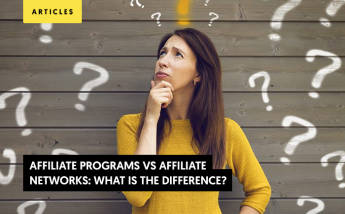 Affiliate Programs vs. Affiliate Networks: What is the Difference?
If you're familiar with affiliate marketing and how the industry works, you know the importance of choosing the right offer. The affiliate program you select will dictate a variety of crucial elements within your campaign. However, there are a few different ways you can track down the best programs, so you need to understand the options you have available to determine which one is the right one for you.
While they share some similarities, affiliate programs and affiliate networks are fundamentally different, so the choice you make will directly impact the performance of your ads. At lemonads, we partner with some of the top advertisers and leading affiliates on a global scale, so we're familiar with the offer acquisition techniques that tend to yield the best results.
Below, we'll go over the differences between affiliate programs vs. affiliate networks, plus we'll also discuss a few tips to help you find the best possible offers for your next campaigns.
What's an Affiliate Program?
Before going any further, it's important to understand the definition of an affiliate offer. In simple terms, affiliate offers are programs that companies develop to promote their services through third-party marketers known as affiliates. The companies being advertised (known as advertisers) allow affiliates to promote products to earn commissions by generating sales, leads, and similar conversions.
Affiliate programs are developed, promoted, and managed directly by the advertisers being promoted. This means that there are no intermediaries involved, so affiliates don't have any assurances in terms of payouts and other areas. As a general rule of thumb, marketers that work with direct programs should only partner with trustworthy and renowned advertisers to minimize negative experiences.
Pros and Cons of Affiliate Programs
Because they come directly from advertisers, affiliate programs can feature creative conversion flows and unique requirements. These offers are suitable for affiliates that like to maintain individual relationships with each advertiser, which can lead to better opportunities for collaboration later on.
Let's take a look at some of the pros and cons of working with direct affiliate programs.
Pros
Build individual relationships with each advertiser
May lead to better rates (although this isn't guaranteed)
Some advertisers provide dedicated support lines for affiliates
Most affiliate programs include branded advertising materials
Only works if partnered with reliable advertisers
Deals may be negotiable
Cons
Managing advertiser relationships individually represents a larger time investment
Advertisers usually want to work with advanced affiliates with plenty of experience
Strict approval process
A limited number of niches to choose from
Affiliate programs usually have fewer more expensive payout options
Advertisers may be more demanding than networks
Defining Affiliate Networks
Simply put, an affiliate network is a platform that works as the middleman between advertisers who want to promote their programs and affiliates that have the space to advertise these offers.
Think about it as a digital marketplace that allows affiliates to find the offers that suit them the most while giving advertisers the ability to collaborate with world-class marketers without having to research each option individually.
Pros and Cons of Affiliate Networks
All affiliates are different, so you need to evaluate your specific scenario to determine the best place to get your offers from. That said, managing multiple individual programs can be extremely time-consuming, especially if you're building a relationship with various advertisers at the same time.
This is one of the reasons why many seasoned marketers avoid working with direct offers and prefer partnering with an affiliate network that allows them to access multiple programs at once.
The pros and cons of affiliate networks include, but are not limited to:
Pros
Usually faster and easier to join than direct programs
A wide pool of offers to choose from, ideal for affiliates of all levels
A secure environment and other technical elements are provided by the network
Dedicated support for both publishers and advertisers
When working with a network, affiliates don't have direct contact with advertisers
Various pricing and payout models are available
Conversion limits to protect advertisers and help affiliates
Huge range of industries to choose from
Tracking included in network membership
Cons
More competitive than individual programs
The affiliate network that works as a middleman also charges a commission
May include additional requirements put in place by the network
The Differences Between Working with Affiliate Programs vs Affiliate Networks
Now that we've covered the definitions as well as the pros and cons of affiliate programs vs. affiliate networks, let's take a look at the differences between the two.
From a general perspective, opting for individual programs means that you're working directly with the companies you're promoting in your affiliate content. The brands that launch their own program prefer to be in control, but this isn't necessarily a negative. As a matter of fact, this can mean that affiliates receive better marketing materials in the offer, but keep in mind that advertisers will also be more demanding.
Affiliate networks literally work like a virtual shopping center where thousands of advertisers make their offers available, which means that affiliates have their pick in terms of which company or niche they would like to work with. Moreover, some of the ways affiliate networks differ from individual programs include:
Easy Application Process
Applying for an individual offer means that the request will be evaluated by the advertiser, so the assessment process will likely be stricter than in a network.
Although networks have a set process in place to ensure that only quality affiliates are accepted, the application to join one of these platforms is usually easier. Plus, networks are always looking to expand in size, so they usually provide guidance and assistance to affiliates who are close to reaching the right level of quality.
Access to Multiple High-Quality Advertisers
Building individual relationships with advertisers gives affiliates the ability to establish rapport, but this rarely translates into increased profits or a boost inefficiency.
By working with a network, affiliates can gain access to offers from a wide range of quality advertisers. In these cases, there is no direct contact between affiliate and advertiser, so there is a more transactional feel to the entire relationship. That said, the ability to work with several offers at once usually results in more conversions and higher commissions.
Ability to Promote a Variety of Niches
Even the biggest advertisers in the world have a limited number of products, so affiliate programs don't allow for the promotion of multiple niches. Affiliates can always work with more than one program, but they need to ensure that the products don't clash or compete against each other.
Affiliates that partner with a network usually get to work with multiple niches at the same time because they take advantage of more than one offer simultaneously. Furthermore, some networks allow affiliates to browse through offers based on the duration, the area being targeted, or niche, so it's easier to ensure that the products are all relevant to one another.
Suitable for Scalable Marketing Strategies
When working with individual offers, there's usually a limit to the number of conversions you can generate every day, regardless of the advertiser you're working with.
While the same is true for networks, you can work with multiple offers, generate a conversion every single time you have an opportunity, and make sure you get paid for each one. Affiliates can implement ultra-scalable marketing strategies like SEO and rest assured that they will be able to monetize all the traffic, as long as they work with a network.
Helps Secure Affiliate Earnings
Although this may not be an issue with renowned companies, working with a direct program means that you're trusting advertisers to provide payouts in full and on time. Affiliate networks provide a great alternative as these platforms help ensure that payment is collected from advertisers and that marketers receive payouts promptly.
Besides making sure that payments are issued according to the terms and conditions, networks also create a safe and flexible environment for affiliates to withdraw their earnings thanks to their robust security features.
Tracking  Features Available By Default
Large companies provide a variety of resources to affiliates that work with their individual programs. But, networks are the only offer sources that provide complex tracking features and the ability to monitor the performance of the affiliate campaign through either an in-house or third-party tool.
Different Pricing Models and Payout Options
Direct affiliate programs can sometimes feature larger payouts, but these platforms are usually limited in terms of the pricing models available. Most companies opt for one or two basic flows, which in most cases reduces the value of each conversion. Payouts are a similar story as direct offers don't always provide a lot of options for affiliates to withdraw their funds.
Networks, on the other hand, allow affiliates to monetize using Click2Call, SOI, DOI, CPS, CPL, CPI, CPE, and other complex models. Plus, affiliates that work with these platforms often have access to reliable, low-cost payout options.
If you are interested in learning more about affiliate marketing, check out our article for the best affiliate marketing course list.
So, What's the Verdict?
Affiliate programs have a certain allure and they're definitely worth exploring as some advertisers have developed ultra-high quality offers. However, these are most suitable for experienced affiliates and marketers that specialize in one single niche.
In terms of monetization opportunities, scalability, and convenience, affiliate networks offer an unmatched alternative that's perfect for all types of marketers. These marketplaces allow affiliates to take advantage of multiple offers through one single platform and increase each marketer's chances of success by providing many of the tools required for organized campaign development.
In our experience, affiliate networks tend to provide the best environment for both affiliates and advertisers to succeed, especially when compared to direct offers.
Find Out More About Monetizing Your Traffic By Contacting lemonads
At lemonads, we've worked on establishing long-standing relationships with some of the top publishers and advertisers out there, so we pride ourselves on the quality of the programs available in our affiliate network.
If you're interested in learning more about monetizing your traffic and finding the best affiliate programs, contact us and our team will be glad to help you get started.
Accelerate your Conversions, Increase your Revenue
with lemonads
---
You would like