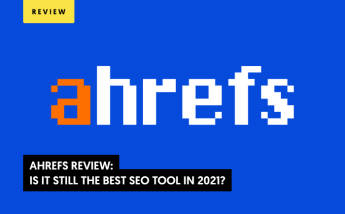 AHREFS Review: Is It Still the Best SEO Tool in 2021?
Search engines are responsible for generating a huge portion of today's internet traffic. The best part is that people who use search engines are already engaged, so these users are more receptive to the content they see. That said, there are dozens of different elements that affect your search engine rankings, directly influencing the amount of traffic you send to your site.
Search engine optimization (SEO) is a type of digital marketing that focuses on making improvements on your site in order to achieve higher search engine rankings. This is important because 3 out of 4 people never look past the first page of Google search results, so you need to be among the first 10 pages if you want to generate a significant amount of traffic.
With the above in mind, learning how to improve your search ranking and develop an SEO strategy takes a lot of time. Furthermore, there are many tools that you can use to find the best keywords, see what competitors are doing, and build a wholesome plan that helps you achieve success as quickly as possible. AHREFS has earned a great reputation as the best tool to help you build an SEO strategy because it features a superb list of features and capacities.
That said, the world of SEO is constantly evolving, so you need to make sure that the tools you choose give you the best chance of succeeding. For this reason, we've decided to evaluate this platform and write an updated AHREFS review to help you figure out if this tool is still the best SEO resource out there.
Without further ado, let's jump right in.
Introducing AHREFS
Simply put, AHREFS is a comprehensive marketing intelligence and competitor analysis tool. It boasts of one of the biggest backlink databases in the world and it can provide extensive insights about the backlink profile, keywords, and other data collected from any URL. Generally speaking, AHREFS was designed to give you a clear idea of how your site is performing, what leading competitors are doing, and how you can include some of their techniques into your strategy.
AHREFS is powered by a series of complex algorithms and proprietary in-house technology that includes custom web crawlers. The team behind this platform aimed to develop a wholesome solution that allowed users to visualize large data sets and manage this information in an easy way.
To achieve this, the AHREFS team has designed a set of dedicated features that provide a complete picture of a website's SEO performance, albeit from different angles.
Best Features Available in AHREFS
AHREFS boasts of a collection of superb features, all of which are designed to improve the performance of your site on search engines like Google. The platform is cloud-based, so you can access it from anywhere at any time as long as you have an internet-capable device. Additionally, members also have access to the AHREFS dedicated API, so they can integrate the marketing intelligence platform into their operations however they see fit.
If you prefer to work directly through WordPress, you can also access AHREFS via a plugin. The plugin itself is free, doesn't compromise page speed, and it's easy to set up. Through the AHREFS plugin, you'll also be able to see backlinks, overall traffic, and other details directly through your WordPress interface.
In addition to the above, AHREFS features a collection of superb features, including:
Site Explorer
The site explorer is AHREFS' most important feature because it allows you to see specific details about any URL on the internet. Whether you're looking to measure your own SEO performance or see what competitors are doing to succeed, the site explorer unveils a huge amount of information about backlinks, keywords, ranking history, and many other details.
Keep in mind that the site explorer section contains the URL rating (UR) and domain rating (DR) which are metrics designed by AHREFS to help you measure the website's reputation. Additionally, on the site explorer overview page you'll be able to see information about organic search, paid ads, and backlinks, giving you a three-tier visual of your entire digital efforts.
Besides the overview section, there are many sub-features in the site explorer designed to improve your site, for instance:
Backlink Profile
The backlink profile feature shows all of the pages that are linking back to the site being analyzed. If you are looking at our own website, it's a great way to get an idea of the type of backlink you are generating naturally and whether you should attempt to disavow some low-quality links. You can also track how many backlinks have been collected over the past 24-hour, 7-day, and 30-day period, depending on your preference.
Additionally, this feature can help you figure out what backlinks leading competitors have in order to mimic their profile and accelerate your ascension to the top positions. It's important to note that you can choose to group similar backlinks as well as links that come from the same domain. Plus, you can also filter them based on the type of link, platform, language, and other variables.
Organic Search
The organic search tab, which is located on the left-hand column of the site explorer overview section, includes everything related to keywords and the pages which they trigger. For example, you can see every single keyword that your website is ranking for, what positions it's in, how much traffic it generates, and which pages appear when a specific search is conducted.
As with the backlink profile feature, you can filter and arrange the keywords that your pages are ranking for in a variety of ways. For example, you can narrow down searches by country, keyword difficulty, how many visitors they generate, approximate cost-per-click for paid campaigns, the pages that rank for them, and the position these are in.
Pages
The pages tab provides a holistic view of individual page performances. In other words, it can help you determine which pages get the most traffic, have the highest quality ratings, how many redirects each page has, and when it was crawled last. Here, you can also see information about backlinks, their attribution, and the number of domains sending link juice to your site.
In this tab, you can choose to view your best pages based on total backlinks, backlink growth rate, or content. When viewing the best pages by content, remember that AHREFS will evaluate SEO performance, referring domains, and social media signals like tweets. You can even view the different anchor texts being used in each one of the pages being assessed.
Outgoing Links
Although most marketers focus on backlinks for SEO, the outbound links on your website will also help shape your overall profile. Rather than reviewing them manually, AHREFS has an outgoing links feature that can help you see which sites you are linking to, measure their quality, and figure out if you should maintain those links or remove them.
Broken links can have a detrimental effect on your SEO, but the good news is that the outgoing links tab will also help you catch outgoing links that aren't working. And, you also have access to anchor text data, so you can see what words you've added links to as well as their location on your site.
Paid Search
AHREFS is mostly used for organic campaigns, but the truth is that it also has powerful PPC monitoring features that help you build better campaigns. The paid search tab is divided into three distinct sections, which are PPC keywords, ads, and landing pages.
As you can imagine, the PPC keyword feature can help you see the terms that competitors are targeting, how much traffic these words attract, and how competitive they are. The ads section is extremely practical because it allows you to see copies of the actual ads your competitors are using and what percentage of the traffic they are claiming. Finally, the top landing pages feature gives you a list of the pages where prospects are redirected after your competitors get a link.
Keyword Explorer
As with most other digital marketing intelligence platforms, AHREFS offers a keyword explorer tool that provides extensive information about specific terms. But, instead of limiting you to one search engine, you can analyze data from Google, Amazon, Bing, Yandex, and many other platforms. And, the platform constantly works on adding more platforms to its list.
If you use AHREFS to conduct keyword research, you'll find that the platform provides extensive details that range from the ranking difficulty to the search volume and approximate PPC cost for each term. The global results appear by default, but you can also narrow down searches based on the country and see which pages are ranking at the top of the results for different regions.
Site Audit
If you are focusing on improving our site's SEO, you may have heard that you have to conduct an audit to get better results. In simple terms, an SEO audit is the process of reviewing the technical elements on your website in order to identify areas of improvement. SEO audits are usually performed before the strategy development stage in order to set a benchmark and at different stages to measure performance.
AHREFS gives your website a health score as part of its site audit, which serves as a quick "yes or no" answer to whether or not you need to work on your website. However, you also have access to more granular data, like the top issues found on your site, how many times your pages have been crawled, and the severity of the errors you have to work on.
Rank Tracker
The only way to ensure that you're heading in the right direction is to monitor changes in your ranking. If your pages are getting higher rankings for relevant searches you are on the right path. But, manually monitoring these is almost impossible.
AHREFS' rank tracker allows you to see how your page positions change based on specific keywords. In short, this feature sends out notifications whenever there are changes in your ranking and helps you understand why these are changing. Remember, Google's algorithms are always changing, so a change in ranking can reflect an important update.
Just remember, unlike other rank tracking tools, the results in AHREFS are not updated on a daily basis. Depending on the tier of the plan you choose, you'll either receive updated results once per week or every 3 days.
Content Explorer
When it comes to SEO, backlinks may bring a lot of juice, but the content on your pages is the heart and soul of your efforts. But, you need to ensure that your written pieces are both engaging and relevant to your target audience. If your readers can't relate to the content you're producing, it simply won't matter how good your storytelling skills are.
The content explorer feature on AHREFS can help you understand what type of content is producing the best results based on traffic, domain rating, and other parameters. You can also see who the top authors are, how many pages they're published, and the amount of traffic each one has generated.
Domain Comparison
One of the biggest mistakes that beginner marketers do is trying to mimic one single competitor, instead of getting a more wholesome feel for their whole industry. The domain comparison tool can give you a more comprehensive view in terms of the backlinks that competitors use to get to the top positions.
Instead of analyzing one single URL, you can inspect up to five different websites and see which backlinks they have in common. It's safe to assume that the overlapping backlinks found on the comparison tool contribute to the top ranking, so you can attempt to get juice from these links for your site as well.
Batch Analysis and Other Features
The batch analysis tool is similar to the domain comparison feature. But, instead of analyzing up to 5 sites and comparing their results, you can enter up to 200 URLs and generate a report that contains important metrics for all of these sites. The report includes referring domains, the total number of backlinks, UR and DR scores, organic traffic, and more.
AHREFS Support
We know that everyone expects to get great service. As with any leading subscription service, customers expect prompt assistance from knowledgeable team members when contacting AHREFS support. We were pleasantly surprised at how fast and personalized the support from AHREFS was, especially because we made a general inquiry rather than requesting technical assistance.
Keep in mind that AHREFS also offers a huge collection of learning materials including training videos, guides, how-tos, and other resources to help you make the most out of your investment. And, if you ever hit a snag, you can rest assured that the platform's customer service representatives will be glad to help.
Pricing Schemes
All of the prices in this section were reviewed at the time of writing, but these are subject to change.
If there is one part of AHREFS that isn't a seamless fit with any affiliate it's the pricing scheme. As one of the top SEO marketing and competitor analysis tools, the platform carries a hefty price tag, even for its "low tier" plans. The four plans available at AHREFS are lite, standard, advanced, and agency.
The lite plan is the most affordable and it starts at $99, followed by the standard at $179, the advanced at $399, and the agency plan at $999. The feature list varies in terms of overall volume depending on the plan you choose, plus some advanced capacities are only available in the more expensive plans.
Overall User Experience
AHREFS is an extremely technical tool, so new users should give themselves enough time to learn how to use all the features they have available. But, even though there is usually a significant learning curve, this marketing intelligence tool provides a comprehensive solution that delivers a great user experience.
The user interface in AHREFS is relatively intuitive, so you should be able to maneuver it as long as you're familiar with the terms being used. Moreover, most columns, buttons, and boxes include an information button that gives you information about the specific element.
Benefits and Disadvantages of AHREFS
AHREFS is a powerful tool that can help experienced publishers understand their search engine ranking and improve their positions with a set of strategic moves. Not only this, but it can also help you analyze exactly what pieces of content are generating the most traffic for the leading competitors. But, remember that all publishers are different, so the perfect solution for one marketer may not be as suitable for another.
Let's go over the biggest pros and cons you should weigh before deciding if AHREFS is the best tool for you.
Pros
AHREFS has established and maintained a great reputation as a marketing analysis and SEO intelligence tool thanks to its powerful structure and dedicated set of features. This platform offers a collection of different benefits that result in better search engine rankings for your site, if leveraged properly that is.
Let's go over some of the biggest benefits of working with AHREFS.
Complete SEO Tool
The first and most important benefit of working with AHREFS is that it's a complete SEO tool. Although there are other specialized platforms that focus on one feature, publishers can rely on AHREFS to help them build links, find keywords, track rankings, and optimize their content for SEO. Plus, thanks to its API, WordPress plugin, and web browser SEO toolbar, this platform is also among the most flexible in terms of deployment.
On-Page and Off-Page SEO Tips
The elements that affect SEO can be categorized into off-page and on-page variables. On-page SEO focuses on variables found on a website, like the content itself, the site's loading speed, and the keywords being used. Off-page SEO refers to backlinks, social media signals, and other elements that are not directly under publishers' control. The good news is that AHREFS is ideal for both types of SEO work because it provides a holistic view of the variables that affect your rankings.
Ability to Track and Improve Backlinks
Backlinks have been among the most important ranking factors since the early days of SEO and that hasn't changed. If you have a good backlink profile, you'll exponentially increase your chances of landing a top ranking. AHREFS lets you see which backlinks the top-ranking pages have, track any new additions, and improve your site's profile using the information collected.
Deep Competitor Analysis
Besides backlinks, AHREFS lets you see what other tactics your competitors are using. This includes keywords used, type of content produced, social media strategy, and paid ads, among other details. You can also export your findings as a CSV or PDF file and import them into other platforms, depending on your technology stack.
Excellent Customer Support
It's no secret that AHREFS is better suited for marketers who want to take a technical approach to their SEO rankings. But, even knowledgeable users require assistance every now and again, which makes AHREFS' support team an invaluable advantage that can exponentially improve user experience.
Content Marketing Strategy Boost
The content explorer feature was designed specifically to help website owners find the topics and articles that are driving the most traffic. This aligns perfectly with content marketing, which is an approach that aims to develop materials that the target audience deems as valuable. You can even create a list of the best writers and publishing platforms in your industry to help model your efforts.
Cons
There is no doubt that AHREFS is still among the top SEO marketing and competitor analysis tools available, but it still has some relatively minor disadvantages you should know about. Some of the cons of using AHREFS include:
No Free Plan
Unlike low-tier marketing analysis tools, AHREFS doesn't offer a free plan for its customers. That said, there is a free trial available that you can receive upon request, so you can test out the platform before paying for a whole month. And, if you like the platform enough to make a long-term commitment, you can get up to two months off when paying for a two-year subscription.
Technical Interface for Beginners
If you are just learning the ropes of affiliate marketing and digital advertising as a whole, there's a strong chance that AHREFS will be too technical for you to understand. In these cases, it's better to start off with a more basic alternative like Google's Keyword Planner and transition to AHREFS or a similar platform once you have a bit more experience.
On the More Expensive End
As we mentioned earlier, the only major disadvantage of AHREFS is that it's not budget-friendly, especially for beginners or affiliates that require advanced features. With that said, the amount of information provided by the platform gives publishers the ability to develop alluring content that gets better rankings, which can exponentially boost traffic.
9 Tips to Make the Most of AHREFS
AHREFS has been among the top SEO marketing tools for years, but a surprising number of publishers are still not sure how to make the most of this platform. Below, we've put together a list of 9 ways to make the most of AHREFS.
Identify Top-Performing Content
The very first way you can use AHREFS to boost traffic and increase the amount of money you generate is by finding top-performing content. There are several ways you can do this, but the two most common ones are through the keyword explorer and the site explorer.
The keyword explorer lets you see the top-ranking results and how much traffic they drive. As for the site explorer, it reveals which pieces of content have produced the best results for a specific competitor.
Unveil Backlinks that Are Easy to Acquire
Leading platforms often have valuable backlinks that are hard to acquire. But, top-performing pages also tend to share a huge number of links that are easy to get, for instance, hyperlinks that come from social media platforms or forums like Quora. AHREFS can help you unveil these easy-to-get links, so you can make sure that you get backlinks from these URLs for your site too.
Set Up AHREFS Alerts
AHREFS allows you to set up alerts for whenever your brand is mentioned on the internet. This is important because every time another website mentions your brand, it opens up an opportunity for a backlink. Likewise, you can do the same for competitors and get notified whenever someone links to their pages.
Get Low-Competition, High-Impact Keywords
Despite the fact that the site explorer is known as the bread-and-butter of AHREFS, its keyword research feature can actually have as much of an impact on your content. Besides helping you find the best keywords in terms of volume, you can also identify long-tailed terms that don't have much competition, but can help you drive engaged visitors that are more likely to interact with the content on your pages.
Find Guest Blog Opportunities
There are many creative ways you can implement AHREFS, for instance, you can use it to help you find guest blogging opportunities. This only works assuming that you produce stellar content, but as long as this is the case, all you need to do is find the sites on our database that mention your site and haven't linked to it. In theory, these brands will be more likely to accept guest post offers because they know your brand, so it's worth a try.
Track Your Ranking Performance
The rank tracker feature allows you to set up projects to monitor how the positions of your pages change for specific keywords, which is a direct reflection of how well your campaign is performing.
See Which Gaps You Need to Fill
The AHREFS' site explorer includes a content gap identification tool that helps you see what pieces of content competitors have that you're missing. And, you can enter up to 10 competitors and figure out multiple gaps through one single search.
Check Out Broken Links (For Your Site and Competitors as Well)
Broken backlinks deprive your pages of valuable link juice, but they also provide an opportunity to improve the performance of your site. With AHREFS you can monitor broken backlinks that point to your pages, so you can request that webmasters fix those on their sites. You can do the same for competitors and swoop in to divert valuable link juice back to your website instead.
Developing a New Publishing Platform? Find the Best Affiliate Programs at lemonads
AHREFS is a superb platform and it's still one of, if not the best SEO tool for marketers. That said, developing a successful publishing platform takes a lot more than a good rank in search engines. Not only this, you also have to figure out the best way to monetize the traffic you drive to your site.
To learn more about finding the best affiliate programs, contact lemonads and we'll be glad to help.
Accelerate your Conversions, Increase your Revenue
with lemonads
---
You would like