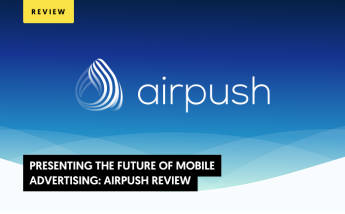 Presenting the Future of Mobile Advertising: Airpush Review 2021
For decades, marketers and innovative companies have been prophesying that the future of the digital advertising industry is in mobile. But, did you know that mobile web traffic actually overtook desktop as the global leader since 2017? And it wasn't a fluke -- mobile users have consistently made up more than half of the internet's global traffic since then.
While some ad networks slowly transition into mobile and others refuse to adjust altogether, Airpush has become a beacon of light in terms of innovation. This ad network specializes in monetizing all types of mobile traffic, making it a superb choice for mobile publishers, app developers, and advertisers who want to promote products to these users.
At lemonads, we know how profitable and fun mobile campaigns can be. So, we understand the importance of finding the best mobile ads network. This is the reason why we've put together an Airpush review, where we'll go over the advantages and setbacks of partnering with this mobile network.
Without further ado, let's jump right in!
What You Need to Know About Airpush
Airpush is one of the oldest and most renowned mobile ad networks out there. Founded back in 2010, the company is headquartered in the US and specializes in monetizing as well as selling all types of mobile traffic through push notifications.
According to Airpush, publishers can make up to 30 times more monetizing traffic using the network's push ads when compared to conventional CPM. This is because the network has spent the last decade building a huge repertoire of quality publishing platforms and developing a robust, feature-packed platform. This, in turn, has attracted some of the biggest advertisers in the world, including Coca Cola, Toyota, Amazon, and the likes.
Benefits of Using Airpush for Your Next Campaign
When advertisers choose Airpush, they are tapping into a network of more than 40,000 developers that manage ultra-popular mobile platforms. Companies that promote their services have access to a global audience of engaged users, so they are happy to pay top-dollar for traffic that allows them to generate higher revenues.
Airpush started off as a push notification ad network, but it has taken up the mantle of an innovative leader and has implemented a variety of ad formats. It has become one of the more comprehensive mobile networks available for all types of affiliates and advertisers, so it's perfect for stakeholders that profit most from mobile device users.
Some of the biggest advantages members of Airpush enjoy include:
A User-Friendly Design
It doesn't matter if you're switching from another network or starting your first campaign, mastering a new interface always takes time. And time, in the affiliate realm, equals money.
The good news is that Airpush has an incredibly user-friendly interface. The platform features a slick design that gives you access to the different features in an organized and logical way. And, thanks to its superb interface the learning curve is relatively short, so you'll start getting business or monetizing your traffic right away.
Campaign Templates
Even after learning everything there is to know about using an ad network, you still have to invest time in creating your campaigns. Fortunately, Airpush offers a sizable collection of ready-made templates for a variety of its ad formats. All users need to do is pick an ad format, choose the template they want to implement, input your content as well as your creatives, and launch your campaign.
This simplifies the entire process and allows you to spend more time optimizing, which can transform your campaign into a revenue-generating machine.
Tracking and Reporting Capacities
The only way to ensure your campaign is getting the best results is to track and monitor its performance. Airpush has developed powerful tracking abilities that you can use to evaluate your campaign performance at any given moment in real-time. And of course, you'll also have access to historic data to identify trends that help you develop better ads.
Having robust tracking is important, but you also need to translate this information into easy-to-digest formats. The team behind Airpush has also created a powerful reporting feature that lets you create custom data sets depending on what you need. Moreover, the reports can feature different graphs and cover a wide range of timespans, so you can use them for growth measurement as well as predicting campaign performance.
Advanced Targeting Settings
Mobile devices already allow a large degree of targeting, but Airpush has taken it a step further by advertisers to target consumers based on their download history. This provides important insights into the type of app that users are willing to download, use, and pay for.
Furthermore, the platform also allows targeting by more conventional variables such as geographic location, interests, network, OS, device type, and other qualities. These allow you to limit the number of people that see your ads and only shows them to relevant users that have a higher chance of converting.
AirX Mobile Private Exchange
Advertisers that want to launch large-scale campaigns can take advantage of Airpush's Air Mobile Private Exchange. Through this feature, programmatic buyers can bid on the platform's inventory using real-time bidding (RTB), which can help reduce costs and give these marketing professionals more control.
The AirX Mobile Private Exchange allows the creation of extremely large campaigns without worrying about quality variation within the traffic. Members will also have access to in-house formats and exclusive resources that improve the performance of advertisers across all platforms.
Innovative Optimization Features
Getting high CTRs and other superficial metrics is a good sign, but all good affiliates know that conversions are the most important element of a campaign. That said, optimizing a campaign's ads can be a time-consuming, complex endeavor. To minimize the burden, Airpush has developed an innovative conversion optimizer that employs advanced algorithms to automatically make adjustments that improve the performance of your ads.
Powered by a type of machine learning, the conversion optimizer feature produces better results over time, which allows advertisers to see consistent growth in all the important areas.
Superb Customer Support and Extensive Library of Advertising Resources
Airpush is one of the most comprehensive mobile ad networks out there, due in part to the quality of its customer support team. Users who experience issues or have questions about the platform can contact the support team via email or phone and assistance right away. The best part is that, unlike some networks, the agents are extremely knowledgeable and work relentlessly until the problem is solved.
Affiliates that like to solve issues on their own or don't have the ability to contact the support team can also rely on the platform's library of resources. Airpush is in the process of developing a rich library of resources for both advertisers and publishers which are designed to help them troubleshoot any issues and learn how to make the most of the platform.
Ad Formats Available at Airpush
The ad formats available on a network will help define the success of your campaigns. Instead of specializing in a few formats or implementing low-potential ad types, Airpush offers a large collection of mobile ads that are known for their individual performances.
For advertisers, this means that they won't have to rely on a variety of different platforms to get results from their mobile campaigns. Publishers, on the other hand, can monetize virtually all types of traffic that access their mobile website or app. And, some of these formats even work well together without disrupting the user experience, which can exponentially increase a platform's earnings.
The formats available at Airpush include:
Push notifications
Video ads
Overlay
Rich media
Landing page for mobile
Abstract banners
In-app banners
Pros and Cons for Publishers and Advertisers
Although it's used by leading brands around the world, Airpush may not be a perfect fit for all publishers or advertisers. All stakeholders in the affiliate world are different, so each individual needs to evaluate her or his specific requirements and weigh them against the features available on the platform being evaluated.
With this in mind, Airpush has a series of pros and cons for advertisers as well as publishers, just like any other network. These include:
Advertisers
In the eyes of advertisers, the best ad networks are the ones that offer a combination of quality traffic and powerful features at a fair price. Airpush goes above and beyond by delivering a feature-packed platform, great rates, and world-class support.
Pros
Huge variety of mobile traffic types
Easy to use
User-friendly design
Powerful platform with advanced targeting, tracking, and reporting
Customizable templates available
Low costs with a relatively high earning potential
Cons
Large-volume campaigns provide the highest ROIs
Publishers
Mobile publishers have to be very careful with their traffic because the slightest glitch or malfunction can produce costly repercussions. Maintaining an excellent user experience is essential, but developers and publishers also have to find the networks that give them the best results in terms of traffic monetization.
Pros
Fast payouts
Large collection of ad formats
Suitable for apps and mobile websites
Accepts traffic from all over the world
Automatic approval process
Cons
Mobile-only platform
Questionable relevance placements, so ads don't always match the published content
Get More Updates About the Best Ad Networks for 2020 and Beyond
It's never too early to prepare for the future, especially when consumer behavior suggests that there is only one path to go. More than 60% of Google searches already occur on mobile, which means only one thing. Mobile devices, and whatever technology follows suit, is the future of digital marketing and Airpush allows advertisers and affiliates to prepare like never before.
We hope that our Airpush review has given you a good idea of what you can expect when partnering with this network.
If you want to learn more about the leading ad networks for mobile, follow our blog or contact our team and we'll be glad to help.
Accelerate your Conversions, Increase your Revenue
with lemonads
---
You would like