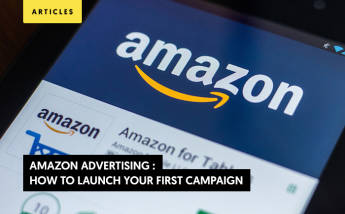 Amazon Advertising : How to launch your first campaign? (Strategies and tips 2021)
Amazon advertising is something many are wondering if, to begin with, and if you're seeking how it works and how to launch your first campaign, you've just landed in the right spot!
Let's discover what Amazon advertising truly is and the guideline for a correct advertising campaign!
When we hear "Advertising on Amazon" we of sponsoring and selling amazon products with a commission, but Amazon Advertising simply works similar to Google Ads, in which you'll be paying for your listings to appear with a "sponsored" tag at the top of relevant search results and on similar product pages to get those amazon products sold and only then, earn your commissions.
With more than two million sellers on the marketplace, advertising on Amazon is extremely competitive, and to stand out to make those sales, you'll need a strategic plan and some guidance on what to look for and what you need to know.
So, let's jump straight into our easy-to-follow guide before discovering how to set up and launch your first campaign through:
Guidelines for a correct advertising campaign
Amazon advertising: step by step on how to launch your first campaign!
Monitor, Test, and Follow your Results
Amazon Advertising Final Conclusions
Guidelines for a correct advertising campaign
While we enjoy the last days of summer, holiday planning is in full swing in agencies and marketing departments around the world.
Given the holidays and planning your marketing strategy, take the opportunity to check out your brand, and ask yourself if your product is having the success it deserves on Amazon.
These guidelines can help you improve the performance of your campaigns and determine which products are best suited to be advertised with the creative content of an ad.
Are Your Products Available?
It may seem obvious, but if you are a vendor or seller, it is essential to advertise in your campaign by also making sure you have properly planned the inventory of your available products!
Amazon customers have a positive experience when they visit your product detail pages, and that the items advertised are available for purchase.
Amazon Advertising: Customer Reviews
If you are launching a new product, consider participating in the Amazon Vine program with your vendor manager. Amazon Vine invites the most trusted reviewers on Amazon to post opinions on new and reviewed articles, helping customers make the right decision at the time of purchase. Of course, the wider the range of products you can write a review on, the better a buyer's experience will be when it is directed to your page.
High Star Ratings?
The products promoted in your campaign should have at least an average of 3.5 stars.
However, when you try to target new customers on your product detail pages, the ideal would be between 4 and 5 stars.
We're talking about the first impression a customer may have of your brand, and we want it to be the best possible one.
What is your position among the search results inside and outside Amazon?
When thinking about which products to advertise, consider choosing a product that is easily identifiable inside and outside Amazon. Visibility on the first or second page of search results is ideal.
One last thing: as a vendor or seller, Amazon offers you the possibility to develop the strategy that best suits your brand. Before the campaign becomes active, consider whether to add more detailed descriptions, images, or videos to your product pages, so that customers browsing and searching are aware of your product range. Talk to your vendor manager or consult the product detail page rules.
Now that you know how to move into Amazon's advertising world, let's delve deeper and discover how to launch your first campaign!
Like Google Ads, Amazon's advertising works on a pay-per-click (PPC) basis.
What does this mean? Simple that you're only charged as a shopper clicks on your ad. They're considered essential to your success on Amazon thanks to:
Increased visibility: Your listings get an instant visibility boost onto the first page of Amazon's search results, helping you to counteract poor organic ranking.
Improved sales: Increased visibility helps get your listing seen by more customers searching for products like yours, increasing your clicks and consequent sales.
Controlled costs: Amazon's PPC ads give you control over your budget and overall spend, enabling you to tweak your campaigns for maximum ROI.
The Flywheel Effect: Increased visibility and sales generate more brand awareness and customer reviews, which increase your seller and organic ranking.
Ready to launch your first amazon advertising campaign? Let's see how!
Amazon advertising: step by step on how to launch your first campaign!
What is essential to do as we think of launching the first campaign? When we think of picking an amazon advertising campaign type we should make some research before getting into the creation.
Why? Because the process in creating an amazon advertising campaign needs to be clear as you'll begin to fill in campaign type, targets, name, daily budget, and the pick of the product you want to sell.
This will help you easily create your amazon ad campaign as you'll have a clear idea.
As you've done some research let's see how it's done!
Amazon Advertising Campaign Type
Pick your Amazon Advertising campaign type means that Amazon has three main types of advertising campaigns:
Sponsored Products
Sponsored Brand
Brand Stores
Peek on Other Amazon advertising products
Amazon Adverting: Sponsored Products
Amazon Sponsored Products improve the visibility of individual products, returning them on the first page of the search results and individual product pages. Sponsored Products generate the highest revenue per click and are ideal for generating awareness, increasing demand, and promoting seasonable items.
Amazon Adverting: Sponsored Brand
Amazon Sponsored Brands are only available to brand registered sellers, appearing on the search results page. What's great is that this type attracts high-intent customers to your brand as your ads feature your personal logo, a custom headline, and up to three of your products.
Amazon Adverting: Brand Stores
A Brand Store is only available to brand registered sellers, perfect for high-volume Amazon sellers with a wide range of products. It is mainly your Amazon URL multi-page store on Amazon, where you can showcase your brand, story, and all of your products!
Peek on Other Amazon Advertising products
Display ads – appearing on other Amazon websites, apps, and devices as someone is checking other products.
Video ads – displayed on Amazon websites and devices
Custom ads – tailor-made advertisements
Amazon DSP – a demand-side platform for reaching your audience programmatically.
As you pick your Amazon Advertising campaign type let's move on by giving your campaign a name.
Amazon Advertising: Name a Campaign
Your campaign name is something useful only for you, to check and have your campaigns perfectly in order so make sure they are descriptive and easily identifiable.
Since you'll be the only one seeing the name of your campaign, we recommend picking one on the type of products you'll be including to have a clear idea of what that campaign contains, as you could be creating more later on.
Choose a start and end date
Not sure?  Well, the idea is, to begin with understanding the results of your first campaign, to improve and adjust what's not working so, you should run it for at least a week without adjustments, allowing it to take effect to really give you an idea on what your next move will be.
Set a daily budget
Your daily budget really depends on how much you are willing to invest in a campaign in one day, and it is averaged out over one month. This will vary based on your company's goals for return on the ad spend (ROAS) and advertising cost of sale (ACOS).
Targeting
Targeting is an important decision that will determine your amazon advertising campaign results since it's mainly where and when your ads will be shown to shoppers.
There are two types of targeting you can choose with Amazon:
Automatic targeting: Amazon decides the keywords for your advertised product, based on relevant shopper searches. It then splits your budget over different match types, which you can later tailor. The easiest way to begin Amazon advertising, even though it is a broad approach which, at times, can lead to imprecise targeting.
Manual targeting: you will have to choose the keywords, negative keywords and match type for your advertisement, including a Broad match (Search terms containing all of the keywords in any order, including plurals, related searches, and close variations), Phrase match (Search terms containing the exact phrase or sequence of words), Exact match (Search terms exactly matching the keyword, including close variations).
Amazon has recently released an update to Sponsored Product targeting that allows you to target ASINs, brands, and categories, as well as keywords.
As Amazon's manual targeting is more precise than their automatic advertising, you would need previous experience with keyword advertising to succeed in the goals you want to achieve.
Time to Pick your product
Select the products or a product for your first campaign that's already performing well. As you pick one, enter the product name into the search bar and add.
Set your default bid
Your default bid is what you will pay when someone clicks on your ad, and this depends on you! As for your budget, this is something that you need to think ahead and as you insert your bid, notice it will be deducted from your daily budget.
If you're new to PPC campaigns, it's sure frustrating but thinks of them as an auction: As a shopper enters a search, Amazon runs an auction to determine which relevant ads should appear where and to who.
Amazon Advertising: Review Ad
Review your ad before submitting your advertisement and you'll be ready to launch your first amazon advertising campaign!
Amazon Advertising: Monitor, Test and Follow Your Results
As your first amazon advertising campaign has been launched, you'll need to follow up your results by checking your CTR (click-through rate), Conversion rate, PPC (pay per click), ACoS (Advertising Cost of sales), and your RoAS (Return on advertising spend).
You'll always have to be looking for your ads to generate maximum conversions at the minimum cost, and following all we stated above, it will help you determine the right budget and keywords as you keep monitoring and testing to achieve your goals.
Running a successful Amazon Advertising campaign is much more than finetuning your keywords, targeting, and bids, but you'll also have to ensure that your clicks convert to sales by curing and optimizing your content and deliver outstanding customer service to ensure that all your products effectively work to keep your rating high.
Another problem you could incur is complaints. Your reviews will be the first place where clients will see if you are someone that is reliable and by dealing with your complaints quickly and effectively will surely answer their questions making you someone trustworthy.
Amazon Advertising Alternatives
Amazon Advertising Final Conclusions
We hope our Guide through "Amazon Advertising and how to launch your first campaign" can truly help you to get started, increase your visibility, and boost your sales today on Amazon!
Advertising on Amazon is a requirement nowadays since it's the first platform to be used by users worldwide, so, what are you waiting for?
Accelerate your Conversions, Increase your Revenue
with lemonads
---
You would like