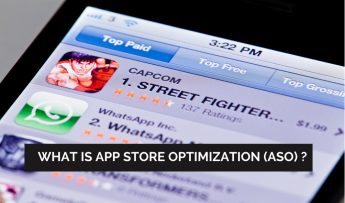 What is App Store Optimization? (ASO)
App Store Optimization (ASO) is the process of improving app visibility within the app stores and increasing app conversion rates. The major app stores are App Store for iOS and Google Play for Android. In addition to ranking high in the app store search results, app store optimization also focuses on click-through rate (CTR). Your goal as a marketer is to convince people to click into your app store listing when they find it. Some of the things you can do are optimizing your App Name, Title, Icon, Screenshots, and App Rating.
But your objective, once they click through your app store listing, is to make sure they also download the app or buy it. This is also known as Conversion Rate Optimization (CRO).
Why is ASO important?
According to Statista, in 2020 there were more than 3.4 Million apps in the AppStore. By doing app store optimization, you will have more chances that your app appears in the top options when a user is searching for an app for certain needs. You are probably in the most competitive environment and you want to do anything you can to step up and stand out from the rest.
ASO can help you increase the number of downloads of your app and the retention rate of your users.
So how can you do ASO? To understand how to boost your organic growth, you first have to understand how people are searching for and finding apps.
How do people search for apps?
80% of the mobile owners, use directly the app store to find new apps or apps that relate to a certain need which makes App Store Optimization of vital importance to improve your downloads.
It's calculated that people choose an app from the list of the first 5 apps that appear in the results of a query. That's why achieving a top rank is crucial to app success. Without App Store Optimization, you are missing out on the largest marketing channel for mobile apps and games.
Steps to improve your ASO
Follow these 10 steps to improve your app store optimization in both the Apple App Store and Google Play.
Use a Descriptive Title
Make good use of Keywords
Give your App a good description
Use qualitative screen images
Include a video with the app preview
Choose the right category
Take care of the icon design
Encourage users to review your app.
Use AppStore Analytics
Test and improve your app regularly
Benefits of doing App Store Optimization (ASO) correctly
Improve Visibility & Rank better in the App Stores
Users can't download and use your app if they can't find it. Even if it is the best tool in the world, you need people to know it exists. Dedicate quality time to your app store optimization and see how those download numbers go up.
Boost Organic downloads
A good ASO strategy will undoubtedly boost your organic installs and ensure long-term results. When people search for keywords related to your app, they should always find yours. Monitor and update regularly to make sure your efforts are successful.
Save money on paid ads
You can lower your user acquisition costs by focusing on organic growth with ASO. This can also ensure steady growth.
Increase App Revenue and Conversion Rates
App Store Optimization also involves Conversion Rate Optimization, which means getting people to click and buy or download your app.
Go Global
By making your app available in other languages through an App Store Optimization "localization", you can get users from all over the world to discover your app.
Conclusion
ASO is vital to improve your app store rankings. Keyword research is the first very important step to understand how people are looking up apps like yours. A good practice is to see how your competitor's app ranks, how are they using keywords in their app description and title to give you ideas of what is working better. Check who is paying for apple search ads. Use high-quality screenshots of your app and a demonstration video to engage with all your potential customers.
Visit lemonads and access more interesting articles.
Accelerate your Conversions, Increase your Revenue
with lemonads
---
You would like