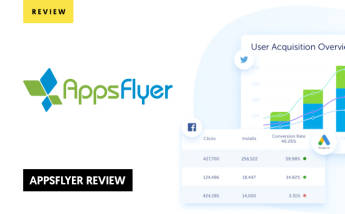 AppsFlyer Review: Everything You Need to Know About this Mobile Attribution and Marketing Analytics Platform
In our Appsflyer review, we cover all the things you need to know about this popular Mobile Attribution and Marketing Analytics Platform.
Marketers around the world are always looking for the most accurate and efficient mechanisms to help them track their campaigns. However, there are dozens of different attribution and marketing analytics platforms available, so choosing the best one isn't always an easy choice. With that said, AppsFlyer has consistently been rated as the leading mobile attribution and marketing analytics platform available, and for very good reason.
At lemonads, we've partnered with some of the top affiliates in the world, so we're extremely familiar with the tools that these leading marketers use. AppsFlyer is undoubtedly one of the most popular tools used by affiliates and other stakeholders across several industries, so we've decided to test this platform out for ourselves and share our findings.
Below, we'll share our AppsFlyer review and discuss the pros and cons of working with this superb platform.
What Is AppsFlyer?
Simply put, AppsFlyer is a mobile attribution, cloud-based marketing analytics tool designed to help publishers, affiliates, and other marketers measure the performance of their campaigns. Founded more than a decade ago, the team behind AppsFlyer has worked relentlessly to develop a top-notch attribution and marketing analytics platform that includes powerful features like audience segmentation, retention tracking, buyer journey mapping, and attribution modeling, just to name a few.
While the interface is simple and easy to navigate, AppsFlyer's features have been thought out to perfection. The different dashboards provide granular breakdowns of data, allowing you to see attributions based on network, channel, ad type, ad group, type of creative used, and other variables. Furthermore, users can also set up comprehensive A/B tests that help evaluate different variables in terms of performance.
AppsFlyer Products Overview
AppsFlyer was first launched back in 2011 as a cloud solution, which meant that its customers didn't have to have expensive servers set up or pay for installation fees. Instead, the AppsFlyer team championed innovation, functionality, and ease of use. So, it's no surprise that these two concepts still heavily influence the platform's design and overall performance today.
Although it's known for being one of the top players in the mobile attribution industry, AppsFlyer is actually a robust platform that offers a collection of products and features. These include:
Attribution Services
In a nutshell, attribution is the process of analyzing different consumer touchpoints across multiple marketing channels to determine which piece of content influenced the buyer the most. This process can help marketers understand which piece of content had the biggest impact in terms of conversion generation and overall performance.
AppsFlyer is regarded as the global leader of mobile attribution because it offers one of the most reliable and accurate solutions. Additionally, the platform also provides people-based attribution, TV attribution, and uninstall attribution, all of which help you understand why your audience members behave in a certain way.
Marketing Analytics
One of the biggest advantages of digital marketing over traditional methods is the ability to track the performance of your ads. However, the accuracy of the tracker you choose will directly impact the value of the data you collect.
Fortunately, AppsFlyer includes a powerful tracking and marketing analytics feature that allows you to see basic as well as advanced performance metrics for your mobile apps. Not only this, but you'll also be able to choose from a wide collection of graphs and visual aids that simplify the performance analysis process.
Cost Aggregation and Budget Planning
AppsFlyer provides a cost aggregation service called Xpend, which is designed to provide a wholesome and accurate view of your marketing budget. The idea behind this powerful platform is to give you full control of your marketing dollars and help you see exactly how much money you're generating from your investment. By collecting, comparing, and displaying your budget distribution, Xpend to identify areas of improvement and make sure that you're getting the most bang for your buck.
Fraud Protection
Fraud is becoming one of the biggest obstacles to the success and growth of the digital advertising industry. In most cases, having a robust security mechanism in place usually costs thousands of dollars, but AppsFlyer has started to level the playing field by providing comprehensive fraud protection tailored to each clients' budget.
The platform's security service leverages a multi-layered, 360-degree protection system that halts fraudsters from depleting your marketing dollars, polluting your data, and wasting your valuable resources.
Deep Linking
Having the right link in place can help you transform leads into install and prospects into customers. AppsFlyer provides effective deep linking services that are powered by the wealth of information available through its marketing analytics platform.
Most buyers begin their journey on a browser before installing an app, so the marketing analytics giant aims to create a frictionless transition from mobile web to apps for the target audience. And, the best part is that you can target potential customers through mobile web, email, social networks, text messages, push notifications, as well as other channels.
Audience Segmentation Feature
Your audience holds the keys to creating superior campaigns, so you need to understand your prospects to produce engaging materials. Even though collection information is crucial, you also have to process it and transform it into functional data to be effective.
AppsFlyer can help you make the most of the data you collect through its audience segmentation feature, which lets you manage and use data about your potential customers from one single place.
Data Streams
Similar to the information you collect about your audience, having campaign data available in real-time doesn't necessarily mean that you're using it properly. Through AppsFlyer data stream services, publishers can implement tailored push and pull APIs that help them silo data into their marketing and overall business ecosystem.
Benefits of Choosing AppsFlyer
AppsFlyer has earned a reputation for being among the top marketing analytics and mobile attribution platforms because of its combination of powerful features and superb customer service. As a matter of fact, AppsFlyer members can request support via email, live chat, and over the phone. And, you also have access to the company's knowledge base, which features a wide collection of articles that answer the most common FAQs.
Moreover, we found that some of the top benefits of AppsFlyer include:
Accurate Data
The first and most important benefit of AppsFlyer is the ability to accurately determine where each app installation came from. This allows mobile marketers and app owners to figure out which campaigns are working while also revealing which materials are underperforming. Savvy stakeholders can use this data to duplicate the content that provides the best results throughout the entire campaign and boost performance across the board.
Robust Protection
The mobile advertising vertical is a multi-trillion dollar industry, which makes it a prime target for fraudsters of all types. AppsFlyer's fraud protection services can help you identify potential fraud and protect your mobile assets against digital criminals. The platform goes through a variety of steps to help verify that each install you collect is real, including interaction authentications, anomaly detection, validation rules, attribution calibrator, and post-attribution analysis.
Innovative Implementations
AppsFlyer has been one of the leading attribution platforms since it was first established in 2011. But, the team behind this marketing analytics platform has focused heavily on making improvements to all of its features to boost its functionality as well as performance over time. The best part is that all improvements are tested before they are released and implemented gradually, which means that the AppsFlyer services are upgraded without requiring any downtime.
Customer-Centric
AppsFlyer was established by a team of privacy enthusiasts to help improve transparency and empower marketers to make better decisions. This has made AppsFlyer a customer-centric company since the day it was founded and the platform continues the tradition today by making improvements based on what their clients need most.
Available on All Devices
Lastly, AppsFlyer is suitable for affiliates, agencies, advertisers, and other stakeholders of all sizes because it's cloud-based. Users can access this platform on any web browser as long as they have an account, regardless of the operating system being used.
Cons of AppsFlyer
Although AppsFlyer is known as the leading attribution and marketing analytics platform for mobile apps, there are still some potential disadvantages you should know about before making a decision. Some of the cons of AppsFlyer include:
Relatively Rustic Integrations
AppsFlyer leverages API technology in a few of its services, but it still offers relatively rustic integration features to its clients. For example, if you're a direct publisher rather than an agency, you'll need to ask the AppsFlyer support team to help you integrate the platform into your technology stack. The good news is that the support team is available through several channels.
Only Cohort Revenues Available
Perhaps the biggest con of AppsFlyer is that it only provides the number of cohort revenues generated by the campaign, rather than the real value. This can create some confusion if you're not familiar with the platform, causing many new users to misread the analytics reports.
Reporting Feature May Be Overwhelming
AppsFlyer does a superb job collecting raw data, but the only way to deeply analyze this information is to go through it manually. This can be overwhelming and tedious for marketers who are not used to parsing this type of information manually, especially rookie publishers.
Ready to Find Out More? Contact lemonads Today
There is no doubt that AppsFlyer is among the top options when it comes to mobile attribution and marketing analytics. We hope that our review above contains all the information you need to figure out if AppsFlyer is the best alternative for your case.
If you want to find out more about finding the best affiliate programs, contact lemonads and we'll be glad to help.
Accelerate your Conversions, Increase your Revenue
with lemonads
---
You would like