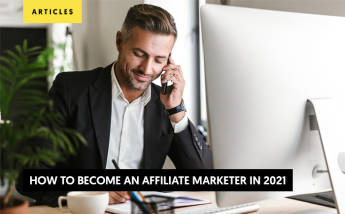 How to Become an Affiliate Marketer in 2022
Today, there are more professional paths and different careers than ever before. The best and most interesting part is that many of these career opportunities don't require any prior education and they give you the ability to learn through hands-on experience.
Affiliate marketing is the perfect example because, even though prior knowledge can increase your chances of success, many leading affiliates established themselves quickly and without experience.
That said, learning how to become an affiliate marketer requires a huge amount of hard work and dedication, so you need to invest time and effort into achieving success.
At lemonads, we've worked with countless high-quality affiliates, many of which became leading marketers after a short period of time.
Our team has seen first-hand what you need to do to become an affiliate marketer, so we've put together a comprehensive guide with all the required steps as well as tips to improve your chances of succeeding.
Without further ado, let's jump right in.
Affiliate Marketing Explained
Affiliate marketing is an online promotion technique that includes at least three stakeholders: the companies that want to advertise (advertisers), independent third-party marketers (affiliates), and consumers (the target audience). Advertisers partner with affiliates to attract consumers and generate conversion.
A conversion is a specific step that advertisers want their audience members to take. For example, downloading a file, submitting a request, or making a purchase. Advertisers determine what constitutes "a conversion" and they make this information available through affiliate programs.
This program also contains additional information, such as the target area, the age range of the target audience, and other pieces of data that affiliates have to adhere to generate valid conversions.
Everything You Need to Know About Affiliate Marketers
Affiliate marketing is a performance-based type of advertising technique. Companies only pay for each valid conversion. Likewise, affiliates only get paid for the number of conversions they generate, so it's a low-risk approach for companies. This is one of the reasons why affiliate marketing has become a popular alternative in almost all markets.
It's estimated that around 80% of all businesses use affiliate marketing to one degree or another.
Let's take a look at some of the key aspects of being an affiliate marketer.
Becoming an Affiliate
There is no course or degree required to become an affiliate marketer. If you have knowledge about a topic or are willing to invest time into honing your expertise, you can start developing content to become an affiliate.
That said, you should learn about the affiliate world itself, how it works, where to find the best programs, and how to Spy on your competitors and win the race.
Affiliate marketers need to learn how to use tracking tools as well as the data that these platforms collect. In short, you need to figure out what different metrics represent, but also what they mean in terms of consumer trends.
For instance, if you notice that a type of ad isn't providing the same results, it may be time to switch up and try a new format.
Finding Affiliate Programs
There are hundreds of thousands, if not millions of affiliate programs you can join. That said, these can be categorized according to where they are available, which are through an affiliate network or through a direct advertiser.
Affiliate networks are platforms that specialize in connecting Publishers with top advertiser affiliate programs.
For instance, lemonads is a reliable affiliate network that specializes in a variety of different industries. We aim to simplify the process for both affiliates and advertisers, allowing both to focus on what they do best. To learn more about our affiliate network, contact our team today and we'll be glad to help.
Getting Paid
Affiliates can get paid for simply generating traffic, per click, per lead, or per sale. Affiliate programs that only require affiliates to generate traffic or views tend to have the lowest payout.
That said, these programs don't require users to click or convert, they simply have to generate an impression (view the program offer) to produce a commission.
Generating clicks, leads, and sales are much more difficult. But, the harder to convert, the higher the payout for each type of conversion. As a general rule of thumb, most affiliates start with the simplest conversion flows and move on to more complicated options once they have mastery of the basics.
Become an Affiliate Marketer: What Are the Benefits?
Becoming an affiliate marketer is a gradual process. While the learning curve may be relatively short compared to other career choices, it's crucial to understand that this process still requires a huge amount of work and dedication.
You need to study the tools you need, figure out how to use these resources, and choose a technique to leverage their power.
With the above in mind, becoming an affiliate marketer does bring a lot of great benefits. There are tons of resources available at no cost (like this article) and hundreds of brands that are happy to usher you down the right path.
As always, you should tread carefully and research companies before partnering with them, but there are many different alternatives in terms of learning how to become an affiliate marketer.
Furthermore, some of the best benefits include:
Potential for High Income
Developing affiliate content for a blog or similar platform takes a significant amount of time. The reason is that affiliate marketing relies heavily on value and appearances, so you need to ensure that the information you deliver is useful and that it's presented attractively.
But, the good news is that affiliates can potentially generate substantial income with this same content. And, in many cases, the content produced only needs to be updated rather than re-written to remain effective.
In other words, you can recycle a lot of the content you produce and still see a huge revenue from your affiliate content.
That said, you need to consider the type of affiliate you are going to become. If you decide to set up a blog or news site, you will need to develop new content from scratch really regularly. Fortunately, the more you produce, the higher your content will be.
No Customer Support Requirement
Many people are drawn by the idea of owning their own business, but this also means organizing additional elements, like setting up a customer support line.
Customer support is among the most expensive elements that companies have to provide, especially because most consumers expect to get help at least through live chat and email.
Affiliates, on the other hand, only have to worry about promoting advertiser programs and monitoring the performance of their campaigns.
Advertisers are in charge of delivering customer service in case target audience members have questions. However, make sure to partner with an advertiser that provides decent support and keeps its customers happy as these are signs of companies with long-term programs.
Location Flexibility
As with other digital careers, affiliate marketers are in full control of their location. If you succeed as an affiliate marketer, you can choose to live anywhere in the world.
The best part is that the revenue generated as a successful affiliate allows you to live in any city or region of your choosing, giving you real location flexibility.
The only things you need to build, launch, and monitor the performance of your affiliate campaign is a laptop or tablet with an internet connection. But, many marketers choose to stay close to known affiliate hubs like Barcelona, Bangkok, and Kiev to attend expos and get first dibs on new releases.
Low Operating Costs
Some types of affiliate marketing industries require a hefty investment, but on the whole, becoming an affiliate carries relatively low operating costs.
The costs you need to cover vary greatly, but these can include the server maintenance for your site or app, purchased traffic, and translators if you're targeting regions where you don't speak the language.
Remember, the quality of your content will determine how many conversions you produce.
Therefore, you should aim to work with professionals that don't charge a small fortune, but that also know what they are doing. For example, if your graphic design elements don't look good, then your ads won't have the desired effect, so always ensure that the services you hire meet the minimum quality requirement.
Ability to Set Your Own Schedule
The ability to choose your base is not the only practical benefit of learning how to become an affiliate marketer.
Affiliates also decide how they want to perform their work, which means that they have full control over their schedules. Advertisers only care about generating conversions, so they don't worry about when marketers are online or how they organize their time.
Every single person is different, so there is no such thing as a perfect schedule. However, to stay on top of your campaigns, we suggest setting up a routine that you follow when working on your affiliate campaigns.
This doesn't have to be a daily event. You can choose to work only a few days per week but make sure that you follow the same pattern to create a habit.
Performance-Based Setup
Although this is a bit odd for many rookie marketers, affiliate marketing is a performance-based technique. This means that the more time spent on your content and the more results you generate, the higher your profits will be.
Again, this represents more control, this time in terms of the amount of money you can generate through your effort.
The more you fine-tune your content, the better your results will be. At the same time, you can also scale down your efforts and predict the reduction in revenue, in case you want to invest time into other activities.
Remember, once you learn the ropes, the campaign creation process does become easier. This is the reason why experienced affiliates tend to generate more revenue with less effort.
Compatible with SEO and Other Digital Marketing Techniques
Lastly, affiliate marketing can be combined with a collection of other digital marketing techniques to amplify your site's reach and boost your results. Some of the digital marketing approaches you can pair with your affiliate content are search engine optimization, social media, pay-per-click campaigns, email marketing, and inbound marketing.
As we mentioned before, there is no exact formula to find the best combination because all affiliates are different. You need to learn about the other techniques, how these work, and figure out how to combine them with your affiliate materials for the best results. For example, determining which types of content drive more traffic when published on social media.
How to Become an Affiliate Marketer
It's impossible to become an affiliate marketer overnight, especially if you don't have prior experience running any type of marketing campaign. However, you don't need very much to get started, so you can easily set up your first campaign and opt for a more hands-on learning experience.
Before starting, the first step you need to take is to figure out what type of affiliate you want to become. There are many types of affiliates out there, so you need to understand each one to pick the best alternative. Below, we'll explore the 6 most common types of affiliate marketers and provide general steps to help you get started with each.
Before we get started, it's important to clarify that there is some overlap between these types of affiliates. Therefore, it's common for marketers to apply a hybrid approach where they identify as one type of affiliate, but actually, implement techniques from multiple areas.
1. Content Creators (Publishers)
As the name suggests, content creators are affiliates that specialize in creating and publishing their own content. Also known as publishers, these affiliates publish content through a huge collection of channels, but most of it links back to their own website or app. In most cases, publishers work directly with affiliate programs, but these affiliates can also sell part of their traffic to other interested stakeholders.
What Do Content Creators Do?
Content creators generate many different types of content. This can range from blogs to articles, images, infographics, memes, video content, how-tos, guides, research papers, and any other valuable materials you can think of.
Publishers often focus on establishing an identity as thought leaders by showcasing their knowledge, which in turn drives more consumers to their platforms.
Which Channels Do Content Creators Leverage?
In the vast majority of cases, content creators own a website or app that they use as their main publication tool. This isn't always the case as some content publishers have found success using third-party platforms to host their content, but this is extremely rare.
At the same time, it's common for content creators to leverage search engines to generate traffic as well as social media networks, review sites, and any other platform used by the audiences being targeted.
Getting Started
To become an affiliate marketer that focuses on content creation, you need to have or gain mastery of the niche you're specializing in.
This will give you the ability to determine what pieces of content your audience needs as well as the skills to create these materials. Moreover, you should identify the publishing channels where your audience members spend the most time and leverage these to amplify the reach of your content.
2. Bloggers
Bloggers are affiliates that look to promote content in the form of blog posts. The concept of being a blogger is closely linked to SEO because these affiliates try to get first page rankings on Google search results and other search engines to drive a high volume of traffic to their content.
What Do Bloggers Do?
Even though blogging was regarded as a pastime when it was first introduced, this practice allows people to share valuable information.
Consumers are well aware of this and they rely on blogs to help them find solutions to their issues. This includes new products and services, so the goal of a blogger is to find areas where their readers are struggling and help them find solutions with their content (which includes affiliate links).
Which Channels Do Bloggers Leverage?
As you can imagine, bloggers rely mainly on their own blogs to promote affiliate offers. Like content publishers, some affiliates have been successful using third-party blogging platforms like Medium, but this setup does provide some limitations.
At the same time, bloggers can also develop social media, PPC, and even email nurturing campaigns to get more exposure for their blogs.
Getting Started
Some professionals consider bloggers a type of affiliate content creator because the requirements to get started are very similar. Besides having the right level of knowledge, bloggers also need to produce new content regularly and ensure a good user experience from all angles for their visitors.
This means paying close attention to design elements as well as technical performance metrics like loading time.
3. Influencers
Influencers are people who have the power to shift consumer trends with their actions, so they influence the decisions that people take.
This makes these individuals the ideal fit for affiliate marketing because they can generate conversions by simply endorsing a product or brand, let alone publishing content about it.
What Do Influencers Do?
Influencers attempt to amass a huge following, but the exact methods of how they achieve this vary tremendously. In a nutshell, the approach depends heavily on the industry that the influencer is in.
For example, influencers in the fashion industry can make a name for themselves by simply having a great sense of style. But, finance influencers need to provide more valuable information to become a known name in their industry.
Which Channels Do Influencers Leverage?
Influencers can leverage virtually all digital channels and even some offline media. However, the most common platforms they use are social media platforms, specifically Instagram, TikTok, and Snapchat.
All of these social platforms allow for the distribution of high-quality video content in distinct formats, which is crucial to establish rapport with the audience.
Getting Started
Even though influencer marketing may look simple from an outsider's perspective, these marketing professionals often have a superb branding strategy to help set themselves apart from other personalities. This in itself requires a huge amount of work, plus you'll also need to spend time creating content and scripts for your video materials.
4. Social Media Marketers
Social media networks have gone from a small anomaly to a global phenomenon. These networks are now part of human culture as a whole, which makes them the perfect alternative for affiliate marketing.
Today, billions of people use social media platforms every single day, which gives affiliates the ability to engage these users and produce conversions for advertisers.
What Do Social Media Marketers Do?
The goal of a social media marketer is to employ the most relevant networks used by the target audience to launch engaging marketing campaigns.
Social media platforms allow affiliates to share many different types of content, including written materials, short posts, images, videos, and even live events. Hence, these professionals also need to learn how to develop quality or entertaining content and distribute it through all relevant channels.
Which Channels Do Social Media Marketers Leverage?
It's obvious that these types of affiliates employ social media networks to promote advertiser offers, but there are dozens of different networks you can use. Therefore, the platforms used by social media affiliates depend heavily on the type of audience they want to target.
Facebook, LinkedIn, and older channels provide access to more mature demographics. TikTok, Snapchat, and other "new school" apps are more popular among teenagers and young adults, so the best platform depends on who you want to reach.
Getting Started
Affiliates that specialize in social media marketing need to understand the different platforms available as well as the marketing opportunities within each one.
For instance, if you're trying to attract adults in their 30s, you can use a combination of Facebook, Twitter, and LinkedIn. You can either opt to launch fully organic social campaigns, or you can also pay for ads or use a hybrid approach.
5. Media Buyers
Although many affiliates like to focus on driving traffic to their site, others like to center their campaign development process around paid ads.
These affiliates are known as media buyers and they specialize in purchasing traffic from website owners and other sources. Instead of working to attract these audience members, media buyers specialize in developing and optimizing paid campaigns.
What Do Media Buyers Do?
Media buyers get their name from the fact that they purchase traffic from different sources. The main goal remains the same regardless of the traffic source: to create engaging ads and generate as many conversions as possible.
Some forms of affiliate marketing approaches can take a while to generate results, especially unpaid organic techniques. Media buying, on the other hand, produces immediate results because the affiliates that leverage these paid campaigns only have to focus on creating interesting ads and getting as many conversions as possible.
Which Channels Do Media Buyers Leverage?
Media buyers can purchase traffic from a wide collection of sources, but these can either be divided into ad networks or direct traffic.
Ad networks are platforms that help affiliates purchase traffic to many different websites in one single place, plus these networks often allow exact targeting and provide other features. On the other hand, affiliates can also purchase traffic directly from website owners, but this often provides less flexibility in terms of the features that are available.
Getting Started
Getting started as a media buyer is relatively easy in the sense that you only have to join an ad network and start creating your ads.
Keep in mind that you still need to find reliable affiliate offers and make sure that these allow you to purchase traffic. At the same time, you also have to implement the right targeting settings and monitor the performance of your campaigns closely to make the proper adjustments later on.
6. Email Affiliate Marketers
If you've researched digital marketing techniques before, you definitely know about email marketing.
This promotional approach is actually one of the oldest forms of online promotion and it remains extremely effective even if it has garnered a somewhat negative reputation. As a matter of fact, email marketing remains so effective that there are affiliates who specialize solely in this form of advertising.
What Do Email Affiliate Marketers Do?
Email affiliate marketers, sometimes called affiliate emailers, create detailed sequences that inform and nurture the target audience.
The goal is to share informative pieces that attract and engage consumers, to gradually transform them into paying customers. It's worth noting that emails do have a relatively low conversion rate compared to other forms of affiliate marketing, so marketers need to make up by targeting a larger set of audiences.
Which Channels Do Email Affiliate Marketers Leverage?
This type of affiliate marketing relies heavily on emails, but these messages should promote additional web content found on a website or social media profiles.
The goal is to inform the target audience about the product or service being promoted through email, eventually transforming these users into conversions.
Email affiliate marketing is compatible with all other affiliate approaches in this article, making it a great option for almost all cases.
Getting Started
The first thing you need to do is figure out how to build or acquire mailing lists. You can do this by either developing engaging organic content and exchanging it for consumer contact details or by purchasing email lists from reliable sources.
Just make sure that you have the authorization to send out these emails to the audience!
An extra piece of advice is to learn from Affiliate marketing forums. This profession evolves fast and the more you are connected to talented people in the business, the more you will be able to move forward with the trends.
Ready to Get Started? Get in Touch with lemonads Today
Becoming an affiliate is not a simple process, especially considering the number of options you have available in terms of the type of marketer you want to become. We hope that our article above allows you to make the best choice and sets you up for success.
If you want to learn more o how to become an affiliate marketer, contact lemonads today and we'll be glad to help.
Accelerate your Conversions, Increase your Revenue
with lemonads
---
You would like