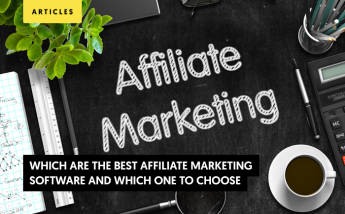 The Best Affiliate Marketing Software: Which Platforms Should You Choose?
In this article you will discover the best SAAS solutions to create your affiliate program in 2021. It's estimated that roughly 4 out of 5 companies currently employ affiliate marketing as part of their overall advertising strategy and this number shows no signs of slowing down. Needless to say, affiliates and publishers are an essential part of the digital marketing ecosystem.
But, brands, app developers, and other advertisers have to find the best affiliate marketing software to efficiently track and manage their programs.
With so many different affiliate tracking tools available today, choosing the best platform is not always easy. In addition to finding a budget-friendly alternative, you also need to ensure that you have all the features you need readily available.
And, you also need to ensure that the tools you implement help you create a safe environment for affiliates as well as consumers.
At lemonads, we've successfully developed one of the most popular affiliate networks available today, so our team is very familiar with the software needed to acquire and manage a large number of affiliates. In this article, we'll go over our picks for the best affiliate marketing software available, discuss their pros and cons, and tell you how these tools can improve the performance of your program.
Our Picks for the Best Affiliate Marketing Software
Brands, app developers, and other advertisers that want to run their own program need to find software tools that allow them to track and monitor the performance of their affiliates. But, knowing which platform to choose isn't always easy, especially if it's your first time developing a campaign.
Before making your final decision, you need to keep your objectives in mind and ensure that the features available can help you achieve these goals. At the same time, evaluate the monthly cost and ensure that it won't push you over your predetermined budget. Remember, this may require some practice, so there'll always be a learning curve when adopting a new piece of software for tracking and affiliate management.
Here are our picks for the top affiliate tracking software available today:
Affise
Affise is one of the leading performance marketing management tools on the market. It's ideal for agencies, marketers, advertisers, and other professionals that want to start their own CPA network because it allows them to centralize and automate a large portion of their processes.
Pros
Most entities that want to start their own network need a tailored solution. The good news is that Affise offers a dynamic, feature-rich API that can be customized according to your requirements. This means that you can adjust the platform to fit all of your current and future workflows, giving you an unmatched level of control.
Additionally, some of the best features available in Affise include:
Real-time statistics and comprehensive reporting
Smart targeting to maximize ROI
Publisher and advertiser billing
Static pages and landings support
Offer, special, and smart caps
Top partners page included
Referrals reward program
Multiple pricing models available
Pixel and postback control
24/7 support
Cons
As one of the leading affiliate tracking software providers, Affise has improved its platform over the years and the company has successfully addressed most of its shortcomings.
While the vast majority of its clients rate this solution as outstanding, the upfront costs remain the biggest point of concern for new players. That said, a free trial is available upon request, so you can evaluate the platform before making a commitment.
Best For
In simple terms, Affise is a great choice for individuals and organizations that want to start their network and already have a large budget to work with.
EverFlow
Measuring the performance of publishers and affiliates on your network is crucial for success. EverFlow is a powerful tool designed for monitoring and reporting the performance of different stakeholders across your platform. Which, in turn, allows you to understand the different trends and make adjustments to improve the results you're getting.
Pros
EverFlow is a comprehensive solution because it can help you track all paid marketing efforts across multiple channels through one centralized system. Not only this, but you can also automate actions that help correct common mistakes, like ensuring that users are matched with the right offers.
Some of the platform's most important features include:
Centralized platform for monitoring performance across all paid marketing channels
Automated optimization capacities
Cloud deployment
Powerful targeting and anti-fraud mechanisms
Conversion and event tracking
Support available around the clock
Comprehensive reporting features
Detailed information about every click delivered
Easy to use API
Cons
As with Affise, EverFlow has focused heavily on addressing its shortcomings and providing a comprehensive platform to its users. That said, there are no auto-optimization features available and the API integration may take a bit longer than expected. The price point for the starter plan is also relatively high, which has discouraged some affiliate managers from adopting this tool.
Best For
While its superb feature list makes it a great alternative for all types of managers, the high cost and relative complexity of the platform make it a suitable alternative for experienced professionals and established networks that need additional help with tracking.
CAKE by TUNE
To develop a successful network, you need to implement a scalable structure that allows you to build long-lasting business relationships. CAKE, an affiliate marketing management tool developed by TUNE, is a robust platform that can help you create a secure environment, track the performance of different stakeholders, and consistently attract new high-quality partners.
Pros
CAKE gives users more control over their networks because it can help track affiliates and distribute creative content to all partners. Backed by a reliable customer service team that's available around the clock, CAKE also allows easy integration with a variety of platforms, including Payoneer, Tipalti, Marketo, Facebook, and Google Ads, just to name a few.
Additionally, some of the top features of CAKE include:
Web-based deployment
Powerful affiliate tracking and monitoring
Performance analysis reports
Traffic control capacities
Creatives management and distribution
Mobile app available
Quote-based pricing specifically tailored to each customer
Cons
When compared to other platforms on this list, CAKE has a modest set of features and it doesn't allow customers to submit support tickets. This isn't essential for great service, although it may increase turnaround for issues that require long-term solutions.
Best For
Thanks to its frill-free, no-nonsense setup, CAKE is an ideal option for affiliate managers who are just learning the ropes and don't require a huge set of features. That said, the platform was built with scalability in mind, so it can adapt to new challenges as your network grows.
Post Affiliate Pro
Post Affiliate Pro is an all-in-one solution that gives marketing professionals the ability to effectively monitor and manage their own network. The platform allows you to choose from a variety of tracking methods, commission structures, and other elements that affect the appearance as well as the performance of your network interface.
Pros
Despite the fact that it was developed for ecommerce platforms, Post Affiliate Pro has become one of the most popular affiliate management platforms because of its quality and flexibility. Some of the biggest benefits of opting for this tool include:
Create a tailored network based on your specific requirements
Choose user interface, tracking, sales integration, and other features for your affiliates
Allows the distribution of promotional materials
Robust reporting and multi-language support
Dedicated API for easy integration
Establish external affiliate links for better SEO
Scalable design ideal for up-and-coming networks
Cons
Affiliate Post Pro does almost everything right, but there are some setbacks you should know about. For starters, there are no training materials available, so you'll need to learn how to use the platform on your own or by contacting the support team. Moreover, you may also experience some lagging depending on how large your datasets are.
Best For
Post Affiliate Pro is the type of tool that's perfect for both new and established networks. It has a relatively low price point, a robust infrastructure, and the ability to handle anywhere from hundreds to billions of clicks, making it a great all-around choice.
Impact Partnership Cloud
Impact has earned a reputation as one of the best software providers in the world and the company's Partnership Cloud is a great example of their work. The Partnership Cloud is Impact's solution for entities that want to run their own network and need help streamlining essential processes throughout their platform.
Pros
Impact Partnership Cloud allows you to manage multiple programs and thousands of members through one centralized tool. Some of its most important advantages include:
Discover, recruit, track, and manage partners
Coupon and contest management features
Powerful fraud detection features
Social sharing and multi-language support available
Extensive campaign analytics and intricate reporting
ROI tracking and optimization
Cons
Partnership Cloud is a robust solution, but there are some areas of improvement the platform needs to address. For instance, the platform doesn't allow data importing or exporting, and it does not offer website analytics for publishers. And, customers have also found it to be complex, so you need to set aside time for training your team members.
Best For
Impact Partnership Cloud requires in-depth knowledge about the marketing world and how networks work. It's better suited for professionals that have worked in affiliate management before or for networks that can invest heavily into training programs.
The Bottom Line
Partnering with the right affiliates can exponentially improve the performance of your marketing strategy, but you also need to track and manage all your partners in order to achieve long-term success. That said, working with individual tools can also increase your workload, which in turn affects your profitability and overall results.
For brands, advertisers, and app developers, the best alternative is to work with a platform that already has all of the features and technologies they need, like lemonads. We've spent years developing and implementing superb tracking, attribution, and other systems so that members can take advantage of our vast network of publishers right away. We handle the technical side, all you have to do is focus on managing your affiliates and making the most out of your program.
Likewise, publishers and similar affiliates should avoid working with networks that require additional tools. Instead, these marketing professionals should opt for lemonads and other networks that provide their own in-house tech solutions.
Learn More About the Best Tools for Affiliate Marketing
To successfully manage an affiliate program, you need to be able to attract, monitor, and evaluate the performance of your partners. By having the right tools, you can increase your chances of developing a successful program and create a smoother experience for your potential customers.
With that in mind, working with a comprehensive provider like lemonads can eliminate a lot of the hassle and allow you to focus on the areas of your program or campaign that produce the most revenue.
To learn more about the best affiliate marketing software options available, follow our blog or contact lemonads and our team will be glad to help.
Accelerate your Conversions, Increase your Revenue
with lemonads
---
You would like