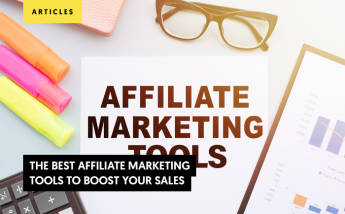 The Best Affiliate Marketing Tools to Boost Your Sales.
The Best Affiliate Marketing Tools to Boost the Affiliate Marketer's sales.
Either you are already sailing the affiliate waters or you decided to get out of your 9 to 5 job and work for yourself, you are here looking for the right tools to make your affiliate marketing efforts smooth and great.
We have put together this list with the best affiliate marketing tools we have witnessed along with our customers.
A good Affiliate Marketer Mantra is: Track, Optimize and automate. Those three words can only give you an idea of the tools you should put inside your toolbox to work smarter.
Website Building Tools
Website builders facilitate the website construction without manual code editing and they are intended for users to build their private sites.
WordPress
WordPress allows you to build a website that meets your unique needs. On WordPress, you can start a blog, a business site, your online portfolio, an online store, or anything you can imagine.
WordPress allows you to create from simple websites to more complex ones. They offer 3 price plans. You can custom your domain name, access monetization,  advanced design customization tools, and upload WordPress plugins or themes.
Wix
Wix is one of the leading cloud-based development platforms with millions of users worldwide. They make it easy for everyone to create a beautiful, professional web presence as its interface is intuitive and easy to use. Wix has a very beautiful gallery of templates. You can build a decent website from the free plan. There are a bunch of plugins and tools you can add with the paying plans
Strikingly
It's a website builder that allows the user, with little or no development experience, to create mobile-optimized websites "within minutes". Strikingly takes a mobile-first approach, allowing users to create websites that are enhanced for viewing across all devices including desktops, tablets, and smartphones.
Hosting Tools
As if you were choosing your home, choosing your hosting needs to adapt to your needs and your strategy. Hacking and malware are major threats for any affiliate website owner.

Choose a great host that provides you with the backups and the security needed to avoid viruses and malware attacks.
We give you 5 good places you can go peacefully.
Bluehost
Bluehost is one of the largest web hosting companies. Collectively they host over 2 million domains. Bluehost is recommended by WordPress.
Hostinger
Hostinger is the cheapest option available starting at $0.99 a month. The trick is that you have to commit with them long-term. We spoke with several of our customers that use this host, and they are pretty much satisfied with the speed that Hostinger provides.
Inmotion hosting
Inmotion Hosting is a reliable hosting service with good pricing plans. One of the great advantages of Inmotion hosting is that they have a US-based professional customer support service available 24/7.
Hostgator
A pioneer in the hosting industry and they are still providing a great service.
Hostgator's basic plan includes unlimited storage, bandwidth, a free SSL certificate, and even a free domain for the first year.
A2hosting
A2Hosting is a green hosting company, partnered with Carbonfund.org and several times winner of the top hosting awards. Besides keeping their word on the 99.9% uptime promise, A2hosting has a support team available 24/7
Web experimentation and A/B Testing Tools
AB testing tools are essential and one of the best affiliate marketing tools for Affiliate marketers. They give insights on how your audiences respond to different options of the best ad. By knowing what works better, you can safely invest in the campaigns that you know have better results.

Here we give you 4 great A/B Testing tools:
Optimizely
Optimizely's platform offers a complete set of digital experience optimization technologies, including AI-powered personalization and experimentation, which encompasses A/B testing, multivariate testing, and server-side testing. More than 1 million experiments have been run on Optimizely's platform to reveal what works and what doesn't eliminate guesswork.
VWO
An Experienced Optimization Platform. VWO helps you deliver a great digital experience to your website visitors and accelerate your business growth by gathering insights, testing ideas, and improving engagement.
AB Tasty
AB Tasty is a customer experience optimization company. ABTasty helps brands build better user experiences and unlock new levels of possibilities, faster.
Google Optimize
Whether it's a custom-tailored message at checkout or a completely revamped homepage,  Optimize shows you which site experiences engage and delight your customers, and gives you the solutions that you need to deliver them.
Landing Page & Design Tools
Landing pages are crucial for your affiliate marketing campaigns. Your landing has the objective to convince the reader to take action. From the design of these pages to the call-to-action, it has to be perfect to be successful.
For this matter, there are some amazing tools to create and design your landing pages. Here we mention 4 of our favorite ones.
Landingi
Landingi's drag-and-drop editor makes it easy to design beautiful landing pages, mobile-friendly pages, engaging pop-ups, and effective funnels.
With more than 400 templates, catering to a wide variety of industries and sectors, you'll certainly find in Landingi the right one for your business.
Instapage
This is a very intuitive drag & drop builder, making it easy for anyone to build high-converting pages. Instapage has 500+ customizable layouts organized by industry and uses case.
Moosend
Moosend's marketing automation platform comes with a variety of tools, an intuitive interface, and a wide range of automation recipes. Beyond that, the platform features a landing page Drag-And-Drop editor and subscription forms creation options that are easy to use and will boost your lead generation efforts.
Moosend's email marketing, lead generation, and marketing automation features, powerful analytics tools, and affiliate options make it one of the most trusted tools amongst affiliate marketers.
It's also a drag and drop builder that helps you accelerate the landing page production process, and build high-converting popups and sticky bars in minutes. Unbounce landing pages can be published on WordPress, integrated with Google Analytics, and automatically pass leads to almost any email marketing tool.
Leadpages

Leadpages help small businesses connect with an audience, collect leads, and close sales. Easily build websites, landing pages, pop-ups, alert bars, and beyond.
UMSO
UMSO previously Landen is a website generation tool helping anyone to build and publish websites easily without writing a single code. To create a website on UMSO, you don't need any design skills or experience, you can simply use design templates and a smart layout engine that will fit content automatically. While building a website on UMSO, you won't need any coding skills as well, you can take control of the website and customize everything.
SEO & Keyword Search Tools
No matter how you are doing affiliate marketing, you need to workout on SEO and choose the right keywords.
Here we give you 7 SEO and or keyword tools.
SEMrush
SEO tool that does your keyword research, tracks the keyword strategy used by your competition, runs an SEO audit of your blog, looks for backlinking opportunities, and lots more. SEMrush is trusted by affiliate marketers all over the world and it definitely is one of the best affiliate marketing tools.
Ahrefs
A well-known toolset for SEO. Ahrefs is also used to analyze keywords ranking, and find content that performs well on social shares.
GoogleAds
The Google Ads Keyword Planner tool is a useful resource for building strong keyword lists. This Keyword Planner tool is free-to-use within Google Ads.
KWFinder
KWFinder is a keyword research tool that helps you find long-tail keywords with low SEO difficulty.
LSIGraph
An LSI keyword is a keyword that is semantically linked to the main keyword. In a nutshell, LSI keywords are keywords that we generally find related to the main keyword. With that being said, LSIGraph generates LSI keywords that Google loves.
Screaming frog
The Screaming Frog SEO Spider is a website crawler that helps you improve onsite SEO, by extracting data & auditing for common SEO issues.
Ubbersuggest
Ubersuggest is a free SEO tool specialized in keyword searching and planning. It was recently bought by Neil Patel
Spy Tools
Spy tools are helpful to find out more competitive advertising strategies and promote affiliate offers efficiently. With spy tools, you can spy on your competitors to see how they set their ads and learn from their skills. If you want to learn how to spy on your competitors and win the race read our article.
Adplexity
AdPlexity offers six different tools that provide you with valuable data for eCommerce and affiliate marketing. They give you information on market trends, product and store value, and much more.
Spyover
SpyOver.com tracks native advertising all around the world and analyses the advertising campaigns of your competitors.
Anstrex
Anstrex gives you competitive intelligence from 27 networks and 90+ countries.

Spyder (GetSpyder.com) helps create Ad collections, save them, and share them with your colleagues whenever you like. After you register in Spyder and put the link there, it'll download the ad and keep it in your Ad collection.
Social AdScout
Social Ad Scout is a powerful tool that helps you reach out to your target audiences via social media while testing social ads without any coding knowledge
BigSpy
BigSpy is an ad spy tool for people working for marketing campaigns, advertising, and search engine optimization. With this tool, people can search and download their interested ad materials which they can draw creative inspirations for their new campaigns.
Tracking Tools
To do successful affiliate marketing, you need to know if your campaigns are performing well and how you can improve your efforts and make more money. So having a performance tracker is crucial to this goal. We chose 6 to add to this list of the best marketing tools to boost your sales, and we hope you find one amongst them that fits your needs.
Voluum
An innovative Ad tracker for Affiliate Media Buyers. Voluum is an interesting platform for many different reasons. Unlike most trackers of its generation, the team has done a great job at keeping up with the ever-changing affiliate landscape. Check our complete.
Redtrack
RedTrack is a trustworthy ad tracking solution with a super loyal customer base from 100+ countries. We made a full review of Redtrack that might interest you.
Bemob is a tracking software or platform for media buyers, affiliates, and performance marketers. It is Cloud-based and it has a set of tools to analyze and optimize advertising campaigns.
Binom
Unlike cloud-based platforms, Binom is a self-hosted tracker that allows you to monitor every single aspect of your campaigns. It's powered by a robust structure and includes a wide array of features presented through an intuitive, user-friendly interface. If you are interested in learning more about this tool, check our full Binom review.
Peerclick
Peerclick has become popular among publishers, performance marketers, webmasters, and affiliates. The system can data-centers handle any volume of data.
A wide range of universal tools makes this tracker perfect for collecting, analyzing, and evaluating information. Read our Peerclick's review.
FunnelFlux
FunnelFlux is a platform to track your marketing campaigns. From Facebook, Google Adwords, Taboola, email, and so on. You can create simple and complex visual journeys, track and analyze page visits, clicks and conversions, and customers across multiple platforms as well.
ClickFunnels
ClickFunnels is an all-in-one tool that can help anyone market and sell their products online. It's designed for people who have an entrepreneurial mind but lack the coding and design skills needed to build an online business.
VPN Services
If you are not familiar with the benefits of using VPNs as an affiliate marketer, we invite you to read the article on what is a VPN and why should you use one to get a full picture of the importance of VPNs for you as an affiliate marketer.
A VPN is a virtual private network that provides privacy, anonymity, and security to users by creating a private network connection across a public network connection.
If you are working with campaigns in different countries than your local one, VPNs provide you with IPs so you can work as a local. This and many other things are fully explained in our special article about VPN. In this list, we included 4 great VPNs for you to have in mind.
Expressvpn
ExpressVPN is a virtual private network service offered by the British Virgin Islands-registered company Express VPN International Ltd. The software is marketed as a privacy and security tool that encrypts users' web traffic and masks their IP addresses.
Nordvpn
NordVPN is a virtual private network service provider. It has desktop applications for Windows, macOS, and Linux, mobile apps for Android and iOS, as well as an application for Android TV. Manual setup is available for wireless routers, NAS devices, and other platforms.
Cyberghost
CyberGhost is a zero-log VPN that offers excellent speeds and lots of strong privacy features. There's fast access to Netflix and other streaming sites on servers optimized for HD video and the new native app for the Amazon Fire TV Stick is a great addition.
ProtonVPN
With ProtonVPN you can browse anonymously on up to 10 devices. They have 1200+ Servers, in more than 50 countries.
Conclusion
Remember the Affiliate Marketer's mantra: Track, Optimize, and Automate. Today you have tools so you can work smarter instead of working harder.
We hope this article helped you find new tools or build a great toolbox from scratch.
Accelerate your Conversions, Increase your Revenue
with lemonads
---
You would like