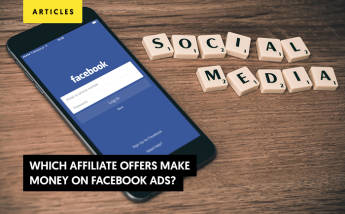 Affiliate Marketing & Facebook Ads - Which Affiliate Programs Makes Money On Facebook?
Which affiliate offers make money on Facebook Ads? We've got it all covered with tips on how to use Facebook Ads affiliate programs smartly!
There is a lot of business that happens on Facebook as it's the biggest social media platform in 2021! It's a must you start thinking of Facebook Ads as part of your next affiliate promotion!
If you want to earn money from affiliate marketing on Facebook ads in 2021, you mainly need to join or create groups, pages, Facebook Ads and promote posts! Check out the best affiliate programs for Facebook ads.
Facebook allows people to see your Ads, posts, pages, groups they can like/dislike, comment and also by giving reviews.
So, you need to work on Facebook, to make passive income from affiliate marketing by just sharing/using affiliate links on Facebook, but do it smartly following Facebook's Ad Guideline!
We are talking about not scattering links here and there on all different programs, hoping someone converts!
Running Ads directly to your affiliate links will lead Facebook in shutting down your account, so make sure you send your audience to your landing pages!
Now, let's dive through it and discover which affiliate offers to make money on Facebook Ads:
How to do affiliate marketing for Facebook Ads?
How do I create an affiliate Ad?
Where to make money with Affiliate offers on Facebook Ads!
How to do affiliate marketing for Facebook Ads?
Let's start by knowing the real effect and meaning of affiliate marketing!
Affiliate marketing is a process where an affiliate attains a commission for marketing another company's products or services.
The affiliate simply promotes a product on their platform and, subsequently, earns a percentage of the profit from each sale they make.
When a business enlists the help of an affiliate, they usually send a sample of their product or service they're selling, for the affiliate to try it and know how to produce the best engaging content or promotional material that will draw people's interest from their network of followers and visitors!
What we want to do, is to drive sales!
Promoting a company's product or service is helping it to be more exposed in front of a larger network – audience - than what it would be.
The added exposure drives interest, which leads to sales.
One big reason some people get affiliate Ads through and others don't, it's because they're probably doing it wrong!
Some affiliate networks are pickier than others. Let's take for example Amazon.
Amazon doesn't want you to advertise through Facebook Ads directly and, once they find out you do, they'll close your account in no time!
There are so many platforms you can use to create click-worthy links, for example, bitly.com!
And take those links to a new level!
Facebook help center staff doesn't see anything wrong with using affiliate links in Facebook Ads but just not directly either!
As we stated previously, running Ads directly to your affiliate links will lead Facebook in shutting down your account too, so make sure you send your audience to your landing pages through tools like Bitly!
You can also just create a Facebook page, Facebook Ads, and promoting posts or join/create groups, using platforms as bitly.com to connect your Facebook Ad to an affiliate marketing website or program!
It's about earning BIG money by driving your audience to a leading page with affiliate offers on Facebook Ads!
Relying only on Facebook is too limited if you want to dive into the affiliate offers and make money on Facebook Ads!
Facebook Ads and Affiliate marketing, if done correctly, can be incredibly profitable compared to AdWords, where you can also be incredibly profitable.
You can technically run any offer on Facebook, but following their rules for Ads, as shown previously!
The secret isn't the offer itself, but it is about how you present it to the visitor from Facebook.
Here are a few ways to do it:
Directing your audience to a well-done sales page, disguised as a blog post or review, by adding affiliate links in the post.
Writing a truly helpful eBook about the subject was to point out affiliate links.
How do I find a good niche affiliate marketing program?
There are hundreds, if not thousands of different industries that affiliates can specialize in. But, not all of these have the same potential for success. Not only this, but all affiliates are different and the profitability of each niche depends on the marketer's level of expertise. This means that you need to take your knowledge or willingness to learn into consideration to choose the best niche.
With the above in mind, there are some general steps that all affiliates must follow to find the most profitable niche for their specific case. We tell you in 6 detailed steps in our article on how to find the best affiliate niches in 2021.
How do I create an affiliate Ad?
As we said…
"Affiliate marketing is the process of earning a commission by promoting other people's (or company's) products. You find a product you like, promote it to others and earn a piece of the profit for each sale that you make". – Pat Flynn's Smart Passive Income
This sums up to:
·  Step 1: Coming up with a product idea.
·  Step 2: Validating your idea.
·  Step 3: Creating the product.
·  Step 4: Finding affiliate program partners
·  Step 5: Becoming an online affiliate marketer.
·  Step 6: Review products in your niche.
·  Step 7: Build an email list with your prospects on it.
Take a look at this Facebook page and see how they've promoted what they love!
So easy by making it simple, engaging, and by clicking the bit.ly link, you will fall right into Amazon purchases! This is what I call: being "smart" in the way that earns!
To make it simple, let's cut down on what you need to do next for affiliating with Facebook Ads:
Create image galleries.
Create Video Reviews and link products you used and liked.
Promote your business posts on your personal Facebook page.
Link to your blog content on Facebook.
Make a Facebook group for links to your landing page or sales page and conversation.
In this particular case, we are looking at someone who created their brand on something they loved, selling the company's products promoting everything that refers to sharks, from DVDs to shark suits for dogs, as well as anything else that has to do with sharks!
It's all about being creative and engaging to attract your niche audience and drive them to purchase on other marketing platforms!
Let's check more of where we can make money with affiliate offers on Facebook Ads here below!!!
How to Make Money with Affiliate offers on Facebook Ads!
As we said before, Facebook is the leading social media platform for affiliate marketers and your niche is so much more than leveraging Facebook ads!
There are so many ways affiliate marketers can use Facebook to their advantage, but remember that affiliate marketing on Facebook should always accompany your marketing on other channels!
Here below you will find some affiliate marketing websites & programs to use in 2021 for you to check out and see which fits you best!
Some require a website where you do more than one affiliate marketing, but don't worry, here below you'll also find the right program on where to create one and where to affiliate the offers for your Facebook Ads!
And remember, link the pages on your Facebook Ads to your landing pages and it will all go smoothly… in your pocket!
Here below, just for you,  a full guide to platforms on where to do Affiliate Offers that make money on Facebook Ads:
Amazon affiliates are easy to use for both beginners and experienced affiliates. It's very flexible! As we know, millions of items can be bought through Amazon, giving your ads and links a much wider appeal to your visitors.
As you would expect from a world-class company, Amazon always pays up. No danger of being ripped off but oh … their long payment cycles! You'll get your commission only after 60 days after a sale and they're also kind of low!
The commissions change according to where you are located worldwide and not just on the products you decide to promote.
You can earn double commissions in your first three months and they're generally really good!
They offer free-to-use link generators, ad creatives, and widgets for you to promote different eBay items. eBay has a great potential to convert your traffic since it has many active users!
Shopify is a very popular site platform for people interested in building eCommerce stores and it's probably the biggest e-commerce solution provider on the internet.
Shopify also pays a 20 percent revenue share for referrals, which is great, and cookies expire after 30 days.
What I find amazing is that if a referred visitor signs up for a free 14-day trial within that 30 days but then becomes a paying customer after the 30 days have expired, you will still earn the commission!
ClickBank's focus tends to be more on niche e-books, online courses, and e-courses, although they have expanded into some physical goods as well.
ClickBank allows you to join for free, and the approval process is virtually automatic, so it's a great choice for people entering the affiliated game for the first time.
Leadpages' primary product is a tool to create customized landing pages for marketing purposes. Their affiliate program is only opened for existing Leadpages customers who can refer new customers.
Only professionals affiliate marketers will ever be able to earn significant income from this program!
StudioPress is kind of a niche product as it is targeted to existing WordPress users who found setting up and managing a WordPress site, too difficult or time-consuming.
StudioPress prides itself on being "faster and more secure" than other WordPress hosting companies as well as using the "Genesis framework".
Now, you're fully covered with starting to affiliate offers making money on Facebook Ads!
Make sure you have the right knowledge of all the tools to use to optimize your Facebook Ads campaign and become an expert with your Facebook Ads! Are you ready to launch a profitable eCommerce campaign on Facebook Ads and scale those 10$ to 1000$ per day?
You got all the tips, secrets, tools, and affiliate offer marketing platforms to start investing your money right!
Accelerate your Conversions, Increase your Revenue
with lemonads
---
You would like