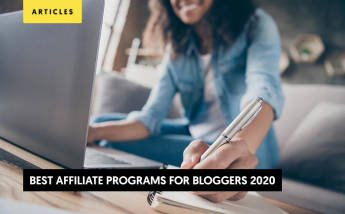 The Best Affiliate Programs for Bloggers in 2022
Developing a popular publishing platform like a blog is a great way to enter the world of affiliate marketing. After all, affiliates are marketing professionals that help unite readers with their favorite brands, allowing users to find the best solutions at a great price. But, you also have to take the time and find the best affiliate programs for bloggers to set themselves up for success.
Advertisers launch affiliate programs to help them drive more sales and improve branding, but not all offers are created the same. To find the best affiliate programs for bloggers, you need to ensure that the advertisers' offers are designed for marketers that run their site and review the requirements to ensure your platform checks all the boxes.
For more than a decade, lemonads has worked on finding the best affiliate programs for bloggers and other types of affiliates, so we have an in-depth understanding of what makes a great offer. In this article, we'll give you quick tips to monetize your blog and share the best affiliate programs for bloggers in 2022.
How to Start Monetizing Your Blog
So, you've spent countless hours working on your site and you've finally managed to get thousands of users to visit your site daily. This is a great start, but it doesn't automatically mean that you'll start making money right away.
To start monetizing, your main goals should be to maintain your current performance, increase traffic as much as possible, and find Affiliate Programs that are suitable for your blog.
Focus on SEO
SEO (search engine optimization) is the most cost-effective way to promote your services on the internet. If you have a popular platform, you're probably getting most of your traffic through search engines like Google. And, if you implement SEO best practices, you'll be able to exponentially increase your traffic without breaking the bank.
Monitor and update publishing platforms frequently
Many external changes can affect the performance of your blog, so you should monitor and update your platform regularly. This will help you detect new consumer trends, catch legislative changes that impact different parts of your blog's performance, and make adjustments before they take effect.
Choose the best affiliate programs Based on Your Blog
Finally, you need to take your site and choose an offer based on your blog's performance. Many marketers fall into the trap of going for offers that have the longest cookie or the highest payout. Instead, you should reverse-engineer the best offer by looking at the performance of your site and finding a program that could work well with your metrics.
The Best Affiliate Programs for Bloggers in 2022
With thousands of offers to choose from, finding the best affiliate programs can take hundreds of hours of research. To make things a bit easier, we've put together a list of the best affiliate programs for bloggers in no particular order. Just remember to look at the niche and make sure that it aligns with your site's content to increase your chances of success.
Without further ado, here are our picks:
HostGator is one of the leaders in its industry, and like many other top companies, it has created a great affiliate program for bloggers. The program has a variety of benefits for affiliates, including a tier system that provides higher payouts if you bring in more customers every month.
Commission: From $65 to $125 per Sign Up
Cookie: 60 Days
Photography blogs have been amongst the most popular independent publishing platforms for decades at this point. Affiliates who manage a photography-related platform can join Capture One's affiliate program and help the company distribute its RAW image editing software across the globe.
Commission: Up to 30%
Cookie: 40 Days
Nord VPN is one of the leading virtual private network providers in the world. The company has thousands of servers scattered across dozens of countries, a robust security infrastructure, and an outstanding affiliate program that pays 40% or more in commissions.
Commission: 40%+
Cookie: 30 Days
If you own a gaming blog, you're probably familiar with Alienware. Known as the premier gaming PC, Alienware products are luxury items that are extremely popular in a variety of regions. Although the cookie length is relatively short, bloggers can still reap great results from the right type of content.
Commission: 3% to 6%
Cookie: 3 Days
Bloggers that specialize in gaming will also recognize the brand Razer, which manufactures a huge variety of accessories for PC gamers. Like Alienware, Razer develops top-notch products that have a huge price tag when compared to their generic counterparts. This, combined with great cookie duration and a hefty commission, earned this affiliate program a spot on our list.
Commission: 20%
Cookie: 30 Days
The Go Pro craze started almost two decades ago and it's still going strong. Go Pro develops high-performance action cameras that sell for hundreds of dollars per unit. These devices are ideal for a variety of sports and events, so affiliates usually have a relatively easy time making money from this program.
Commission: 5%
Cookie: 30 Days
After endorsing world-class athletes like Stephen Curry and Tom Brady, Under Armour has become a major player in the world of sports accessories. The internationally-acclaimed brand has also developed a superb affiliate program that's ideal for bloggers who love writing about sports, fitness, and exercise.
Commission: 5%
Cookie: 30 Day
Since the beginning of 2020, bodyweight training products have skyrocketed in popularity. The TRX stands out as the most popular choice because it allows people to complete a full workout routine and exercise different parts of their bodies from the comfort of their homes. The best part? It can be a great choice for any affiliate who writes about wellness, health, exercise, or sports.
Commission: 8%
Cookie: 30 Days
Having a dog at home can provide endless amounts of joy, but most people also want to have a furry friend who's properly housetrained. Bloggers that like to cover canine topics can continue to write content they're passionate about and partner with Brain Training for Dogs to make a profit at the same time. Plus, the company's out-of-this-world commission and cookie length make it one of the best affiliate programs in this industry.
Commission: 75%
Cookie: 60
In many parts of the world, Adobe is viewed as the leading design and image manipulation software. Successful bloggers pay a lot of attention to the images used on their site, so promoting Adobe Creative Cloud can easily fit into their existing plans. And, thanks to the fact that it's an industry leader, getting visitors to try out Adobe's products is relatively simple.
Commission: 85% of First Month or 72$ per Sale
Cookie: 30 Days
SEMrush
Technology, marketing, and business blogs are among the most popular platforms on the internet. Affiliates that manage these successful platforms can choose from a variety of different software to promote, but not many offer them are as well-established as SEMrush. And, if this wasn't enough, the software giant also offers extended cookie duration and an extremely high commission.
Commission: $200 per Sale
Cookie: 120 Days
In oversimplified terms, Etsy has become the Amazon affiliate program for independent artists, hipsters, and other individuals that want to buy and sell unique, quirky goods. As with other eCommerce platforms, Etsy has developed a simple affiliate program that can help you generate a significant amount of revenue through your blog
Commission: Up to 8%
Cookie: 30 Days
H&M Affiliate Programs
H&M may not cater to high-end consumers, but it's one of the biggest retailers in the US and Europe. The fashion giant has created different lines targeted towards different demographics, so you can rest assured you'll always find something to promote on your blog.
Commission: 7.4%
Cookie: 30 Days
Bloggers who love to write about fashion, cosmetics, and beauty products should heavily consider working with Madison Reed's affiliate program. In addition to paying relatively high commissions for a low-cost product, the company also provides bonuses for new affiliate referrals.
Commission: Madison Reed
Cookie: 30 Days
Diet-To-Go Affiliate Program
Description:
Personalized selection of healthy, delicious, and ready-to-eat meals, directly from our chef's kitchen to your plate. Rated #1 for taste, their selection of portion-controlled meals lets the client enjoy foods they love, stick to their plan and reach their goals. "It's like having your chef."

Diet to go Affiliate Program: Earn $40 on every sale
Norton Affiliate Program
Norton Affiliate Program can increase your affiliate revenue, as every single person who has connected devices is interested in protecting their personal or business data.
Promoting qualitative content that speaks about the benefits of Norton's mail spam filtering and phishing protection, can generate you very interesting passive income. You can do it by simply adding Norton's affiliate link to your blog, website, or in the description of your youtube videos or promoting it as an influencer.
Affiliate commission: Up to $60 per sale
Where to get access to the best Affiliate Programs
Since our founding, lemonads has focused on uniting leading bloggers with the best affiliate programs available.
We've spent more than a decade building long-lasting relationships with some of the top advertisers on a global scale and partnered with the most popular publishing platforms. The result has been the creation of a balanced and sustainable ecosystem where advertisers turn to blog affiliates to help them attract large numbers of customers in the most cost-effective way.
At lemonads, an affiliate network for bloggers, you'll be able to find a huge collection of affiliate programs suitable for bloggers. To learn more, contact your lemonads relationship manager and ask for assistance.
Another article you might be interested in: how to make money with Social networks and food affiliate programs.
Learn More About Finding the Affiliate Programs
Finding the best affiliate programs may take time. But, there are tens of thousands of advertisers looking to partner with creative bloggers, so you'll be able to find affiliate offers that can help you monetize your traffic, regardless of the topics you cover on your site.
To learn more about the best affiliate programs, follow our blog or contact us today and our team will be glad to help you get started.
Accelerate your Conversions, Increase your Revenue
with lemonads
---
You would like