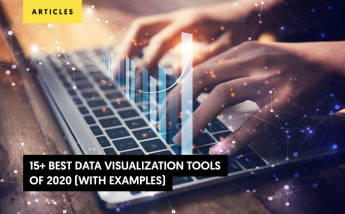 The 14 Best Data Visualization Tools of 2022 (and How to Choose the Right One)
One of the reasons affiliate marketing and other forms of digital advertising have become so popular is that they give marketers the ability to track a huge collection of metrics. However, these colossal amounts of data are processed by ultra-powerful computers, so deciphering this information is almost impossible unless it's presented in a specific way. In these cases, having the best data visualization tools in your arsenal can simplify the optimization process while boosting your results at the same time.
Nevertheless, there are dozens of different data visualization tools that provide information in a variety of ways. At lemonads, we've partnered with thousands of successful marketers that use a variety of data visualization platforms to improve their campaigns. Below, we'll go over the benefits of presenting data in the right format and give you tips on choosing the best data visualization tools for your campaign.
Introducing Data Visualization
In simple terms, data visualization tools are designed to analyze and break down large amounts of information into easy-to-digest formats. Depending on the tools you use, you can present data in a huge variety of formats.
However, all effective data visualization tools are designed to be both attractive and functional. This means that the color scheme, contrast, and overall interface are designed with usability in mind. And, most importantly, the best tools will be able to process gargantuan amounts of information and transform big data into actionable tips you can implement right away.
Incorporating Data Visualization Into Your Campaigns
It's important to note that visualizing data isn't just about understanding information but using your findings to implement adjustments that improve the performance of your campaign. There is no silver-bullet solution for this step because all affiliates and campaigns are different.
You simply have to evaluate the different types of visualization tools and formats you have available and test out a few options until you find the right alternative. Some of the most common ways to present data include:
Column charts
Bar charts
Pie charts
Venn diagrams
Gantt charts
Line charts
Some of these graphs are relatively common while others are more obscure, but all of them provide a unique angle on the information you collect.
15 Best Data Visualization Tools of 2020
Now that we've discussed the basics of presenting information in a visual format, let's take a look at our picks for the best data visualization tools of 2020.
Datawrapper is a superb data visualization platform that allows you to create intricate maps, charts, and tablets without any coding knowledge. In addition to its ability to produce easy to understand graphic elements, Datawrapper can also be customized to match your brand and offers automation features through a dedicated API.
Best For
The main goal of the team behind Datawrapper is to give users the ability to generate intricate charts and other visuals without much hassle. Because of this, the company offers a free plan that's ideal for casual users as well as up-and-coming entrepreneurs. Plus you can always upgrade to a paid subscription designed for bigger businesses if you need additional features.
Pros
Simple and intuitive interface that doesn't require coding knowledge
Open-source free version
Charts, maps, and other graphic elements are available
Sharing feature supports up to 1 million visitors
Compatible with all device operating systems
Annotate and customize graphic elements easily
Cons
If you opt for the free plan your data will be saved on Datawrapper's server
Customizing colors and other design elements can be time-consuming
ChartBlocks has earned a reputation as a simple and powerful data visualization tool that allows users to import large data sets in a matter of seconds. With the chart builder function, you can design a huge variety of graphic elements that can then be embedded on your site.
Best For
The first thing you'll notice about ChartBlocks is that it simplifies the chart creation process. It's ideal for affiliates in healthcare, travel, insurance, retail, and other industries that need to be analyzed from different angles.
Pros
The responsive design matches any screen size
Create beautiful charts in a matter of minutes
Use the same data sets to produce multiple charts
The social media sharing feature allows you to publish directly on social networks
World-class customer support
Free version available
Cons
Relatively small upload limit
Charts in the free version have a lower-quality definition
Affiliates that love multi-purpose tools will be extremely pleased with Infogram. This robust cloud-based platform allows for the creation of charts, graphs, maps, and similar diagrams as well as the production of infographics.
Best For
Infogram is ideal for seasoned affiliates that are very active on social media and know-how to make the most of the data they collect. Furthermore, this data visualization tool is perfect for marketers that work with gaming, dating, and other offers that benefit from social channels.
Pros
Suitable for a beginner as well as expert affiliates
Allows users to add logo and other branding elements to each chart
A large collection of charts, maps, and graphs to choose from
Templates for social media images, dashboards, and reports are available
Cons
It may take some time to get used to the interface
Limited customer support capacities
Tableau is a superb choice for rendering large amounts of information into easy-to-understand diagrams without much hassle. The platform provides a variety of different features, with the most important one being the ability to transform data into actionable information in just a few seconds.
Best For
The makers of Tableau developed a comprehensive tool that's a great option for larger businesses and established affiliates that want to make the most out of their big data.
Pros
Robust, feature-packed dashboard
Mobile-friendly and easy to access
The reliable customer support department
Gives access to a full range of analytics from different industries
Dedicated APIs and JavaScript extensions for easy integration
Cons
Requires prior marketing knowledge
Reports aren't automatically refreshed
Zoho is known for providing top-of-the-line business intelligence tools, and their Analytics platform is no exception. Through Zoho Analytics, affiliates can create a variety of different graphic elements and present data in an attractive, easy-to-digest format.
Best For
Affiliates familiar with Zoho are probably aware that these solutions are often designed for mid-sized and large enterprises, so this solution is ideal for agencies or marketers who manage big campaigns.
Pros
Intuitive dashboard and user-friendly interface
The AI-based assistant provides help during the chart creation process
Can collect data from multiple sources
Powerful embedding features to share charts on your site and social profiles
Robust security and responsive customer service team
Cons
No free plan is available
The relatively high price point
Simply put, Databox is one of the best data visualization tools available today because it can pull data from one or more sources and track any changes in real time. The result is a dynamic set of graphic elements that are used by thousands of businesses across the globe.
Best For
Databox's powerful engine is enclosed in an easy-to-use interface that has more than 70 one-click integration options available, making it ideal for affiliates of all sizes.
Pros
Dozens of professional diagrams to choose from
Integrates with Mailchimp, Facebook Ads, Shopify, and other common affiliate tools
Hundreds of report templates that cover marketing automation, Google Ads, and more
Ability to conduct advanced calculations using data from different sources
Cons
The free plan only allows 3 users per account
If you're looking for flexible and free data visualization tools, Chart.js may be the ideal platform. With 8 different diagrams to choose from, this platform allows you to take a granular view of your data and remains free thanks to an open community that keeps it updated.
Best For
Chart.js is a great option for affiliates that have basic data visualization needs and a bit of JavaScript knowledge.
Pros
User-friendly interface
Pie, bar, doughnut, polar, and other types of charts are available
Highly customizable graphics
Allows you to breakdown data into the most granular elements
Cons
JavaScript charts can be a great way to visualize and share data. Highcharts can help you create tailored JavaScript graphs that help you understand the information you collect and use it to make better campaign decisions.
Best For
While it has a feature-packed interface, Highcharts is free if you don't use it for any commercial intent, so it's often employed by NGOs, academic institutions, and similar entities.
Pros
Dozens of different chart types including line, spline, and column graphs
A large collection of third-party plugins to improve functionality
Lets you to add or remove elements after the graph is created
Can be used on mobile and desktop devices
Cons
The pricing structure for paying customers is unclear
FusionCharts also allows you to generate comprehensive JavaScript reports using data from one or more sources. The platform features 90+ built-in charts and more than one thousand maps to help you generate interactive graphics.
Best For
The features available at FusionCharts make it a perfect fit for all affiliates, but the high price point means that it's only accessible to professionals willing to make a big investment.
Pros
Various color schemes and interactive elements make graphs easy to understand
Provides flexibility in terms of design
Choose from a series of layout and font options
Helps create custom dashboards that can be shared with third parties
Advanced features like visual discovery, relational display, and cross-browser support
Comprehensive list of customer resources available
Dedicated API for easy integration
Cons
High price point
Somewhat limited customization features
Google provides a huge collection of free tools that can be used by affiliates. Marketers that want to create beautiful, interactive charts can work with Google Charts and produce attractive visuals right away.
Best For
All types of businesses and affiliates can benefit from this platform because it's free and easy to use.
Pros
Simple and intuitive
Integrate with other Google products
Multiple templates available
Completely free of cost
Updates data in real-time
Cons
Can't be fully customized
Limited third-party integrations
Ember Charts is perfect for marketers that want to produce uncommon charts like time series, scatter pie, and similar charts.
Best For
This data visualization tool is suitable for advanced affiliates that want to get a fresh view of their data.
Pros
Short learning curve
Highly customizable charts
Unique features and interactive effects are available
The robust infrastructure reduces the chances of errors
Free of cost
Cons
The relatively new solution that doesn't have many reviews available
Yet another JavaScript visualization tool, D3.js is extremely flexible and can be fully manipulated through backend coding.
Best For
D3.js is perfect for affiliates that run their site and want to produce internal as well as reader-facing charts to place on their sites.
Pros
The open-source platform that works without additional elements
Allows for full control over the type of graph you want to create
Displays data in HTML, CSS, and SVG formats
Cons
Requires some coding knowledge
Visually can help you create different types of graphs, create reports, and share them on different channels including your independent publishing platforms and social media.
Best For
Visually has a technical component, which makes it suitable for mid-sized businesses and affiliates that have experience managing large data sets manually.
Pros
Can be used to create graphs as well as ebooks, reports, infographics, and more
Collects information from multiple sources
Superb service quality
No coding skills required
Cons
Only available in English
Pricing plan varies
Plotly goes beyond data visualization and it provides comprehensive analytics to help you make high-impact adjustments.
Best For
Plotly is a technical solution that's perfect for agencies and affiliates that manage a large team of employees.
Pros
Generate dozens of different graphs
Allows for data simulation and projections
Gives you the ability to add multiple team members
Cons
No customer support available over the phone
The pricing structure is unclear
How to Choose the Best Data Visualization Tool
Remember, there is no one-size-fits-all guide to choose the best data visualization tool. Instead, you need to analyze your requirements and weigh them against the features in the tools you're evaluating.
Some of the major things you want to pay attention to include:
Implementation process
Usability and User-friendliness
Collaboration features
Scalability
Integrations
Find Out More About the Best Affiliate Tools
Data visualization tools are a key part of any affiliate's arsenal, but you need to know how to dissect the information you collect to get the best results. We hope that our list of the best data visualization tools gives you the information needed to make the best decision.
If you want to learn more about becoming a successful affiliate, follow our blog or contact lemonads and our team will be glad to help.
Accelerate your Conversions, Increase your Revenue
with lemonads
---
You would like