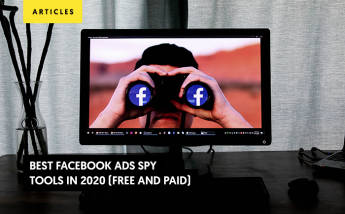 8 Best Facebook Ads Spy Tools (update 2022)
Have you ever looked into the best Facebook Ads spy tools existing in 2022 just to peek and sneak tips to get inspired and try them with your Ads?
Well, if you haven't yet, you should!
There are, in fact, so many tools on the web we could rely on – paid or free - for us to grab, use and improve!
Many companies have been trying out different tactics and metrics to improve their Ads during the years, especially if they've been around for a long time. They've been testing and checking out what has worked for their Ads and what hasn't by changing strategies, so ... if it worked for them, why shouldn't it work for you?
Let's discover together, through our article, which ones are the best Facebook Ads Spy Tools in 2022 for you to use and check those Ads that could fit your strategy:
The importance of Facebook Ads Spy Tools in 2022
Top 4 Best Free Facebook Ads Spy Tools in 2022
Top 4 Best Paid Facebook Ads Spy Tools in 2022
1. The importance of Facebook Ads Spy Tools in 2022
Facebook Ads started on November 6, 2007, and since then, they've grown into an advertising powerhouse for brands and online marketers!
Today you can choose from numerous types of campaign objectives, targeting options, audiences, placements, and formats when creating your campaigns, and keeping updated is getting harder and more expensive!
Facebook Ads has become a competitive landscape for merchants and affiliates, as they are well aware of the potential revenue due to its precise targeting options, data, and insanely high ROAS that its platform can deliver to their business.
How can we create a well-structured campaign that's fully optimized for your offers and that can pick up with traffic?
It's going to take a bit of work to discover the results in high earnings per click (EPC) and conversion rates (CR) for your campaign but we can start by peeking through the best Facebook Ads spy tools in 2022 to see what's working out for our competitors!!
Facebook Ads Spy Tools are here to show us exactly what our competitors are doing and allow us to discover the different ways and strategies they are improving to get better Facebook Ads results.
We can see how they are using social ads and how it's successfully working their business.
You'll be able to check the creatives used, the Ad copy, the targeting options and audience lists that are working for their business, and so much more!
Search for the best Facebook Ads Spy Tool for your niche and get inspired!
It's not about copying and pasting your competitors' campaigns and expecting good results! Never have this misconception about how Facebook Ad Spy Tools work.
You should study their moves and actions to practice them yourself, and try them out with your next moves on your Facebook Ads!
Meaning that you always need to stay on top of your game by checking out what your competitors are doing.
This way, you will know exactly what to incorporate in your strategy and what you shouldn't, in order not to waste time or resources, and as we said, if it works for them, why shouldn't it work for you?
It's all about leveraging useful data and collecting it from Facebook Ad Spy Tools to create high converting social ads!
So, let's get started and improve those Facebook Ads results and dive through our favorite top 4 best free Facebook Ads Spy Tools in 2022!
2. Top 4 Best Free Facebook Ads Spy Tools in 2022
Top 4 Best free Facebook Ads Spy Tools in 2022 we'll overview:
Facebook
AdEspresso
Swipe-Worthy
How not to mention and rely on Facebook itself?
That's right! Facebook has its Facebook Ads spy tool for you to use, free!
You can peek at the ads that a Page is currently running on Facebook, Instagram, and Facebook Company Products, even if you aren't part of the intended audience.
To see a Page's ads you would need to Go to the Page, Select See More in the Page Transparency section and under "Ads", from this Page select Go to Ad Library.
Facebook Ads spy tool will let you discover what ads are working at the moment based on what you are offering, and it also helps you identify which hooks and CTAs advertisers are using in your niche!
Using the Facebook Ads spy tool is good for a start and it could be something you could integrate with other Facebook Ads spy tools.
This is because it's quite limited.
You can check many things like researching creatives, ad copy, and CTAs.
What's not possible to check is the historical data of how long an Ad has been running to see the Ad effectiveness, or which is the most successful of the many Ads shown in a group, or which audience targeting has been used for the ads, and all this information is necessary and important to know in our "spying" research to improve and try a strategy for our Facebook Ads!
But we think it's a good start and worth trying!
Especially for new affiliates who are just starting out and still need to get a hand with spying tools. Knowing what to discover and what's needed to search for more.
AdEspresso, with over 1.5 million Facebook and Twitter Ads, gives you so many examples to learn from about your competitors and it's very easy to use!
You can find your inspiration for your Facebook Ads based on what you feel fits you most comparing all your competitor's Facebook Ads.
On their Tool, you can peek at each snapshot of each Ad, as well as the headline, text, post link, and other Ads from that same advisor.
Some features AdEspresso also includes:
Clean, easy-to-understand visual analytics.
Customizable dashboards, allowing you to pinpoint top-performing ads and focus on the numbers that mean the most to you.
Detailed metrics for those who want to dig deeper.
For being a free tool, BigSpy has a lot to offer, but it doesn't have much to check regarding the audience and targeting statistics. We are not saying it doesn't have it at all, but it's limited. Still great to start with.
To check the efficiency of Facebook Ads, it's necessary to have more information, but you can find a good part of the information you need with BigSpy anyways and, by clicking "a creative", it will redirect you to the Ad campaign and Facebook, which we find pretty smart.
You can also search by marketing objectives and CTA and find the top Ad and trending creatives in your market!
In addition, from the creative or advertiser in the list of search results, you can add them to your collection and get free updates when a new campaign is run from that advertiser, keeping you always updated on new strategies!
So, if you're only running a handful of campaigns and don't need all the "extras" offered by premium platforms, then you should for sure consider BigSpy as your option.
But if you do need to know more about your competitor's Facebook Ads then, you'd still need to make some independent research on other tools to find out more about what you need to know.
BigSpy's Facebook Ad spy tool is, for sure, really great for being free and if you're just starting, or don't want to invest, or can't afford to invest a certain amount of money yet in competitive intelligence research tools, then go ahead and try it out!
Swipe-Worthy breaks down the dynamic elements of an Ad to assess why it's working instead of actually going through Ad screenshots.
They have a collection of case studies for you to study and check your competitor's strategies!
This gives you full access to collect your competitor Ads case studies and find inspiration for creating your campaigns without struggling to figure it out by yourself!
It will show you cool designs and catchy slogans and it focuses on buyer's psychology and campaign strategy that will give you the opportunity in creating your winning campaigns.
Of course, as every free Facebook Ad Spy Tool, has a limited database number of search results. Since it's more of a case study of strategies of your competitor's Facebook Ads, it won't update you with the latest trends or show you which Ads your competitors are using at the moment.
This doesn't mean it's not useful!
This tool is great for you to make deeper research to fully understand the concept of that strategy in use by your competitor that is making their business strike, and all you'll have to do is learn from it, and achieve better results with your Facebook Ads!
3. Top 4 Best Paid Facebook Ads Spy Tools in 2022
Top 4 Best Paid Facebook Ads Spy Tools in 2022 we'll overview:
MagicAdz
AdSector
AdPlexity eCommerce
PowerAdSpy is so powerful for your Facebook Ads that gives you the possibility to spy on Google Ads, Google Display, YouTube, Instagram, Reddit, Quora, and Native Ads!
It's a great resource for any marketer who wants to look beyond the creative and Ad copy, searching Ads by keyword, domain, and the advertiser and sort by the newest Ad, longest-running Ad and social engagements stats as well as targeting option and landing page properties, and so much more!
This tool gives you full access to more than 80 million ads in 88 different languages across 198 countries.
For sure, these statistics are appealing!
Many successful digital marketers are using PowerAdSpy to spy on competitors' campaigns and leverage the data collected to create working campaigns for their clients!
The free version is limited, of course, but you can check out their prices on their chart, and see which plan fits you best!
What are you waiting for?
MagicAdz has a huge database of Ads across 49 countries and it can also find uncloaked affiliate Ads, cloaked affiliate Ads, and suspected cloaked Ads, all in one!
This Facebook Ads Spy tool will help you find actual landing pages used by advertisers and analyze their strategies and sales funnel to understand how to move with your Facebook Ads.
Pretty cool, isn't it?
What many marketers like to do smartly, is to also sort by comments to find engagement on Ads finding winning campaigns.
It's also easy for marketers who work on multiple offers at a time!
It would have a five-star if there would be the inclusion of other social media channels and traffic sources, but, as per Facebook Ads, it's incredibly a win!
Who knows, they might implement it someday!
Check their prices and see which plan fits you best!
This is an incredible Facebook Ad Spy Tool that you would be an enthusiast to know about!
AdSector is a features-rich innovative Ad intelligence software that allows you to filter results by affiliates' network and tracking system to find the top-performing Ads in your niche, uncover your competitor's strategies and create your winning campaigns.
You will also have the ability to download competitors' landing pages, audience targeting, and detailed analytics on each creative!
You filter by interest and understand the intent of the Ad and search page content to uncover eCommerce platforms and sales funnels too.
Of course, you would need to have a high budget to use their Facebook Ad Spy tool since it's pretty expensive but, as we all know, a good investment always brings good results!
Check out their price and get started!
Their platform is easy to use, and you can search competitive Ads using keywords, advertisers' URLs, publishers, affiliate networks, country, and traffic sources!
AdPlexity offers all this with six different tools for you to choose from!
That's right! You just have to figure out which one is the best for you and... get it!
All AdPlexity eCommerce tools will provide you with a range of data related to the world of eCommerce and affiliate marketing.
They'll give you full access to information on market trends, product and store value, and other related data.
AdPlexity lets you analyze online markets and keep track of what your competitors are doing.
Their products have been designed to quickly and accurately provide you with data relevant to your company and industry!
Check out AdPlexity Facebook Ad spy Tools and Prices and discover your best fit to create winning campaigns in record time.
Here we come to our conclusions.
We have fully understood that Facebook Ads Spy Tools are helpful to grab the best insights and tips of your competitor's Ads and why they are working!
Think of social Ads as a long-term game and not as trying to find a shortcut to overnight success.
It's important to spy on your competitor's Facebook Ads to discover and easily practice their strategy efficiently through the best Facebook Ad Spy tools in 2022, but remember, they won't do all the work for you!
Now that we've covered all the best Facebook Ads Spy tools in 2022, are you ready to check our other article on how to launch a profitable e-Commerce campaign on Facebook Ads and Which affiliate offers to make money on Facebook Ads?
Accelerate your Conversions, Increase your Revenue
with lemonads
---
You would like