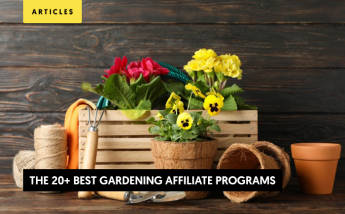 The 20+ Best Gardening Affiliate Programs
Best Gardening Affiliate Programs for the Spring-Summer season
Green like dollars and nature, this article contains the best garden affiliate programs for marketers this spring-summer 2021.
One thing that explodes with the first cherry blossoms, is everyone's desire to get their hands dirty and make their balconies, terraces, or gardens beautiful.

Especially after confinement, the value of having something green in our spaces inside increased significantly.
According to The Guardian "gardens bloomed under lockdown with record demand for seeds".
That's why we thought you would appreciate a compilation of the best gardening affiliate programs for this spring-summer season.
What is a gardening Affiliate Program?
Affiliate programs are deals in which an online merchant website pays affiliate websites a commission to send them traffic or qualified leads.
In a nutshell, affiliate programs provide publishers with offers to promote online. These programs serve as additional sales channels for advertisers. You, as a publisher can apply or sign up to these programs, get the links, and try to convince your users to click and get the products or services you are promoting.
A gardening affiliate program is simply an affiliate program that sells products or services related to gardening.
What niches are interested in gardening affiliate programs?
As we said before, these programs are relevant now because spring is starting and everyone likes to pimp their green corners.

These programs are interesting for the home and gardening vertical, garden and outdoors, home goods, and home improvement niches. But they are relevant also for the wellness, environmental, family, hacks and so many more.
As we always say, relevance is key. You know why your audience comes to you and to avoid disappointing them, you need to give them something they will appreciate in return for their loyalty.
Some gardening products can be very nice gift ideas. Think if instead of bringing flowers people started to offer seeds and pots, or potted herbs to the friends or family who enjoy cooking.
Maybe a product sold in gardening or home improvement store is great to nail a specific life hack you are telling your audience about. Join the points, use all that creativity inside you to create perfect selling circumstances.
Always think about how can this offer bring value to your people's lives. What product within the brand you'll promote can make a difference for them. If you find that product that makes sense with your content voilä, magic happens. Otherwise, they will never click on your dear affiliate links and you wasted time and for sure money.
Our list of the Best Gardening Affiliate Programs
1. ACE

Description: Ace hardware has over 5.000 stores across the country. The majority of those stores are independently owned and operated by local entrepreneurs.

From small urban to large rural stores, Ace hardware includes departments like Lawn and garden, paint, tools, local niche services, and anything a homeowner would need to fix, repair, and maintain their places. If you have a gardening blog, ACE has a selection of products that are relatable to your niche.
Affiliate Commission: 5%
Cookie: 14 days
2. Aero Garden

Description: Aero gardens are indoor gardening systems to grow herbs, vegetables, salad greens, or flowers inside your home. As an affiliate marketer, this program is great for you not just if you are working in the gardening niche but also for lifestyle and life hacks, health and wellness, and others. This is one of the best gardening affiliate programs.
Affiliate Commission: 7.5%
Cookie: 30 days
3. Blooming Bulb
Description: Blooming bulbs sell top-quality flower bulbs, at a very affordable price for the final customer.
Affiliate Receive: 15% commission.
Cookie: 45 days
4. Botanical Interests
Description: Botanical Interests offer high-quality seeds in the most beautiful and informative seed packets on the market. Botanical Interests was born because the founders believed that gardeners were not getting the information they needed on seed packets. Their desire to provide more information led them to create a unique seed packet that includes art, garden history, landscape ideas, organic gardening know-how, recipes, fun facts, and of course, high-quality seed. They offer one of the best gardening affiliate programs commission.
Affiliate Commission rate: 15%
Cookie: 45 days
5. Chelsea Green
Description: Since 1984 Chelsea Green has been the leading publisher of books about organic farming and gardening, homesteading, local food, sustainable economy, and many other subjects related to our contact with nature.
Affiliate Commission: 15%
Cookie: 30 days
6. Classy Groundcovers
Description: Classygrouncovers not only sells flowers but has a finder that helps customers find out which plants better adapt to their land depending on location, sun exposure, and other important filters.

Affiliate Commission: 25%
Cookie: 90 days
7. Click and Grow
Description: Click and Grow was born after Mattias Lepp read a NASA report about growing plants in space. He became inspired to develop the first-ever indoor garden that took care of plants automatically. Smart Gardens make it possible to grow plants 365 days a year in even the busiest households. They take care of watering, light, and nutrients, while you reap the benefits.
Affiliate Commission: 10%
Cookie: 45 days
8. Earth Easy
Description: Eartheasy provides solutions for sustainable living in the form of eco-friendly products, comprehensive guides, and informative articles.
Affiliate Commission: 10%
Cookie: 60 days
9. Forestry Suppliers
Description: Forestry suppliers offers a wide range of products and equipment needed in tree planting, logging, fisheries, surveying, construction, landscaping, environmental, geology, archaeology, fire control.
Affiliate Commission: 3%
Cookie: 30 days
10. Garden tower Project
Description: As the name suggests this is a stackable tower made of interlocking segments that allows you to grow 50 plants or vegetables in just four square feet of space. The Garden tower project has one of the best gardening affiliate programs.
Affiliate Commission: 16%
Cookie: 60 days
11. Gardener's Supply Company
Description: Gardener's Supply is America's number one resource for gardening. Raised Beds, Pots and Planters, Supports, Soils, and More.
Affiliate Commission: 8%
Cookie: 30 days
12. Hoss Tools
Description: Hoss Tools provides quality gardening supplies for the small farmer and backyard gardener. They have an extensive catalog suited for everyday gardening activities including cultivating, weeding, furrowing, and hilling.
Affiliate Commission: 10%
Cookie: 30 days
Description: Houzz is an American website and online community about architecture, interior design and decoration, landscape design, and home improvement.
Affiliate Commission: N/A
Cookie: 30 days
14. Plantboxs.com
Description: Plantboxs offers farm curated plants, delivered straight to your home by subscription.
Affiliate Commission: 10%
Cookie: 60 days
15. Seeds Now
Description: Seeds Now is a family-owned-and-operated company that was started to help individuals, families, and communities prepare for the future by promoting an organic and self-sustainable lifestyle. Their goal is to make it easy for everyone to stay away from GMOs and start growing their organic food.
Affiliate Commission: 25%
Cookie: 90 days
16. Smiling Gardener
Description:
Smiling Gardener helps gardeners grow highly nutritious, organic food without toxins by showing innovative organic gardening methods that go beyond the basics.
Affiliate Commission: 15% or 50% in learning plans
17. Succulent Box
Description: Succulents Box is the perfect product for succulents lovers to indulge their love monthly! Add greenery to your home and improve its air quality with our variety of succulents. All succulents are 2'' in size with 4 different varieties sent each month.
Affiliate Commission: 10%
Cookie: 3 days
18. Sunnyplants
Description: Sunny plants offer rare & unusual succulents, cuttings, seeds, and plants. New species are added to their shop regularly.
Affiliate Commission: 20%
Cookie: 30 days
19. The Home Depot
Description: The Home Depot is commonly known as Home Depot, is the largest home improvement retailer in the United States, supplying home and decor tools, gardening and construction products, and services.
Affiliate Commission: up to 8%
Cookie: 1 days
20. Urban Leaf
Description: Urban Leaf is the world's leader in innovative, sustainable, and easy, green-thumb certified DIY indoor gardening kits.
Affiliate Commission: 14%
Cookie: 30 days
Description: Wayfair is an American e-commerce company that sells furniture and home goods. Formerly known as CSN Stores. Their digital platform offers 14 million items from more than 11,000 global suppliers.
Affiliate Commission: Up to 7%
Cookie: 7 days
Conclusion
Gardening Affiliate programs host nice opportunities for affiliate marketers in the spring-summer season. Remember that one of the keys to be a great affiliate is timing. The time to promote pools and garden furniture is now and not when the first snowflakes start to fall.
People value their green spaces (no matter how big or small) more than ever as a consequence of confinement or quarantine. If you try to find ways to connect your content to your audience's needs, you will for sure find a way to promote the right offer. In our list, we included also some gift boxes that might be interesting for your audience even if they are not into pots and plants.
Want to access the best offers to affiliate with? Join lemonads as a publisher today. We would love to accompany you on your affiliate adventure.
Accelerate your Conversions, Increase your Revenue
with lemonads
---
You would like