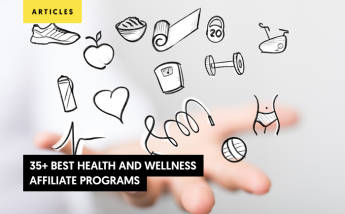 35+ Best Health and Wellness Affiliate Programs
The trends for 2021 in health and wellness, the list of the top affiliate programs, and some tips.
H&W is an evergreen topic. A study by Statista shows that by 2025 the Health and wellness market value worldwide will reach the SIX TRILLION US Dollars mark.
This industry includes sectors like Nutrition, healthcare, fitness, natural products like essential oils, healing techniques, activewear, beauty products, and so many others. So if you are a publisher in this niche, you have endless opportunities in affiliate marketing.
In this article, we will cover the 2021 trends for health and wellness and give you more than 35 affiliate programs that will not only make you some money, but that will for sure be helpful and attractive to your audience.
Health and Wellness Trends
Nowadays, people are more concerned about feeling great and being healthy. While appearances are still important, how we feel has gained control over the trends. Covid has accelerated human consciousness about well-being and takes care of our body and mind.
Trend 1: Feeling good is the new looking good
Ok, we might be exaggerating in the title, we all like to look good. There are a great number of movements encouraging us to feel good as we are and to embrace our uniqueness. Curvy girls are in vogue. skeletic models are a thing of the past, the public prefers to see fit and healthy, and even more so, models with bodies they can relate to than the photoshopped size -10 models. This means that we are treating ourselves with more kindness, we are caring for our wellbeing instead of only our exterior appearance and that brings to the affiliate marketers a bunch of new opportunities in the mind space and feel-good offers.
Trend 2: Mental health
Another important trend is the diagnosis and acceptance of mental illnesses such as depression, anxiety, and panic attacks.
Today, a lot of studies are being conducted to give answers to patients in a less pharmaceutical way. It's been proven that a more healthy living style, with better nutrition and some kinds of physical activity, can help. Our minds are a very important part of the wellness and health business today for sure.
Trend 3: Green and Natural
More and more people are joining the culture of eating well, avoiding pesticides and GMOs.  We are more interested in eating less meat, more whole, less processed.
Essential oils and ancient recipes are a huge trend. How people healed themselves before, how they ate, what happened when there were no machines, and so on.
Trend 4: Sleep
One of everyone's favorite things ever is to sleep. But we never valued the importance of sleeping well as we do today. Sleeping badly can affect our health in the short term. A mattress holds our bodies for hours a day, just think what happens to our backs if we are 8 hours a day completely uncomfortable and badly supported.
Most important, sleep enables our bodies to repair and be fit and ready for a new day. Sleeping well can avoid excess weight gain and heart diseases amongst others.
Trend 5: Virtual Fitness
One of the things people had to let go of with covid, was training in sweaty crowded places. Fitness hungry people, switched pretty fast to apps and zoom classes to continue working out from home, and or support their sports communities virtually.
For the non-sportive ones, not having time to go to the gym stopped being an excuse and gave it a try.
Even though vaccination in the US is moving pretty fast, the trend is so huge that 73% of the people who changed the gym for the living room training, express that they will continue to exercise this way once normality is reinsured.
Trend 6: CBD
For decades, cannabis has been taboo. A lot of studies conducted on the benefits of the green plant, have put it on a pedestal. With its legalization in some U.S states the diffusion of this information is well appreciated by the medical community. The CBD market has very interesting affiliate programs for you to have into account
Wellness and Health Affiliate Programs
Now that you know the trends for this year, you can choose to go promoting classic or trending business offers, this list includes both.
We have also built a very complete guide on food affiliate programs if you want to go in that direction with your offers, and a special edition on the best Keto affiliate programs in case you are more into this specific diet trend.
*We ordered the list in alphabetical order
1. Amrita Aromatherapy

Description:
Amrita is a family-owned, manufacturer that specializes in organic essential oils of the highest purity.  In addition to organic farming and wildcrafted growing standards, the evaluation of the holistic vibrational quality and scent are a core element in sourcing essential oils and other ingredients.
All of their 140 essential oils have been tested for purity using gas chromatography and other tests.
Affiliate Program Commission:
10% per sale
2. Best Life Herbals

Description:
Best Life Herbals offers a wide range of herbal health supplements, all formulated under medical supervision. Their range of products is specially made thinking on the health of the elderly.
Affiliate Program Commission:
25% per sale
3. Brain MD

Description:
Their supplement line focuses on increasing brain health to improving mind and body. These supplements are made out of natural, ethically sourced ingredients that are either the same chemical compound that your body makes or the most bioavailable form of the vitamin or mineral.
Affiliate Program Commission: 10% per sale
4. CBD Medic

Description:
CBD Medic sells topical CBD treatments that provide effective pain management.  These treatments avoid the risk of opioid addiction.
Affiliate Program Commission: 20-40% per sale
5. E3Live

Description:
E3Live sells the world's first frozen algae. The flos-aquae, a nutrient-dense aqua botanical it's certified organic and wild-harvested.
This product is claimed to energize your body, balance your mood, and focus your mind. It provides over 65 vitamins, minerals, amino acids, and essential fatty acids.
Affiliate Program Commission: 20% per sale
6. Fitbit Affiliate Program

Description:
Fitbit belongs to the apps and gadgets dedicated to tracking our health and physical activity. Counting steps and tracking your weight are some major activities during the process of losing weight. Fitbit is the ultimate gadget and app for this purpose which makes it a weight loss product. This is one of the most exciting health and wellness affiliate programs.
Affiliate Program Commission: 7.2% per sale
7. Gene Food

Description:
Using a research and scoring system created in the exploratory phase of the company, Genefoods' team built a proprietary nutrition algorithm that classifies customers into one of twenty diet types based on over 120 vetted genetic factors.
Affiliate Program Commission: $20 per sale
8. Health IQ

Description:
Health IQ is an insurance company rewarding those with healthy lifestyles like runners, cyclists, weightlifters, yogis, vegetarians, and well-managed diabetics.
They combined the science from their Health IQ Quiz with the latest in medical research specific to healthy lifestyles to transform your long-term health.
Affiliate Program Commission: $150  Per Sale
9. Healthy Wage

Description:
HealthyWage gives cash prizes to make weight loss and fitness more fun and effective.  It lets you make a personalized bet on your weight loss -- prizes up to $10,000.  You can play with the Prize Calculator all you want without commitment.
Affiliate Program Commission: $50 Per Lead
10. Hemi-sync

Description:
Hemi-Sync has been used for many purposes, including relaxation and sleep induction, learning and memory aids, helping those with physical and mental difficulties, and reaching altered states of consciousness through the use of sound. The technique involves using sound waves to entrain brain waves.
Affiliate Program Commission: 5% per sale
11. HoMedics

Description:
HoMedics is the leading global manufacturer of health and wellness products that help relax the body, de-stress and promote well-being. They have 4 product lines: massage, sleep, air purification, and sanitization.
Affiliate Program Commission: 8% per sale
12. iHerb

Description:
iHerb was founded in the state of California, USA, in 1996. They offer a selection of premium health products at unbeatable prices. Shipping to over 150 different countries and with a  team of employees from over 40 countries, iHerb is truly an international company.
Affiliate Program Commission: 5% per sale
13. Inner Talk

Description:
Subliminal and hipnosis programs.
InnerTalk uses a special form of dichotic masking that tasks your brain hemispheres according to their specialty, providing for a whole-brain experience.
Affiliate Program Commission: 20% per sale
14. InVite Health

Description:
InVite Health is a vitamin store that offers high-quality vitamins and supplements that help maintain a healthy lifestyle.
Affiliate Program Commission: 10% per sale
15. Jillian Michaels

Description:
Jillian Michaels is an American personal trainer, businesswoman, author, and television personality from Los Angeles, California. She got popular for her appearances on NBC's The Biggest Loser.
This fitness affiliate program offers your customers, workouts, and Meal Plans - Dynamic Fitness Training App for Weight Loss. · Personalized Fitness Programs
Affiliate Program Commission: 20% per new subscriber referred by you
16. Just Thrive Probiotics

Description:
Prebiotic and probiotic products
Affiliate Program Commission: 5% per sale
17. KOS Health

Description:
KOS offers a range of plant-based supplements, protein powders, and superfoods to boost your body. They make small batches of vegan-friendly OGM-free powders.
Affiliate Program Commission: 15% per sale
18. Life Extension

Description:
Life Extension is a global authority on nutrition, health, and wellness. The highest quality Science-based supplements, vitamins, minerals, liposomes, antioxidants, probiotics.
Affiliate Program Commission: 8% per sale
19. Medical Alert

Description:
Medical Alert provides comprehensive at-home and on-the-go medical alert systems to keep the elderly or special patients being safe and independent while living in their own homes and community. This is one of the best-paid health and wellness affiliate programs.
Affiliate Program Commission: $150% per sale
20. Murad

Description:
Murad is one of the leading companies in skincare products and popular for its acne, anti-aging, cellulite, age spot treatments, and more.
Affiliate Program Commission: 18 % per sale
21. National Drug Card

Description:
National Drug Card (NDC) was created to help people with little or no prescription drug insurance to save money on their prescription drugs.
Affiliate Program Commission: $2.5% per sale
22. Nutrition Forest

Description: Nutrition Forest shares useful tips about health and fitness and offers health supplements and fitness products
Affiliate Program Commission: 20% per sale
23. Plant People

Description:
Plant People makes advanced wellness accessible through practitioner-grade supplements and skincare derived from USDA-Organic, functional mushrooms, hemp, adaptogens, and vitamins.

PlantPeople's products are doctor-formulated, non-GMO, cGMP, vegan, and junk-free (parabens, sulfates, fragrances, etc.). They also plant a tree for every product sold!
Affiliate Program Commission: 15% per sale
24. Procerin

Description:
Procerin is scientifically designed to help men retain and regrow their hair and stop the hair loss process. The active ingredients are all-natural DHT inhibitors. No harsh chemicals, no messy sprays, and no sexual side effects.
Affiliate Program Commission: 40% per sale
25. Puritans Pride

Description:
Puritan's Pride is a well-known company with a wide range of supplements and vitamins. The company tests some products up to 20 times to ensure quality. Not all Puritan's Pride products are organic, but they do offer a USDA-approved organic line.
Affiliate Program Commission: 4% per sale
26. Real Subliminal

Description:
A collection of subliminal messages that stimulate your mind and help you achieve your goals. Some of those goals are weight loss, stop procrastinating or improve your organizational skills. This is one of the rarest health and wellness affiliate programs.
Affiliate Program Commission: 35% per sale
27. Secure Pharmacy Online

Description:
SecurePharmaOnline.com is a famous international online drugstore that offers high-quality generic as well as trademark medications.
Affiliate Program Commission: 10% per sale
28. Seed

Description:
Seed develops clinically-studied probiotics to impact human and planetary health.
Affiliate Program Commission: 15% per sale
29. Smart Nora

Description:
Smart Nora is the revolutionary contact-free snoring solution designed to stop the snoring before it wakes you or your partner up.
Affiliate Program Commission: 6% per sale
30. The Ayurveda Experience

Description:
The Ayurveda Experience provides a wide range of products from educational courses about Ayurveda to skincare ayurvedic treatments.
Affiliate Program Commission: 15% per sale
31. The Lost Book of Remedies

Description:
The Lost Book of Remedies is an eBook by Dr. Nicole Apelan that teaches us how we can use herbs and plants for health and wellness purposes.
Affiliate Program Commission: 75% per sale
32. Tony Robbins

Description:
Tony Robbins is an entrepreneur, #1 NY Times bestselling author, philanthropist, and the nation's #1 life & business strategist. For more than 45 years, millions of people have experienced his personal development events.
Affiliate Program Commission: 10-15% per sale
33. Tyent Water Ionizers Affiliate Program

Description:
Tyent is a nice design water ionizer that delivers the health benefits from alkaline water. It's recommended from the weight loss process and immune support to better skin and increased energy levels.
Affiliate Program Commission: 5% per sale
34. Walgreens

Description:
Walgreens operates as the second-largest pharmacy store chain in the United States behind CVS Health. It specializes in filling prescriptions, health and wellness products, health information, and photo services.
Affiliate Program Commission: 2% per sale
35. Well.ca

Description:
Well.ca manages a large list of products: food and nutrition, exercise and fitness, vitamins and supplements, beauty and skincare, and many more.
Affiliate Program Commission: 5% per sale
36. Yuve

Description:
From adaptogens to  kids' yummy gummies, Yuve offers clean plant-based supplements made with sustainably grown ingredients to help  us live a healthier life
Affiliate Program Commission: 15% per sale
Conclusion
The health and wellness vertical is evergreen. Just by focusing on the fitness or the meditation segment, you have lots of interesting offers to promote. Health and wellness affiliate programs today are not just related to pharma. Nature plays a great part in the game.
Be responsible and promote products and services that have value to your customers. It's not a bad idea to even get and try some of the products you want to promote. By doing so, you will be giving an honest review.
Try to promote offers with different price ranges. If you choose to join up with an affiliate network you will increase the variety of offers you have to promote.
Need some guidance or have any questions? contact us We sure have great offers in the health and wellness affiliate environment that will interest you.
Ready to rumble?  Just apply as a publisher on our affiliate network.
If you want to keep learning, subscribe to our newsletter. We have 3 super interesting posts a week.
Accelerate your Conversions, Increase your Revenue
with lemonads
---
You would like