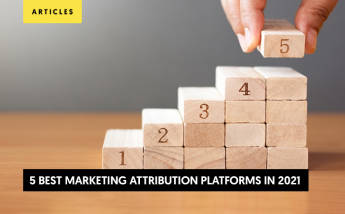 The 5 Best Marketing Attribution Platforms in 2021 (+ How to Choose the Best Attribution Platform)
Welcome to our pick of the top 5 marketing attribution platforms this year.  
Market The practice of marketing goes back thousands of years, but marketers only gained the ability to track their campaigns and analyze their performance a couple of decades ago. Before the internet became the behemoth we know today, it was impossible to determine where each sale came from and what exactly prompted people to purchase products at specific times.
Even with all of the advanced tracking technology available now, figuring out which variable is responsible for persuading digital users to complete certain actions can be tricky, which means that affiliates need to find the most accurate marketing attribution platform in order to get the best results.
At lemonads, we've partnered with countless affiliates and advertisers from around the globe, so we get to see the leading marketing attribution platforms in action on a regular basis. In this article, we'll discuss the definition of marketing attribution and give you tips on choosing the best platform based on your requirements. We'll also share our picks for the top 5 marketing attribution tools available and share the most important details of each platform.
What Is Attribution in Digital Marketing?
Every industry is different, but all consumers go through a specific set of steps before becoming conversions. When applied to the digital marketing context, this journey includes a variety of touchpoints that occur across multiple devices including smartphones, laptops, and similar gadgets. Attribution is the process of determining which touchpoint is responsible for generating each sale or conversion.
Rather than one specific process, marketing attribution relies on a variety of different models that marketers can choose from depending on which one fits best. For instance, the "first interaction" model gives credit for a conversion to the initial exchange between an individual and the marketing materials. The "last interaction" mode, on the other hand, awards credit to the final exchange that occurs before a sale or conversion.
Keep in mind that there are dozens of complex models developed by some of the leading marketing attribution software providers. We'll provide our picks for the top 5 marketing attribution platforms later in this piece, but keep in mind that you need to choose a partner based on your specific needs.
Why Do You Need to Choose the Best Attribution Tool?
Despite the fact that digital marketing is known for providing trackable results, running multiple campaigns targeting the same audience can disrupt the data and provide misleading information. Attribution tools give you the ability to clearly determine which ads or other points of contact induce the most sales, giving you a complete picture of your customer journey.
Not only this, but attribution tools also give marketers the ability to create better campaigns without having to create a multi-touch system to help them determine which elements generated the most conversions. Besides saving marketers a significant number of resources, top attribution tools will help you make informed decisions that are backed by data and have a higher chance of succeeding.
How to Choose the Best Attribution Platform
There are many different platforms that offer attribution tracking solutions, but not all of these provide reliable services. In many cases, the attribution services are provided as an add-on to a more comprehensive product rather than working as a standalone platform. To get the best results, always make sure that you partner with a provider that has a dedicated attribution solution that doesn't rely on any other tools.
At the same time, you need to find a provider that allows you to see your entire customer's journey through multi-touchpoint attribution. This can help you see which are the events or actions that are producing the most profitable results. Just make sure that the multi-touchpoint provider also takes mobile attribution into consideration to ensure a wholesome picture.
In addition to the above, some of the elements you want to evaluate before choosing an attribution platform include:
Available Integrations
Your marketing technology stack consists of a collection of different platforms and transferring data manually between these is not always feasible. By choosing a marketing attribution platform that offers powerful integrations, you can save a significant amount of time and resources without compromising the performance of your campaign.
Besides looking at the list of integrations that are already available, you should look for a platform that offers a dedicated API. When a provider offers an API, your technology team will be able to customize the platform and implement it into your tech stack as you see fit. That said, it's also a good idea to choose a provider that offers robust support in case you run into an issue.
Number of Devices Covered
Some attribution platforms are specialized, which means that they only track behavior across one type of device. For example, many attribution tracking providers specialize in mobile so they only track behavior across smartphones and similar gadgets. You can also find attribution trackers that cover a huge spectrum of devices, ranging from laptops and smartphones to modern IoT devices like smart televisions.
In most cases, a higher number of devices is always better. But, remember that every affiliate is different, so you should analyze your specific case and determine which devices your ideal attribution tracking system has to cover and make sure you find a provider that offers the best possible range.
Safety and Security
As with other tracking mechanisms, the attribution tool you choose will store data about the traffic you analyze. Rather than opting for an unreliable provider to save a small amount of money, you need to work with an attribution tracking system that has a robust security infrastructure in place.
Suffering a security breach can have very serious implications for your business, so you need to take the privacy of your target audience seriously. Before making a decision, always evaluate the safety of each platform and the security solutions in place to protect the end-user.
Fraud and Over-Attribution Handling Mechanisms
Fraudulent parties are always looking for new ways to extract information and funds from marketing campaigns. In addition to having robust security mechanisms in place, your attribution tracking provider also needs to handle fraud properly and make sure that targeted parties have alternatives to solve their issue.
Furthermore, over-attribution is also an issue that produces an unnecessary loss for advertisers while also hindering the accuracy of the metrics being collected. All serious attribution tracking tools have deployed an over-attribution solution, so make sure you evaluate your options' method.
The Top 5 Marketing Attribution Platforms of 2021
Now that we've discussed the definition of mobile attribution and how to choose the best tracker for your specific case, let's go over our picks for the best marketing attribution platforms of 2021.
AppsFlyer
Although it's now among the top analytics solutions available, AppsFlyer earned its stellar reputation as a mobile marketing attribution tracker. This tool specializes in mobile apps install attribution, which they determine using powerful in-house technology.
What Is It Good For?
Attributes mobile installs to the responsible touchpoint
Ideal for medium and large companies (revenue of $1+ million per year)
Suitable for the gaming, retail, and other B2C industries
Additional Information
Can integrate with some of the most popular ad networks in real-time
Allows for innovative postbacks, accurate fingerprinting, and innovative deep linking
Superb security features
Adjust
Adjust is another mobile marketing attribution platform, but it goes beyond simply tracking installs. Instead, this platform provides a wholesome view by tracking and attributing ad clicks, in-app events, installs, and other actions with unlimited look-back. Plus, Adjust users can also leverage the platform's mobile analytics, audience-building features, fraud prevention features, and other products.
What Is It Good For?
Preventing fraud and attribution mobile events to the right touchpoint
Small and medium-sized businesses
Ideal for subscription programs as well as the gaming, music, finance, and ecommerce industries
Additional Information
Suitable for mobile attribution only
Comes with more than 7,000 available integrations
Works for both online and some offline sources
Attribution
As the name suggests, Attribution is an attribution tracking solution that can track touchpoints across a variety of devices. The platform stands out because it allows users to easily track and monitor return on investment by using a complex algorithm that evaluates ad spend across all channels.
What Is It Good For?
Tracking attribution and lifetime value (LTV) across a variety of advertising channels
Ideal for small businesses, startups and medium-sized companies
Especially effective for ecommerce and software as a service (SaaS) providers
Additional Information
Distributes credit across and online and offline marketing channels
Lightning-fast deployment and implementation
Calculated LTV through cohort analysis
Localytics True Impact
Localytics True Impact is a superb solution known for its analytics features, but it's actually one of the best mobile attribution solutions out there. It relies heavily on location tracking, which makes it an ideal alternative for companies that leverage local data and track customers across multiple GEOs.
What Is It Good For?
Allows mobile attribution and provides deep insights thanks to GEO targeting
For B2C industries
Tracking app downloads, conversions, and overall engagement
Additional Information
Provides the ability to do A/B testing
Leverages location targeting as part of its attribution system
Specialized in mobile attribution
Nielsen Attribution
Nielsen is a leading provider in enterprise-level marketing solutions, so it's no surprise that their attribution system made it to our list of top providers. Called Nielsen Attribution, the platform is among the few with native Facebook integrations, which is ideal for affiliates that rely heavily on this social channel.
What Is It Good For?
Ideal for retail and other B2C industry attributions
Designed for medium-sized companies
Allows you to gain more insights from your Facebook ads
Additional Information
Compatible with offline attribution mechanisms
Includes Facebook integrations by default
Gives access to Nielsen Insights
Ready to Get the Best Affiliate Programs? Get in Touch with lemonads Today
Understanding marketing attribution tracking and finding the right tools is not always easy, But, we hope that the article above has provided you with everything you need to choose the best marketing attribution tool.
To find out more about getting the best affiliate programs, contact us today and we'll be glad to help.
Accelerate your Conversions, Increase your Revenue
with lemonads
---
You would like