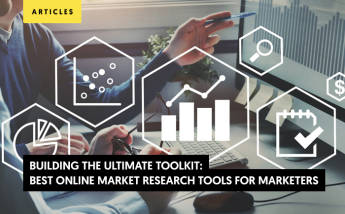 Best Online Market Research Tools for Marketers : Building the Ultimate Toolkit
Becoming a successful marketer requires discipline, creativity, and a strategic approach. In addition to learning about the latest marketing trends and ad formats available, affiliates and similar professionals need to determine how to apply this knowledge in order to get the best results.
Despite the fact that some professionals rely solely on first-hand experience, conducting market research can shorten the learning curve and give marketers an advantage over the competition. For this reason, more than 90% of marketers believe that researching the business landscape is crucial for success.
With this in mind, there's a huge variety of online market research tools out there, so choosing the right set of platforms can be challenging. One of the most overlooked success factors is the combination and quality of the tools implemented. But, the only way to choose the best platforms is to look at your specific requirements and understand the different alternatives available.
At lemonads, we've seen new and seasoned marketers use a collection of different research tools to hit the ground running. Below, we've put together a guide to help you find the best market research tools for your toolkit.
Why Do Marketers Need to Conduct Research?
Marketing campaigns are affected by hundreds of different factors, but learning about these variables through experience alone can become a prolonged process. The longer the process, the more resources you'll have to invest without seeing any significant results.
Instead of relying on subjective information, market research can help accelerate the learning process and allow marketers to develop campaigns based on current trends. This, in turn, can shorten the learning curve and give marketers the ability to create campaigns that perform well right off the bat.
Some of the reasons why affiliates should focus on online market research include:
Higher Chances of a Positive Result
The main goal of all marketing campaigns is to generate money in, be it by direct or indirect means. Regardless of what the strategy may be, researching the competitive landscape, target audience, and other relevant areas can increase your chances of getting a positive result.
For instance, if you're planning to market an offer through social media, you can conduct research and see which platforms are performing well. Instead of dividing resources among all the options, marketers can focus on the platforms that are producing results for the top competitors.
Improve Branding and Reputation Management Plans
One thing that traditional advertising and online marketing have in common is the importance of having a good reputation. Marketers that conduct market research will have a better idea of how consumers view the advertising brand. This will ensure that affiliates only work with reputable companies and allow them to create better branding campaigns.
Marketers that specialize in reputation management for new and established brands can also get valuable insights by scouting out the business landscape. These specialists can analyze what's working for leading companies in terms of reputation and create a plan that employs these proven strategies.
Identify Top Competitor Strategies and Boost Conversions
The most important benefits of researching the market are identifying the top competitors and boosting overall conversions.
By monitoring the top competitors, marketers can determine which ad formats and content types are resonating with their audiences. If done properly, this can result in ultra-engaging creatives that yield more conversions.
The Best Online Market Research Tools for Marketers
The market research industry is worth almost 48 billion US dollars because it has become a business necessity for thousands of companies around the world. However, the value of the industry also reflects the variety of options available. Not all marketing research tools are the same, so you need to find the platform that has the best features for your specific case.
With the above in mind, there's a set of basic online market research tools that all marketers need to have.
Below, we'll go over our picks for the top online market research tools for marketers in 2020 and beyond.
Alexa.com
Alexa.com is one of the most versatile and comprehensive web analytics tools out there. It's a great choice for marketers that want to conduct intricate market research and view competitor statistics, including traffic volumes, engagement metrics, demographic information, as well as other types of data. The platform creators also developed the Alexa rank, which allows you to see how far websites are in terms of performance.
Furthermore, Alexa allows you to view the performance of your competitors' campaigns with more context. Marketers can use this platform to compare sites and view historical traffic trends. Sudden spikes can be attributed to events and promotions, so you can see if a marketer's recent success was due to an external event or if it's relatively normal.
comScore
comScore focuses on dissecting user trends and giving valuable insights about customers and how they interact with your ads across multiple channels. Although the company claims to be a traditional market research firm, it has also developed a large list of innovative features and fused them with advanced campaign management capacities.
Many marketers that use comScore for market research also incorporate the platform's other features into their campaigns. This includes demographics reporting, monetization tools, tracking and analytics, as well as multi-platform media measurement.
Nielsen Online
Nielsen is a marketing intelligence firm that garnered a reputation as an offline platform after being established in 1999. Today, the intelligence giant has also become one of the must-have marketing research tools for advertising specialists.
Instead of taking an entirely technical approach, Nielsen Online provides a hybrid audience measurement portfolio that focuses on both statistics and the human element. Through this tool, marketers can view consumer behavior trends, brand advocacy, and measure social media presence in order to develop more effective campaigns.
Quantcast Measure
In addition to looking at external factors, affiliates and other marketers also have to look at the performance of the publishing platform they're working with. Quantcast Measure is a superb alternative that allows you to define different audiences and measure traffic on all areas of a website.
From a practical perspective, Quantcast allows marketers to target the most profitable audiences from the get-go. The platform allows you to see details about the different audiences that visit your site, so you can craft content that speaks to these readers and forges stronger relationships.
SimilarWeb
Known as one of the top business intelligence and success measurement tools, SimilarWeb is a robust market research tool that gives you a holistic view of competitor strategies. The platform allows you to unveil traffic metrics as well as the approaches used to attract these visitors.
In addition to tracking valuable opportunities, you can measure the performance of competing sites and apps in order to make better business decisions. By identifying increasing engagement trends, you can avoid outdated approaches and implement techniques that have a higher chance of success.
Thalamus
In simple terms, Thalamus works like a database that records everything in the online advertising industries. The encyclopedia-lie platform focuses on connecting brands, agencies, and vendors with the aim of creating partnerships with a higher chance of success.
Through this platform, marketers can see the different ad networks as well as reviews and more details of every option they have available. Thalamus relies on a huge library of digital vendors, an ever-growing list of ad buyers, and an innovative interface to give members a truly omnichannel market research solution.
SpyFu
SpyFu is one of the oldest online market research tools on this list and it has remained a solid option for a great reason. The platform allows marketers to map out the strategies that competitors are using to show up on Google. This includes the use of paid ads and organic search rankings as well as every variable that has been used in the last 9 years.
Buffer
Every good marketer recognizes the potential of social media, but knowing which platforms to choose or what approach to take is not always clear.
Buffer has earned a reputation as a great social media automation tool, but this platform also has powerful market research capabilities. In addition to scheduling posts and messages, Buffer can help marketers monitor their social presence through engagement metrics that include likes, shares, and other common statistics.
Facebook Ad Library
Even though the platform has been embroiled in a variety of controversial news, Facebook has vowed to create a transparent advertising ecosystem. To honor this promise, the social media juggernaut created the Facebook Ad Library, which contains a copy of all the ads currently being displayed on the platform. With this tool, you can see which competitors are advertising on the social network and what approach they are taking, which can help you develop better ads later on.
Find Out More About the Best Tools for Marketers
There is no exact formula you can follow to choose the best marketing research tools. Instead, marketers need to take their specific requirements into account, assess the different platforms available, and create a tailored toolkit that fits their needs.
Conducting market research can help you identify the top competitors and give you valuable information about the strategies they have in place. And, you'll also get insights about the content that your audience finds alluring.
If you want to learn more about choosing the best market research tools for marketers, stay tuned to our blog or reach out to our team and we'll be glad to help.
Accelerate your Conversions, Increase your Revenue
with lemonads
---
You would like