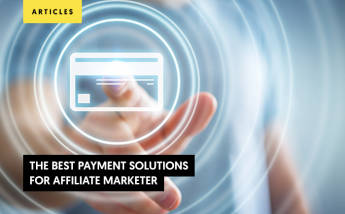 What Are the Best Payment Solutions for Affiliate Marketer?
Once you become an established affiliate, it's normal to get excited about finding the best offers or partnering with the best traffic sources. However, the main goal is always to make money, so experienced marketers always keep an eye out for innovative affiliate payment solutions that can help reduce expenses and accelerate payout turnaround.
At lemonads, we work with thousands of affiliates and perform countless payments every month. We've partnered with multiple affiliate marketing payment methods providers over the last few years, so we are familiar with the best solutions available today.
Below, we'll go over the top payment solutions for affiliate marketing professionals, explain each one in detail, and let you know when these tend to work best.
The Best Payment Solutions for Affiliate Marketing
Before delving into the best payment solutions that affiliate marketers can opt for, it's important to understand the different variables that affect your finances.
In addition to choosing the right payment method, you should also create a detailed budget and adhere to it while you build and optimize your campaigns. This will help ensure more accurate prediction models while also allowing you to take full control of your expenditures.
With the above in mind, let's go over the best affiliate payment methods available today.
Wire Transfers
For this article, we will use the term "wire payment" to describe any form of electronic financial transactions.
There are many different forms of wire payments available today, but the basic process is the same. Money is moved from the sender's to the receiver's possession either through electronic or physical means. The different types of wire transfers include bank transactions, debit card deposits, and withdrawals of physical money at cash offices.
Best For
Wire transfers are known for being convenient, but it's important to remember that these may also carry hefty fees depending on the country or financial institution in question.
This is because wire transfers are sent to different parts of the world through a global network of financial institutions, so the processing time, costs, and other characteristics vary depending on each affiliate. That said, this solution does offer a lot of flexibility when compared to other
While most wire transfers are bank-to-bank transactions, affiliate networks and other entities can also send these payments directly to affiliates without involving a conventional financial institution. That said, these transactions usually have higher fees than others on this list, so you should try to avoid this payment method unless it's completely necessary.
In addition to the above, wire transfers are safe, relatively fast, and accepted in most parts of the world. This payment method is ideal for affiliates based in the US, EU, UK, and any other regions that have slightly more advanced banking systems as these tend to have lower commissions and shorter turnaround.
Pros
A most popular and common type of affiliate payment solution
Extremely convenient
Compatible with most banks in most countries
Deposits completed in 24 to 48 hours
Local wire transfers tend to be more affordable and take less time
Cons
May have excessively high fees depending on your location
Wire payments may be  subjected to poor exchange rates
Requires you to provide detailed information
If receiving international transfers, your local bank may delay the process
Many payment solutions were designed specifically for affiliates, but not many of them offer as many advantages as ePayments. Founded in 2011, ePayments was developed specifically for the affiliate marketing industry so it provides an array of great benefits for marketers of all levels.
In a nutshell, ePayments can help affiliates make deposits, receive payments, and efficiently manage their finances. Affiliates can take advantage of the platform's electronic payment options (which include wire transfers) as well as a prepaid Mastercard that gives instant access to the funds in the account.
Best For
This solution is not only used for affiliate payments, but it's actually employed by freelancers, independent consultants, and similar professionals. This is because ePayments is available in more than 100 countries and it's compatible with Bitcoin, WebMoney, and other popular payment alternatives.
Even though it may not be as popular as others on this list, ePayments is among the best affiliate payment solutions for marketers located in low or middle-income countries. And, thanks to the fact that the platform accepts international payments at no extra cost, it's also ideal for affiliates who are receiving payments from different parts of the world.
Pros
Designed specifically as an affiliate marketing payment method
Suitable for affiliates in 100+ countries
Allows depositing and withdrawing through alternative means
Optimal exchange rates
Prepaid Mastercard available in select countries
No fees for internal ePayment transfers or incoming wire transfers
Cons
Not as popular as Paxum or PayPal
Paxum is a financial solution designed by webmasters to fulfill massive gaps in the affiliate industry's payment structure. The platform is based out of Canada but it's available to marketers around the world. As a matter of fact, Paxum has earned a reputation for being among the top affiliate payment methods because it's popular, affordable, and compatible with a wide range of common marketing tools.
One of the best things about Paxum is that its fees consist of easy-to-understand flat payments, so you'll always know where you stand before you even complete a transaction. Not only this, but this affiliate payments solution also offers a prepaid Mastercard, which gives affiliates easy access to their funds. At the time of writing, Paxum's ATM withdrawal fees are only $2, which are among the lowest in the industry.
Best For
Because Paxum was created by web developers, the features available in the platform make it an ideal choice for affiliates who run their own websites or apps. It's perfect for marketers that want to use the same account to receive funds, make withdrawals, and submit payments through POS or online at no cost.
With the above in mind, Paxum does charge users for access to the prepaid Mastercard. And, you also have to pay a relatively high fee for wire transfers through this affiliate payment solution, so it may not be a great alternative for up-and-coming marketers.
Pros
Extremely popular affiliate payments solution that's suitable with dozens of platforms
Designed specifically for affiliates, especially those in adult verticals
Great referral program
The low-cost, flat-fee pricing scheme
Free POS transactions
Prepaid Mastercard available upon request
Base in Canada
Cons
High fee for wire transfers and credit card withdrawals
The relatively high annual cost for prepaid Mastercard
PayPal is perhaps the most well-known payment solution in this list, and for good reason. The payment solution has been running for well over a decade and it's available in 200+ countries and territories around the world. Today, it's one of the most popular alternatives for online merchants, commercial users, and affiliate marketing experts around the world.
In simple terms, PayPal is safe, reliable, and flexible in the sense that users can send or receive payments in more than two dozen currencies. That said, PayPal's fees are relatively high and the bank transfer withdrawal option is available in developed regions and a limited number of or middle-income countries.
Best For
In addition to developing convenient payment platforms, the team behind PayPal has also developed a series of great benefits for affiliates. For instance, marketers have the option to withdraw money directly to their bank accounts at no additional cost. Or, affiliates can also purchase new traffic and pay their providers directly from their balance. Furthermore, this payment solution features cutting-edge security mechanisms that create a safe environment during every transaction.
In the vast majority of cases, PayPal is ideal for established affiliates that work with traffic from all over the world. The payment platform allows you to receive funds in different currencies and offers static fees, so you'll be able to project your costs accurately even if your campaigns double their production.
Pros
Well-established company with top-notch security features
Available in 200+ countries and regions
Allows affiliates to receive funds in 25 different currencies (and counting!)
Free transfers between PayPal accounts
Available at all major affiliate networks and accepted by most providers
Free bank transfer deposits and withdrawals
Cons
Prepaid card only available in a few countries
Has strict rules affiliates need to adhere to
Relatively high commission costs
Requires a credit/debit card and a bank account
Picking Your Affiliate Network Based on Payment Method
The affiliate network you choose directly impacts your revenue because it dictates the types of offers you receive. However, the payment methods available on your network of choice will also influence the cost of running a campaign and your profits, so you need to find a partner that features great programs as well as financial solutions that are suitable for your specific case.
At lemonads, we go the extra mile to ensure that our members have access to exclusive deals with the best affiliate payment solutions providers. Our affiliates can choose to receive weekly payments starting at $100 or 100€ through Paxum, ePayments, PayPal, or wire transfers. And, since we have established long-lasting partnerships with the leading platforms, we send these payments to our affiliates' accounts at no additional cost.
Learn More About the Top Affiliate Payment Platforms By Following Our Blog
Choosing a payment method may represent an investment. But, by taking your time and finding the best platform for your case, you can keep expenses low, increase profitability, and set up a convenient payment system in each campaign. We hope the tips above will help you choose the best affiliate payment solutions and partner with the most reliable networks.
To learn more about the top affiliate marketing payment methods, stay tuned to our blog or contact us today and our team will be glad to help.
Accelerate your Conversions, Increase your Revenue
with lemonads
---
You would like