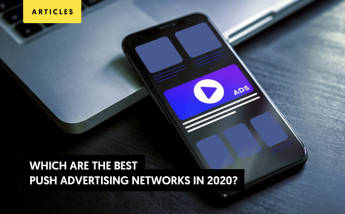 20+ Best Push Ads Networks - Which Are the Best Push Advertising Networks in 2021? (Ultimate Guide 2021)
It doesn't matter if you're a new or seasoned affiliate, you're probably heard of push notifications and how profitable this ad format can be. Push advertising has become a staple in the affiliate world because it is used by thousands of affiliates to connect with audiences around the globe
There's no denying that push notifications are here to stay, but there are dozens or even hundreds of traffic sources you can work with. By partnering with the best push ads networks, media buyers and other marketers can reach more engaged audiences and increase their chances of success. However, with so many options on the market, choosing the right platform isn't always easy.
Below, we'll go over our picks for the best push notification networks of 2021 and give you a summary of the main features of each platform.
Why Are Push Notifications So Popular?
In the US, the average smartphone received more than 45 push notifications per day. This may seem overwhelming to some, but not all of these are ads.
A large portion of these notifications are updates, messages, and other common alerts that users expect to receive. This is the reason why push notifications are so popular with consumers, which in turn makes them a hit with affiliates.
What is push traffic?
Push traffic comes from Push Notification ads.
There are two types of push notifications: Mobile and Web browsers.
Mobile app push notifications
When downloading and installing a new app, the user receives a message asking if that app can send notifications. Those notifications can be alerts, reminders, promotions, or any other topic the app developer wants to inform the user about.
The user receives this kind of push notification on their phones. On iOS devices, users can see them on the lock screen, notification center, or as a top screen banner. On Android devices, notifications appear on the lock screen, home screen, or swiping down from the top of their device screen.
Web browser notifications
Some websites ask their users if they are interested in receiving notifications. If the users grant the website this permission, they are added to a "contact list" and can receive messages directly on their browser, no matter which website the users are visiting at the moment. Those messages contain an image, copy, and a link to a landing page.
What is in-page push traffic?
In-page push traffic comes from banner ads displayed directly on publishers' websites and working on the cost per click (CPC) model. This means in-page push ads are available for all users, on all devices. In-page push traffic ads emerged at the beginning of 2020. They look similar to push notifications, but they do not push ads, that's the reason why users don't need to subscribe to receive them.
The Best Push Notification Ad Networks of 2021
Even though most quality platforms have basic similarities, there is no exact formula to choose the right push notification network. All affiliates are different, so every marketer must take a look at his or her fields of expertise and skillset to find the platform with the most suitable features.
With the above in mind, we've put together a list of the platforms that provide the best combination of traffic quality, campaign growth potential, tracking, and other features.
Here are our picks for the top ad networks of 2021.
RichPush
RichPush has established itself as one of the top push advertising networks because it provides high volumes of great quality traffic. The platform serves more than 4 billion impressions every single day across hundreds of countries and regions.
Furthermore, the platform provides PPC pricing with micro bidding and Target CPA features, so affiliates can spend less time optimizing and more time creating new campaigns.
Users that opt for RichPush will also be able to:
Promote offers to 450+ million users
Run high-quality campaigns are a low cost
Automate almost all of the optimization process by creating a set of custom rules
Work in a secure environment
Adsterra
Adsterra doesn't have one single specialty, but the platform provides superb push notification traffic. With more than 10 billion impressions per month, Adsterra campaigns are known for increasing brand awareness while still delivering solid results in terms of revenue. It serves ads in 190+ countries and territories, plus the platform provides a wide variety of payment options.
Some of the additional benefits of working with Adsterra include:
Low withdrawal limits
Real-time statistics tracker
Multiple bidding models depending on the format chosen
MGID
MGID is a well-established platform that started as a native-only network. In 2018, the company started offering push traffic, becoming one of the top provider's affiliates can partner with today.
This ad network boasts a world-class support team and more than 100 million monthly subscribers. And, affiliates can also enjoy:
Multi-language customer service
Intuitive dashboard
Low competition when compared to other push networks
AdCash
AdCash is a powerful demand-side platform established back in 2008. Since it was first developed, the platform has focused on using innovative optimization technology and mathematical algorithms to verify the quality of its traffic.
Thanks to their support department that's available around the clock, affiliates and other stakeholders experience minimum downtimes and get all the help they need, whenever they need it.
Additional advantages of working with AdCash include:
200 million unique daily users
Straightforward payment procedure
Different pricing models are available
Zeropark
Zeropark may be known as the premier source of domain redirect traffic, but the platform is also a great place to run push advertising campaigns. With a whopping 300 million subscribers scattered among hundreds of countries, the platform registered close to 15 billion impressions every month.
Works on a CPC pricing model
3 million clicks registered per month across all formats
Allows affiliates to test up to 10 different ad versions at a time
Robust targeting features
PropellerAds
PropellerAds was established back in 2011 and it has become one of the biggest pop-unders and push traffic providers on the market. With 300 million subscribers from more than 200 countries and regions, PropellerAds gives affiliates the ability to connect with engaged audiences at a very competitive price.
It's worth noting that PropellerAds has two types of traffic, including access to premium users. Premium traffic has a higher price tag, but users have been proven to have a higher chance of converting.
Additionally, some of the benefits you enjoy with PropellerAds include:
CPC and CPM bidding is available
Profits can be withdrawn upon request (no monthly schedule)
Split testing is allowed with up to 8 variations per campaign
High-quality traffic from global sources
MegaPush
Although MegaPush now offers different formats, the platform began as a push advertising network and it has earned a name as one of the leading options available today. Moreover, MegaPush uses CPC bidding across all traffic types and regions, making it easier for affiliates to plan their campaigns.
MegaPush has partnered with some of the top third-party traffic providers to provide high volumes of quality visitors. The platform also provides benefits like:
Full-stack in-house tracking features
Fast moderation turnaround
Various payment methods accepted
AdOperator
AdOperator has relatively small push traffic volumes because it has only been providing this option for a short period. But, the results have been impressive this far. The platform already serves more than 200 countries and 100+ million impressions every day.
Affiliates can also:
Implement intricate targeting settings
Take advantage of the multiple payment methods accepted
Choose from different withdrawal options
ActiveRevenue
ActiveRevenue is also among the veteran networks that have specialized mainly in push traffic. Launched back in 2012, the platform gives affiliates maximum control because they can choose to upload their creatives or build them right within the platform. And, marketers can also benefit from the 300 million daily impressions that are served in all countries and regions in the world.
The advantages of working with ActiveRevenue also include:
Various advertising formats for a more holistic approach
Intricate targeting settings
Innovative auto-optimization features
RTX Platform
The team at RTX Platform has put a lot of emphasis on succeeding through data. This ad network provides superb push traffic as well as other formats, plus you can choose from different pricing models including CPC and CPA advertising.
Furthermore, some of the top benefits of RTX include:
Pixel tracking is available on all campaigns
World-class support
Desktop and mobile traffic available
AdMaven
AdMaven has placed a lot of emphasis on customer service. Founded back in 2013, this multi-format ads network offers top-notch push traffic, plus its in-house technology allows it to get over ad blockers more than 20% of the time.
What's more, the AdMaven is a superb ad network because it:
Offers advanced automatic bidding features
Provides traffic from 200+ countries and regions
Allows new bid optimization for campaigns that haven't registered a conversion
DatsPush
DatsPush offers three different types of push traffic as well as a variety of other ad formats including native and pop. The platform generates almost 5 billion impressions per month which are served to more than 200 regions and countries worldwide.
The average cost per click on the platform varies depending on the location. But, with average bids starting at $0.005, DatsPush claims to have some of the lowest prices on the market.
Low minimum deposits
Worldwide coverage
CPA bidding model
HilltopAds
HilltopAds is a good source of both desktop and mobile push traffic. The platform offers support around the clock and has developed in-house technology that allows it to consistently get past ad blockers.
Some of the biggest advantages of HilltopAds include:
Various funding methods accepted
Low withdrawal amounts
Large traffic volumes from hundreds of different GEOs
EvaDav
EvaDav registers more than 315 million daily impressions, plus the platform also claims to have 1 million new subscribers every week. And, the banners as well as other ad elements are downloaded from the platform's domain, so you won't have to worry about blocked ads.
Worldwide reach
Intricate statistics and reporting
Target a variety of operating systems and browsers
Zpush
Zpush allows affiliates to launch CPC or CPM campaigns, plus it allows full customization of the forms used to collect subscriptions. This, combined with the platform's targeting features and global reach, give you maximum control over your budget and campaign performance.
Conversion feedback reporting
Low minimum withdrawals
200+ countries
Zoolley
Zoolley has been known to provide higher than average ROI and the ad network has a relatively low deposit requirement. Ads can be tailored depending on the different GEOs, plus you can also choose to target users by device type, OS, connection, and other variants.
Managed campaigns available
Pricing models include CPC, CPM, and CPA
Law withdrawal minimum
DaoPush
In a day and age where cybercriminals cost the marketing industry billions of dollars, DaoPush stands out for being a secure network for push campaigns. Although it only has users from 50 countries, the platform ensures that all interactions come from legitimate users, so you'll always get the most out of your budget.`
Allows targeting by GEO, device, and other variants
In-house anti-fraud mechanisms
Users tested with captchas and other methods
Clickadu
Clickadu may be a relatively new platform, but it's already making noise as a quality push notification platform because of its 2 billion daily active users across 200+ territories. Founded back in 2018, the platform also allows affiliates to:
Choose from CPM, CPC, and other bidding models
Start with a small deposit
Create multiple campaigns with different ad formats through the same platform
AdsCompass
Previously known as PushCompass, AdsCompass has a huge base of global subscribers and flexible targeting features that allow affiliates to filter out traffic based on city, OS type, browser, and device.
Covers more than 200 countries
Optimized blacklists and whitelists
Ultra-low deposit and withdrawal requirements
BidVertiser
BidVertisers is another new player that has already earned a solid reputation for the quality of its push traffic. This feature-packed network is a great alternative, plus it uses an in-house quality checker to verify each interaction.
Allows automatic CPA bidding
Intricate analytics reporting
Targeting by network carrier, device browser, GEO, and more
Stay On Top of the Best Push Ad Networks
We hope that our list of the top ads networks for 2021 helps you find the best platform for your next campaign. If you want to learn more about the best ad networks or lemonads, contact us today and we'll be glad to help.
Accelerate your Conversions, Increase your Revenue
with lemonads
---
You would like